Dracula's Brood: Neglected Vampire Classics by Sir Arthur Conan Doyle, M.R. James, Algernon Blackwood and Others (Collins Chillers) (Paperback)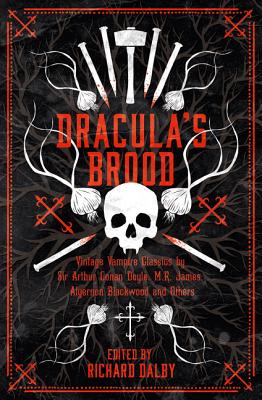 $14.99
Usually Ships in 1-5 Days
Description
---
Neglected vampire classics - including tales by Sir Arthur Conan Doyle, Algernon Blackwood and others. Selected and introduced by Richard Dalby.
The most famous vampire of them all is Bram Stoker's 'Dracula', published in 1897. But it was not the first piece of fiction to describe the doings of the undead, and it was by no means the last.
In celebration of the 120th anniversary of the publication of 'Dracula', this unique anthology gathers together 23 rare vampire stories written by contemporaries of Bram Stoker between 1867 and 1940, including Sir Arthur Conan Doyle and M. R. James.
'Dracula's Brood' provides a veritable feast of pleasure for all lovers of supernatural and fantasy fiction. This new edition includes for the first time Barry Pain's 'The Tree of Death'.
About the Author
---
Richard Dalby (1949-2017) was a professional author, bibliographer, researcher and bookdealer, specializing in supernatural fiction. His previous anthologies included 'The Sorceress in Stained Glass' (1971) and 'The Best Ghost Stories of H. Russell Wakefield' (1978). He also published 'Bram Stoker: A Bibliography of First Editions' (1983), and his final book was a follow-up to Dracula's Brood entitled Dracula's Brethren.