Sandman Slim (Hardcover)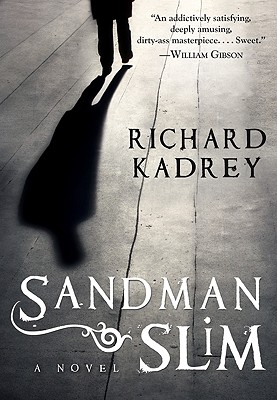 Email or call for price
Special Order - E-mail us directly - We may have a used book!
Staff Reviews
---
Signing August 25th at Noon - Reserve Your Copy Today!
Amber Recommends:
Summary: Richard Stark is a man on a mission. Revenge.
In a bid to boost their power, Stark's frenemies sent him to Hell eleven years before in a trade with creatures unknown. However Stark's talents which were considerable on earth prove to be unusually useful in Hell and Stark becomes very difficult to kill. Which proves advantageous since Stark becomes the most feared assassin in Hell. What keeps him there is the assurance that the woman he left behind, the love of his life, is safe so long as he does as he is told.
When she is brutally murdered by one the circle which sent him to Hell, Stark will stop at nothing to make sure they all pay. If he also happens to save the world, a punk tiki bar and a video store - well that's just icing on the cake.
Review: When my brother was little he had a bit of a tough time. When he was five he looked like a seven or eight year old, so when he acted like a five year old people would always get a bit testy with him - because they didn't think that he was acting his age. Which was crap, but strangers didn't realize that, they just thought he was misbehaving. I find myself remembering these incidents while I was reading Sandman Slim, because Stark was 19 when he was sent to Hell, where he was beaten, raped and fought in vicious arena battles. Survival was the name of the game for him for eleven years, emotional growth not so much. So when he emerges from Hell a cynical thirty year old, his impulse control isn't high, patience is non-existent and big picture focus just isn't there.
So when I was reading his exploits I constantly felt like hitting Stark upside the head and saying, "Dude, seriously chill the hell out! Make a plan!" But of course this is fiction and I am not a Jursification agent so he can't hear me. Stark constantly is making the wrong choices in his quest for revenge. Unable to avoid the temptation of the seemingly easy mark even when it puts others in danger - he can only see his target, which at times makes this book a bit difficult to read. I am rooting for Stark to take his revenge out on these sadistic people, but he just can't quite seem to get it together to do so. He's gained power and knowledge while working in Hell; he just hasn't gained the maturity to know you don't always have to beat, blow-up or muscle your way to your goals. This is where he reminds me of my brother from all those years ago - his friends all want him to take a more subtle approach to his raison d'etre but they don't realize he doesn't possess the maturity (or impulse control) to do so.
That is both why I loved and hated this book at the same time and the reason why I will work my way through the rest of the series. I want to seem him hone his rage into something fine and controlled, instead of the blunt instrument it is now. I want to see him save the world just once on purpose. And I want to know why Stark's called 'Sandman Slim'! While Sandman Slim feels a touch slow in its doling out a lot of information, you need in order to understand how Heaven and Hell interact, how magic works in this version of our world and why we should care about Stark's fate. All in all I really liked it and I cannot wait to read the next book!
Would I Recommend To A Friend: Without a doubt!
Rating: 4.5/5
My 52 Weeks With Christie: A.Miner©2015
August 2009 Indie Next List
---
"How a book this dark can be this much fun to read is just one of many amazing things about Sandman Slim. After surviving 11 years in Hell -- literally -- Stark is ready for vengeance on the magicians who killed his girlfriend and sent him there. If he happens to avert the Apocalypse while he's doing it, that will be icing on the cake. Good Omens meets Raymond Chandler!"
— Carol Schneck, Schuler Books & Music, Okemos, MI
Description
---
"An addictively satisfying, deeply amusing, dirty-ass masterpiece."
--William Gibson
"A sharp-edged urban fantasy, drenched in blood and cynicism, tipping its hat to Sam Peckinpah, Raymond Chandler, and the anti-heroes of Hong Kong cinema....A bravura performance."
--San Francisco Chronicle
"I couldn't put it down."
--Charlaine Harris
Sandman Slim has arrived--a wild and weird, edge-of-your-seat supernatural roller-coaster rider that propels author Richard Kadrey to the forefront of the fantasy, thriller, and a host of other literary genres. This spellbinding, utterly remarkable tale of a vengeful magician/hitman's return from hell is part H.P. Lovecraft, part Christopher Moore, part Jim Butcher, and totally, unabashedly dark, twisted, and hilarious.

Praise For…
---
"If Simon R. Green wrote an episode of Dog the Bounty Hunter, it would read much like Sandman Slim – violent, vivid, non-stop action of the supernatural kind. I couldn't put it down."
-Charlaine Harris

"If Simon R. Green wrote an episode of Dog the Bounty Hunter, it would read much like Sandman Slim – violent, vivid, non-stop action of the supernatural kind. I couldn't put it down."
-Charlaine Harris

"Nicotine and octane in equal parts might come close to the high-energy buzz from Richard Kadrey's Sandman Slim. Crisp world building, recognizable and fully-realized characters, and a refreshingly unique storytelling style make for an absorbing read.Sandman Slim is my kind of hero."
-Kim Harrison

"The most hard-boiled piece of supernatural fiction I've ever had the pleasure of reading. … all confident and energetic and fresh and angry. I loved this book and all its screwed-up people."
-Cory Doctorow, author of Little Brother

"Paced like greased lightning (watch out for friction burns on your turning finger), blend the movie-ish delights of tough guy noir and such smart-mouthgore-fests as "Reanimator" and "Army of Darkness", seasoned by soupcons of Gaimanian romanticism and Koontzian sentiment."
-Booklist

"Sarcastic, irreverent and ridiculously enjoyable riff on the Urban Fantasy genre. … a lot like a mosh pit -- rough, exuberant, unpredictable -- and a heck of a lot of fun."
-Miami Herald

"The best B movie I've read in at least twenty years. An addictively satisfying, deeply amusing, dirty-ass masterpiece, Sandman Slim swerves hell-bent through our culture's impacted gridlock of genres…it's like watching Sergio Leone and Clive Barker co-direct from a script by Jim Thompson and S. Clay Wilson."
-William Gibson