The Devil Colony: A SIGMA Force Novel (Mass Market Paperbound)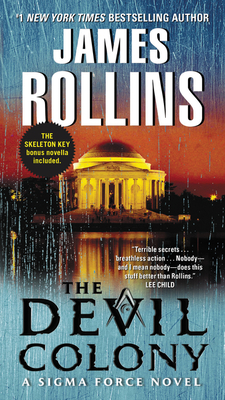 Email or call for price
Special Order - E-mail us directly - We may have a used book!
Staff Reviews
---
Sometimes I love being wrong!
It's been quite some time since James Rollins has had a Sigma Force novel out and I was afraid when I started The Devil Colony that I'd be confused about where things had left off. It was fabulous to be able to jump right in and kick off the action with the team with not even a skipped step.
And action there is! A cave filled with Native American mummies, a gold-lined skull and some strange gold plates with arcane writing is discovered in Utah, and while wrangling is going on about who gets jurisdiction and investigation rights, an explosion happens. Native American activist and teenage niece to Sigma Director Painter Crowe, Kai Quocheets, is caught on videotape immediately after the explosion, and she is being tracked - and shot at - by unknown people in strange black helicopters. Meanwhile, Commander Grey Pierce is trying to help his mother deal with his aging father, when he is pulled away to follow a pressing clue as to who is behind the mysterious group known as The Guild. The events in Utah will intersect with Grey's investigation, and all will lead back to the Founding Fathers.
As always, James Rollins writes an absolute roller-coaster of a book that kept me turning pages late into the night. But what has always fascinated me about Jim's Sigma Force books is his superb blending of fact and fiction, and I am always astounded at the things that are real, items and bits of history that are so amazing that it always seems to me that they can't be true, and yet they are. If you haven't read James Rollins' Sigma Force novels, now is an excellent time to start, but I would strongly suggest that you start at the beginning, either Sandstorm (Harper, $7.99) which gives a preview of Sigma Force, or Map of Bones.
— FRAN
Description
---
"Every James Rollins delivers mach-speed mayhem; throat-clutching suspense; high-style adventure; and a terrific story told terrifically. He makes the rest us look bad."
--Steve Berry, author of The Emperor's Tomb
"This guy doesn't write novels--he builds roller coasters."
--Booklist
New York Times bestselling thrill-master James Rollins is back with The Devil Colony, another electrifying combination of suspense, history, science, action, and ingenious speculation. In The Devil Colony, Sigma Force stalwarts Painter Crowe and Commander Grayson Pierce must investigate a gruesome massacre in the Rocky Mountains and root out a secret cabal that has been manipulating momentous events since the time of the original thirteen colonies. Once again, Rollins delivers a spine-tingler that will leave fans of Michael Crichton, The Da Vinci Code, and Indiana Jones breathless--as he exposes the dark truth behind the founding of America.

Praise For…
---
"James Rollins delivers one of the best thrillers of the year in The Devil Colony, an amazing amalgam of history, science and adventure."
-Associated Press on The Devil Colony

"Riveting....Rollins gets better with each book, and his position at the top of this particular subgenre remains unshaken."
-Publishers Weekly on The Devil Colony

"Terrible secrets, the sweep of history, an epic canvas, breathless action...nobody—and I mean nobody—does this stuff better than Rollins."
-Lee Child on The Devil Colony

"From the hidden Indian treasure, to the Fort Knox secrets, to the conspiracy at the beginning of the United States The Devil Colony gives you every reason why you'll want to be a member of Sigma Force."
-Brad Meltzer, New York Times bestselling author of The Inner Circle on The Devil Colony

"A first-class, breathtaking adventure that will have readers whizzing through the pages. The only thing wrong with this tale: it has to end."
-Romantic Times (4 1/2 stars) on The Devil Colony