The Painted Queen: An Amelia Peabody Novel of Suspense (Hardcover)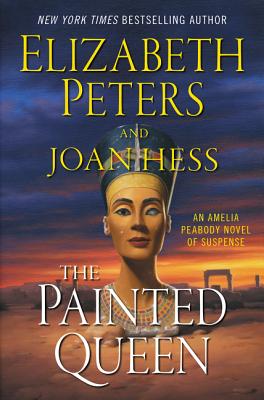 $27.99
Usually Ships in 1-5 Days
Staff Reviews
---
The very last Amelia Peabody mystery! I am not one to read introductions – but I made an exception here and they nearly made me cry. This book is the collaboration of Elizabeth Peters (who wrote much of the manuscript before she passed away) and her friends - who finished it because they miss her. I have to say their love of Peters and her love of Amelia shine through on each and every page.
In this book we come full circle back to the dig site where Amelia and Emerson first met, the excavation site in Amarna. Well eventually. But before they sail down the Nile, Amelia will have her bath interrupted by a monocle-wearing assassin and is saved by an even more enigmatic character, Sethos. Add that to a rather unhinged Egyptologist obssessed with a mysterious bust of Nefertiti – which has gone missing…Well Amelia has a rather full plate during this season's excavations!
I absolutly loved this book! I think Elizabeth Peter's friends did a great job in finishing this book. While perhaps a bit silly – monocle-wearing assasins – in an And Then There Were None feel to the story line – I think the book carried off the slightly ridiculous villians well. Amelia already has a master criminal dogging her every step – these "gentlmen" were a good counterpoint to Sethos!
Now I must tell you – like real life – not every question is answered with this book. There are small storylines left open – especially with WWI looming in their future - and that is ok. The mystery at hand is solved and Amelia and her family are safe and that is what counts. I just don't want the faithful to read the book expecting everything to be wrapped up in a neat and tidy bow – and be disappointed when not every question is answered for them. It will give fans something to debate, deduce and obsess over! And isn't that the best part about a story? Giving a fan something to think about?
I would suggest this book to anyone who enjoyed the Amelia Peabody series – I really don't think you will be disappointed! If you haven't read anything in this universe yet – start with Crocodile In The Sandbank! If you like adventure, Egypt, archaology and parasols, you will love this series!
— Amber
Description
---
Egypt, 1912--Amelia Peabody and her dashing archeologist husband, Radcliffe Emerson, are once again in danger as they search for a priceless, stolen bust of legendary Queen Nefertiti and Amelia finds herself the target of assassins in this long-awaited, eagerly anticipated final installment of Elizabeth Peters' bestselling, beloved mystery series.
Arriving in Cairo for another thrilling excavation season, Amelia is relaxing in a well-earned bubble bath in her elegant hotel suite in Cairo, when a man with knife protruding from his back staggers into the bath chamber and utters a single word--"Murder"--before collapsing on the tiled floor, dead. Among the few possessions he carried was a sheet of paper with Amelia's name and room number, and a curious piece of pasteboard the size of a calling card bearing one word: "Judas." Most peculiarly, the stranger was wearing a gold-rimmed monocle in his left eye.
It quickly becomes apparent that someone saved Amelia from a would-be assassin--someone who is keeping a careful eye on the intrepid Englishwoman. Discovering a terse note clearly meant for Emerson--Where were you?"--pushed under their door, there can be only one answer: the brilliant master of disguise, Sethos.
But neither assassins nor the Genius of Crime will deter Amelia as she and Emerson head to the excavation site at Amarna, where they will witness the discovery of one of the most precious Egyptian artifacts: the iconic Nefertiti bust. In 1345 B.C. the sculptor Thutmose crafted the piece in tribute to the great beauty of this queen who was also the chief consort of Pharaoh Akhenaten and stepmother to King Tutankhamun.
For Amelia, this excavation season will prove to be unforgettable. Throughout her journey, a parade of men in monocles will die under suspicious circumstances, fascinating new relics will be unearthed, a diabolical mystery will be solved, and a brilliant criminal will offer his final challenge . . . and perhaps be unmasked at last.