Someone Else's Love Story (Hardcover)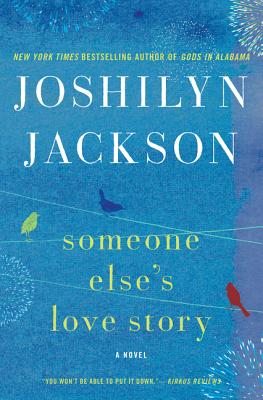 Email or call for price
Special Order - E-mail us directly - We may have a used book!
Staff Reviews
---
The heart of any story by Joshilyn Jackson revolves around her people. Their situations are sometimes outside of things we might have experienced -- although never outside the realm of awful possibility -- but these are folks we know and can relate to. This is never more evident than in her latest work, Someone Else's Love Story.
Shandi Pierce is twenty-one, the ongoing focus of the messy divorce of her Christian mother and Jewish father, and single mom to Natty, a three year old with the promise of alarming and wonderful genius. Her life changes irrevocably in a Circle K one summer day.
"I fell in love with William Ashe at gunpoint, in a Circle K. It was on a Friday afternoon at the tail end of a Georgia summer so ungodly hot the air felt like it had all been boiled red. We were both staring down the barrel of an ancient, creaky .32 that could kill us just as dead as a really nice gun could.
"I thought then that I had landed in my own worst dream, not a love story. Love stories start with a kiss or a meet-cute, not with someone getting shot in a gas station minimart. Well, no, two people, because that lady cop took a bullet first."
The story alternates chapters, first with Shandi's first-person, then William's third, and while that should make the story choppy and hard to read, it really works. You see, William has Asperger's Syndrome. His version leaves him with high functioning science skills while being deeply puzzled at human emotions, which he has tried diligently to learn.
"When William was little, he had a book called  'How are You Feeling?' It was full of pictures of vegetables with faces. The radish is happy. The eggplant is sad. His therapist wanted him to learn to recognize the same looks on the faces of his classmates or his parents. He'd outgrown the book, but he was still supposed to do the exercise. Right now, he should ask himself, 'What is she feeling, if Paula raises one eyebrow up and not the other?' But Paula generally said exactly what she meant with him. It was one of his favorite things about her. He was free to take the question at face value alone."
The secondary characters are equally strong and engaging. Paula, William's best friend, who helps him navigate his thought process and stay grounded, has her own bitterly dark streak. Walcott, Shandi's best friend from forever, always has her back, even breaking the news, with the help of his momses, of Shandi's virgin pregnancy to her Southern belle mother. Mimmy, Shandi's mother, and Bethany, Shandi's step-mother are finely drawn, and their relentless loathing of each other infuses the whole book.
There are definitely crimes in this book, and while there's no traditional mystery, finding out how these people navigate their lives in the aftermath of what is, sadly, a fairly routine crime, makes Someone Else's Love Story beautiful and compelling and one of Joshilyn Jackson's best works. And I love her use of language; it's non-traditional and whimsical at times, but always adds to the humor and personality of her people. It's no secret I've been a huge fan of Joshilyn's from the beginning, and every book by her is always a treat!
— Fran
December 2013 Indie Next List
---
"Jackson is a phenomenal novelist, whose feisty, unforgettable characters wrestle their way through complicated lives with grit and good humor, while she takes readers on a wild, nail-biting, and thoroughly enjoyable ride. With rich dialogue, vivid scene-setting, edge-of-your-seat plotting, and one-of-a-kind characters, Jackson's novels entertain thoroughly and stay on your mind long after you have turned the last page. In Someone Else's Love Story, a chance encounter during a convenience store robbery shakes up a number of lives. Assumptions about relationships -- with family, friends, lovers, and perceived enemies -- are shattered, and something new and surprising emerges. I loved this book!"
— Carol Schneck Varner, Schuler Books & Music, Okemos, MI
Description
---
Someone Else's Love Story is beloved and highly acclaimed New York Times bestselling author Joshilyn Jackson's funny, charming, and poignant novel about science and miracles, secrets and truths, faith and forgiveness; about falling in love, and learning that things aren't always what they seem--or what we hope they will be.
Shandi Pierce is juggling finishing college, raising her delightful three-year-old genius son Nathan, aka Natty Bumppo, and keeping the peace between her eternally warring, long-divorced parents. She's got enough complications without getting caught in the middle of a stick-up and falling in love with William Ashe, who willingly steps between the robber and her son.
Shandi doesn't know that her blond god Thor has his own complications. When he looked down the barrel of that gun he believed it was destiny: It's been one year to the day since a tragic act of physics shattered his world. But William doesn't define destiny the way others do. A brilliant geneticist who believes in facts and numbers, destiny to him is about choice. Now, he and Shandi are about to meet their so-called destinies head on, making choices that will reveal unexpected truths about love, life, and the world they think they know.