Since We Fell (Large Print / Paperback)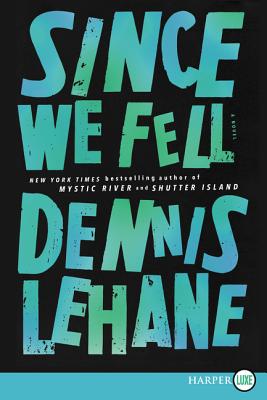 $27.99
Usually Ships in 1-5 Days
Staff Reviews
---
My hesitations about Dennis Lehane's new novel, Since We Fell were unwarrented. I've enjoyed many of his non-Patrick & Angie books but I remain a die-hard partizan of that series and those people (don't tell me they're only characters in a book, they're real to me). I was worried that his new books would be, I dunno, too tame, too "domestic", too ordinary. My concern was a waste of time and energy. Since We Fell is astonishing and jumps to the ranking of Best Book of the Year. Hard to see anything else touching it.
"Walking into the square for the first time since her wedding day, Rachel had expected palpitations, accelerant in the blood. Yet as she walked up the burgundy carpet under the Fairmont awning, she felt only the slightest uptick in her heart rate before it reset itself almost immediately to normal. Maybe it was the rain that calmed her. With an umbrella over her head, she was just another near-spectral being in dark clothes hidden beheath a cowl of plastic moving through a city of near-spectral beings in dark clothes hidden beneath cowls of plastic. In this kind of rain and murk, she imagined murders were likelier to go unsolved and affairs unpunished."
The basics of the story are those of Rachel, a woman reared by a crazy mother but who nonetheless became a respected TV journalist. She was being eyed for national work when it all fell apart on location in Haiti – fell apart on the air. Since then she's been a pariah holded up in her rooms with anxiety attacks that leave her living like a hermit.
Then Brian comes back into her life and he helps her contain her anxiety attacks and regain a life – not her old life but a new life. "I'm trying to get you to see, Rachel, that, yeah, a few people remember that video and a small percentage of those connect it to you when they see you out in public, but it's a schrinking demographic and it shrinks further every day." We live in a world of disposable memory. Nothing's built to last, not even shame." Then that, too, falls apart and that's where the story gets really interesting with shocking twists. In true noir form, nothing lasts.
Along the way Lehane laces the book with sharp social commentary about people and relationships which brought Gillian Flynn to mind. They're very much alike. On a brief trip out into the world, Rachel witnesses a group of young women. "The third one said, 'Guys, stop,' but it came out half lament, half giggle and then the laughter broke from all their pretty-ugly mouths like Friday night Kahlua vomit." Clear and crisp notes about contemporary America are sprinkled throughout the story and you come across them like unexpected gems glittering in the shadows.
How exactly it falls apart is something you'll need to experience by reading the book. But along the way Rachel will shed her anxieties. She'll shed her fears and her past like dirty clothes and come to a new understanding of herself. "She realized now that in Haiti, even before the camp, as far back as Port-au-Prince and the corpses smoldering in the streets and stacked in the parking lot of the hospital, stacked like old cars in junkyards, beginning to swell and balloon in the heat, as far back as then, the truth of their deaths became the truth of her own: We are not special. We are lit from within by a single candle flame and when that flame is blown out and all light leaves our eyes, it is the same as if we never existed at all. We don't own our life, we rent it."
Pure, hardcore noir.
— JB
This time I blame JB, not Amber.
He kept raving about how good Dennis Lehane's latest book, Since We Fell (ECCO hc, $27.99, signed copies available) that I couldn't resist. Of course, this is Dennis Lehane we're talking about, so I have to admit that I was pretty easily swayed.
Rachel Childs was a journalist, a real rising star, until an on-air breakdown in Haiti left her unemployed and anxiety-ridden. Her depression and anxiety become almost agoraphobia, and while she knows she's got problems, they're more than she can handle alone. Brian Delacroix met Rachel before the Haitian incident, and he has always believed in her. He gets in touch, and he's her gateway back to normal.
It almost sounds like a sappy romantic made-for-Lifetime movie, doesn't it? But this is Dennis Lehane we're talking about here, so there's so much more to Since We Fell, and it's incredible.
There are twists, there are turns, there was one point where I was so caught off guard by what happened that I actually closed the book to consider it, and yes, all the hints were there, I just zipped right past them.
But mostly there's the writing. Even if Since We Fell was a romantic comedy - which it decidedly is not - it'd be worth reading because Dennis Lehane can really write! Rachel's panic is, to her, a sparrow, trying to burst out of her chest.
"The sparrow flapped its wings. Not too spastically, not frantically, not yet. But the tempo was increasing. She was aware of her heart dangling in her chest, suspended from cords of blood. The eyes of the bar were on her, and in a garble of a group of voices behind her, she was nearly positive she heard someone whisper, 'That reporter.'
"She put a ten-dollar bill on the bar, relieved she had one, because she couldn't imagine waiting for change. Couldn't sit in this seat a second longer. Her throat closed. Her vision blurred at the edges. The air looked as if it had been smelted."
JB's right. You need to read this one. Wow!
— Fran
Description
---
The new novel from New York Times bestseller Dennis Lehane, author of Mystic River and Shutter Island
"Lehane is the master of complex human characters thrust into suspenseful, page-turning situations." --Gillian Flynn
Since We Fell follows Rachel Childs, a former journalist who, after an on-air mental breakdown, now lives as a virtual shut-in. In all other respects, however, she enjoys an ideal life with an ideal husband. Until a chance encounter on a rainy afternoon causes that ideal life to fray. As does Rachel's marriage. As does Rachel herself. Sucked into a conspiracy thick with deception, violence, and possibly madness, Rachel must find the strength within herself to conquer unimaginable fears and mind-altering truths. By turns heart- breaking, suspenseful, romantic, and sophisticated, Since We Fell is a novel of profound psychological insight and tension. It is Dennis Lehane at his very best.