The Carrion Birds (Paperback)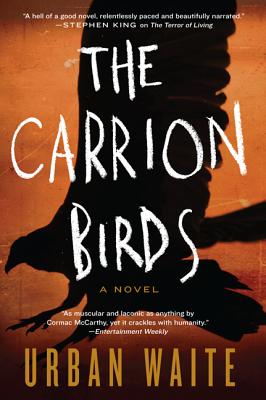 Email or call for price
Special Order - E-mail us directly - We may have a used book!
Staff Reviews
---
I have to say that I've been looking forward to reading this book, both because it's set near my hometown of Las Cruces, NM, but also because…well…Urban. He's a great writer!
Ray Lamar had great plans at one point in his life. But work dried up in his little town of Coronado, and to support his family, he got in with the wrong folks, drug traffickers out of Mexico. When his wife was killed and his son badly damaged, Ray tried to walk away, but that's not allowed. Especially with the skills Ray has – he's cool under pressure, and he's an efficient killer.
So Ray agrees to one last pick-up, and of course things go badly. As things spiral out of control, all the citizens of Coronado are going to be drawn into the conflict between Ray and the cartel. Sheriff Edna Kelly will do her level best to keep the peace, but she's badly outnumbered and definitely outgunned, and dispirited.
Urban Waite proves with this second book that he is excellent at taking his very human, deeply flawed but always compelling characters step-by-step down some very dark paths. Having lived in the area, I know just how desperate some people become, and how very important home is, even when that home is crumbling around your ears.
I have to admit to a very teacher-ish gripe (and it is just me, really, but as an English teacher for a decade, I can't help myself) in that Urban uses short, choppy phrases and sentences, and while they do set the tone brilliantly, I found it jarring. However, that didn't stop me from thoroughly enjoying The Carrion Birds!
JB Here:
I agree with most of what Fran said. I didn't mind the shorter sentences, but then I like James Ellroy as much as I like James Lee Burke. Like them or the late, great Ross Macdonald, Urban is able to carry over the descriptions of the landscape into the mood of the novel:
"He ran a hand through his hair, resting his scalp in his palm. It was already late enough in the day that the sun began to stretch the shadows long and thin across the parking lot, constructing a stilted world that teetered toward the point of falling."
This is great noir, where no one is happy in their lives, everyone thought they'd be somethere else, doing something better, but they find themselves in the same place where they've always been and are beginning to understand they'll never escape, where the sand and heat and bullets and cartel killers are all inescapable. If you enjoyed The Terror of Living, you'll The Carrion Birds just as much.
— Fran
May 2013 Indie Next List
---
"Can you really go home again? Urban White tackles this subject with great skill in 'The Carrion Birds'. Ray, a recently unemployed widower, becomes a hired killer for a drug cartel. When Ray attempts to leave the cartel, his father is brutally murdered & Ray vows revenge. His cousin, Tom, a former police officer, tracks him down. But can cousins who are as close as brothers really do the right thing?"
— Pamela Pride, Kerri's Korner Bookstore, Fairmont, WV
Description
---
The Carrion Birds from Urban Waite, author of the highly acclaimed The Terror of Living, is a remarkable work of literary noir.
Hired gun Ray Lamar is ready to put his past behind him. He wants to see his twelve-year-old son and start a new life--away from the violence of the last ten years. One last heist will take him there. All he has to do is steal a rival's stash. Simple, easy, clean.
But when things start to go very wrong, Ray realizes the path to redemption isn't always easy.
A soulful tale of violence, vengeance, and contrition, The Carrion Birds is an elegant depiction of one man's last chance to make things right.