My Own Miraculous: A Short Story (Mass Market Paperbound)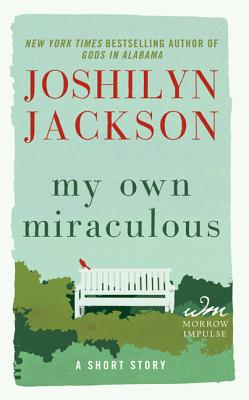 Email or call for price
Special Order - E-mail us directly - We may have a used book!
Staff Reviews
---
This is a letter I wrote to Joshilyn Jackson:
"Oh you brilliant, wonderful writer!
I treated myself to My Own Miraculous after reading a book that was Quite Dark and had Very Bad Things happen, saving MOM (nice acronym, by the way!) for a gentle refreshment after a serious and disturbing read. But wow, you manage to pack a lot of tension into 75 pages! I spent a good portion of my time muttering "Holy cow" and "shoot shoot shoot!" although I didn't perhaps actually use the words "cow" or "shoot". But at 3:00 in the morning, I can only say I wasn't loud when voicing my opinion.
And the silly thing is, of course, that I read Someone Else's Love Story weeks ago, so I know they're okay and it all works out until they get into the Circle K, and I still vibrated with worry for them.
Excellent work, as usual, my dear!"
— Fran
Description
---
From New York Times bestselling novelist Joshilyn Jackson comes an e-original short story that gives a fierce and funny character from Someone Else's Love Story a standalone adventure all her own.
Shandi Pierce got pregnant when she was only seventeen years old. She fell for her son--deeply, instantly, completely--but as she sat at the table feeding him, her own mother was sliding eggs and bacon onto her plate, feeding her.
Now, four years later, Shandi is still more parented than parent. She lives with her mom, her dad pays her bills, and her best friend, Walcott, acts as her white knight. But Natty is no ordinary kid, and when his savant behavior catches the attention of an obsessive stranger, only Shandi sees the true menace.
To protect her son, Shandi must grow up--fast--and find an answer to the question, how can a girl remake herself into a mother?