Lirael (Paperback)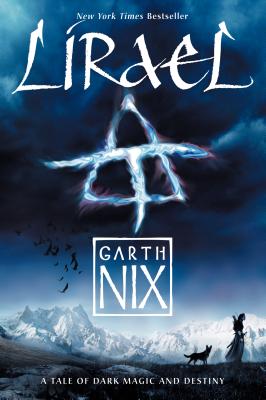 $9.99
Usually Ships in 1-5 Days
Staff Reviews
---
This perhaps is my all time favorite middle book in any trilogy! In any trilogy the middle book is most often the trickiest book to put together as it needs to pull in shenanigans from the first novel and begin the mechanisms for the last ultimate ending to the series. Usually the middle book is the weakest of the three due to all work and plot lines it needs to tie together. However with Lirael Nix does a wonderful job of introducing two new characters whose back story is firmly enmeshed within the already established world. Which allows for the creation of a very strong narrative which doesn't fall into the middle book trap that so many do!
When we first meet Lirael, she is turning fourteen and is completely despondent. She is one of the Clayr, who are the seers of the Old Kingdom. The sight comes on at varying ages for the Clayr - however Lirael is now the oldest girl (living in the children's wing & the oldest she knows of) who hasn't received her gift yet. It doesn't help that she looks nothing like the other Clayr, which only intensifies her feelings of not belonging. So in a fit of despondency she decides to throw herself off the top of the glacier (it is above where the Clayr live). While on top of the glacier she accidentally witnesses a meeting…. and this quirk of fate changes the direction of her life.
Then we meet Prince Sameth, or should I say reluctant Prince Sam, who is expected to take up his mother's bells and become her apprentice. These bells help her (the Abhorsen, which is her title) send the dead back into death, combats necromancers who raise the dead and fights free magic mages which plague the Old Kingdom. The only issue is Sam is literally petrified of this prospect! Having gone into death once on his own - in order to save his school's cricket team - he encountered a necromancer who is waiting to enslave him. So when Sam's friend Nick crosses into the Old Kingdom without waiting for him (Nick doesn't believe in magic - which doesn't matter as it will try to kill you weather you believe in it or not) - Sam decides to go after Nick to keep him safe. Which is in no way like running away from your problems, nope it sure isn't!
When these two meet by chance many things soon become clear - something evil is waking in the Old Kingdom, Nick somehow in the thick of the Old Kingdom's troubles and one way or another Lirael & Sam must figure out what's really going on and how to defeat it.
This series has been around for twenty years and still is one of my all time favorites! Lirael in particular is my favorite of the series, the other books are great as well - but this one just stands out just a bit more for me. I love Lirael, her struggles and the adventures with her companions. While you do need to start with Sabriel, the first book in the series - you have something to look forward to when you read the next two books - as Lirael is heavily featured. Which is a wonderful thing!
I would highly recommend this book to anyone 12+ looking for a great fantasy/mystery which is like nothing I have really read before or since. Seriously if you haven't read it yet you really are missing out on something special.
Even more exciting? Nix, after taking a significant break from the Old Kingdom universe, has delved back in! Last year he wrote a prequel to the original series called Clariel, which gives us the origins to a significant villain we meet in the original trilogy. Even more exciting? On October 11th Nix is releasing Goldenhand - which is set six months after the ending of Abhorsen - and features Lirael on a whole new adventure investigating a whole new mystery!!!! I cannot wait!
— Amber
Description
---
New York Times bestseller Lirael is perfect for fans of epic fantasy like Game of Thrones. In this sequel to the critically acclaimed Sabriel, Garth Nix draws readers deeper into the magical landscape of the Old Kingdom.
Lirael has never felt like a true daughter of the Clayr. Abandoned by her mother, ignorant of her father's identity, Lirael resembles no one else in her large extended family living in the Clayr's glacier. She doesn't even have the Sight--the ability to see into possible futures--that is the very birthright of the Clayr. Nevertheless she must undertake a desperate mission under the growing shadow of an ancient evil--one that opposes the Royal Family, blocks the Sight of the Clayr, and threatens to break the very boundary between Life and Death itself. With only her faithful companion, the Disreputable Dog, to help her, Lirael must find the courage to seek her own hidden destiny.