Past Crimes: A Van Shaw Novel (Hardcover)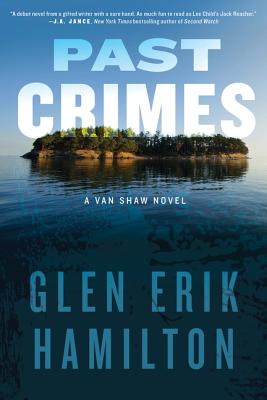 $26.99
Usually Ships in 1-5 Days
Staff Reviews
---
To recap, Van Shaw grew up under the rough and criminal tutelage of his grandfather, the respected but feared Dono Shaw. Van knew the tricks of heists, scams and crimes large and small but at the end of high school, he broke with Dono and ran away to join the army. Now an Army Ranger, Van has added a new raft of talents to his arsenal but believes he's left his past in Seattle well behind him.
Then he receives a cryptic message from Dono, the first communication between them in years and sent in a way that lets Van know he is needed back in Seattle. So home he goes.
Past Crimes is action packed, that's true, but it's more than a heist novel. Van has to come to terms with who he really is, and he finds himself walking a very thin line between the folks he knows from his criminal past with Dono and his desire to stay out of the criminal world in the life he's now built. The people we meet along the way are also a mixture of good and bad, like any of us. Okay, some of these folks are more honestly criminal than anyone I know, but in a way, that makes them more interesting!
But I have to admit that I was enchanted by the way Hamilton uses Seattle as a character in Past Crimes. I know these places, a lot of them anyway, and he captures the feeling of being in Seattle beautifully. I was talking to a couple of folks here in the shop about it while I was reading it, and at one point, I said something about a crime in the book taking place on Capitol Hill, and the response was basically, "Break in of car? Or house?" Well, house, now that you mention it. Then I commented about a dive bar with a bad band, and someone else observed, "Well, THAT never happens here!" and we all laughed.
This is quite the promising debut, and one I honestly think is going to be a solid hit. Because it's labeled a "Van Shaw novel", I'm hoping we're going to see more of the folks in Glen Erik Hamilton's world, and I hope he stays close to Seattle for most of them.
— Fran Recommends
Description
---
The Anthony, Macavity, and Strand Critics award-winning debut from Glen Erik Hamilton
When his estranged grandfather is shot and left for dead, an Army Ranger must plunge into the criminal underworld of his youth to find a murderer and uncover a shocking family secret in this atmospheric and evocative debut thriller.
Van Shaw was raised to be a thief, but at eighteen he suddenly broke all ties to that life and joined the military--abandoning his illicit past and the career-criminal grandfather who taught him the trade. Now, after ten years of silence, his grandfather has asked him to come home to Seattle. But when Van arrives, he discovers his grandfather bleeding out on the floor from a gunshot to the head. With a lifetime of tough history between him and the old man, Van knows he's sure to be the main suspect.
The only way he can clear his name is to go back to the world he'd sworn to leave behind. Tapping into his criminal skills, he begins to hunt the shooter and uncover what drove his grandfather to reach out after so long. But in a violent, high-stakes world where right and wrong aren't defined by the law, Van finds that the past is all too present . . . and that the secrets held by those closest to him are the deadliest of all.
Edgy and suspenseful, rich with emotional resonance, gritty action, and a deep-rooted sense of place, Past Crimes trumpets the arrival of a powerful talent in the mold of Dennis Lehane, Robert B. Parker, and John D. MacDonald.