Broken Harbor (Paperback)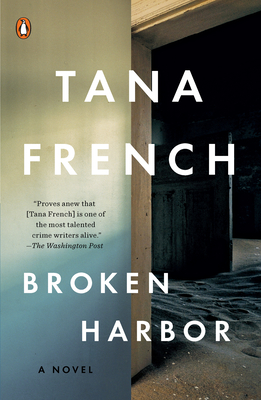 $17.00
Usually Ships in 1-5 Days
Staff Reviews
---
For those of you who fell in love with Tana French's writing while reading In The Woods you are going to love Broken Harbor (late July release, no idea if we'll get signed copies but if we do, we'll let you know).
Michael "Scorcher" Kennedy, detective in the Murder Squad, lands a big-deal case: two kids and dad murdered, mom hanging on by a thread, down in a newly planned community called Brianstown, formerly known as Broken Harbor. Granted, he's got a rookie partner, but Scorcher has the best overall solve rate in the Squad. He's got a good nose for what's what and he follows his rules until he gets his killer.
And his new partner, Richie Curran, is really working out. For once, Mike may have a partner he can really work with. Except...Richie's keeping a secret.
Then too, the immediate suspect looks really good, except...there are holes in his story, and he's awfully ready to confess.
Sure then, the holes in the walls of the slaughtered family's home are strange, but so what? Except...what made them? Why? Does it even matter?
Well, and Mike's sister is having a bad time, which wouldn't be any big deal. Except...when Dina has a bad time, so do the folks who love her, and that can get in the way of Kennedy's investigation.
Once again, Tana French introduces us to a whole cast of characters who will immediately grab a place in your life, and they won't let go. With the deft touch and hard-edged writing she has shown from the very beginning, French proves that she isn't just a flash in the pan; Tana French is the real deal and is well on her way to becoming an powerhouse in the mystery community.
And if you loved In the Woods, you will love Broken Harbor. No exceptions.
— FRAN
August 2012 Indie Next List
---
"I keep wondering how long Tana French will be able to keep up the quality of her mesmerizing Dublin detective series, but they just keep getting better! In Broken Harbor, Mick 'Scorcher' Kennedy, the hardline murder detective who made his first appearance in Faithful Place, takes the starring role. A father and his two children are murdered and their mother is in the hospital, gravely injured. What happened in their almost abandoned luxury housing development? Ghosts of both the present and the past haunt the investigation in this atmospheric procedural."
— Susan Taylor, Book House of Stuyvesant Plaza, Albany, NY
Description
---
A New York Times bestseller and quintessential Tana French thriller--a damaged hero, an unspeakable crime, and an intricately plotted mystery--the novel that "proves anew that Tana French] is one of the most talented crime writers alive." (The Washington Post). Don't miss Tana French's newest novel, The Trespasser, available now
Mick "Scorcher" Kennedy plays by the book and plays hard. That's why he's the Dublin Murder Squad's top detective, and that's what puts the biggest case of the year in his hands.
On one of the half-abandoned "luxury" developments that litter Ireland, Patrick Spain and his two young children have been murdered. His wife, Jenny, is in intensive care. At first, Scorcher thinks it's going to be an easy solve, but too many small things can't be explained: the half-dozen baby monitors pointed at holes smashed in the Spains' walls, the files erased from the family's computer, the story Jenny told her sister about a shadowy intruder slipping past the house's locks. And this neighborhood--once called Broken Harbor--holds memories for Scorcher and his troubled sister Dina: childhood memories that Scorcher thought he had tightly under control.
Winner of Ireland AM Crime Fiction Book of the Year.
About the Author
---
Tana French is also the author of In the Woods, The Likeness, Faithful Place, Broken Harbor, The Secret Place, and The Trespasser. Her books have won awards including the Edgar, Anthony, Macavity, and Barry awards, the Los Angeles Times Award for Best Mystery/Thriller, and the Irish Book Award for Crime Fiction. She lives in Dublin with her family.