Bad Monkey (Hardcover)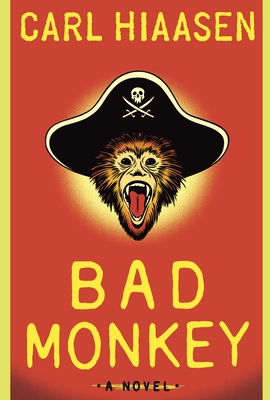 Email or call for price
Special Order - E-mail us directly - We may have a used book!
Staff Reviews
---
"No more than fifty hardy souls showed up for the funeral in a baking summer heat that undulated off the bright green grass." It's a beautiful sentence but that the funeral is being held to bury an arm – yes, an arm, bearing the tan lines of the owner's treasured, expensive square wrist watch – will tell you that you are once again giggling in the maniac world of Carl Hiaasen.
Bad Monkey is a lurid and complex tale of Medicaid and insurance fraud, murder, arson, rapacious developers, voodoo, and love, and the noisy, pipe-smoking, ex-movie star and overweight Driggs, who, by all evidence, is a very disagreeable monkey. Bad? – certainly unpleasant. "He'd won the animal in a game of dominoes with a sponger from Fresh Creek. The sponger told him he was the same monkey from the Johnny Depp pirate movies, which were filmed nearby in the Exumas. Neville named his new pet Driggs and he fed him too much deep-fried food. Before long the monkey got wringled and tufts of fur began falling out. He defiantly refused housebreaking so Nevil makde him wear disposable baby diapers with holes cut out for his tail. No the nearly hairless creature was hugging Neville's left leg and chittering in dread of the voodoo woman." The Dragon Lady is positive the largely hairless Driggs is actually a human child.
The hero of the story is Yancy, bounced first from the Miami homicide unit for defending his lover from her abusive husband by, well, assaulting him with a car vacumm, and then demoted from the Key West cops to being a restaurant inspector (the job is so ghoulish that he immediately loses a fifth of his body weight 'cause he's too disturbed to eat). Yancy begins following the trail of fraud and murder and hopes by solving the case he can get back on the police force and leave the roach patrol behind. That's about all I can tell you without ruining the fun of reading it for yourself or violating the PG rating we try to maintain for the newzine.
Bad Monkey is Hiaasen in fine form, poking the usual suspects with a very sharp stick. Social satire is his point but a crime novel is his vehicle and he drives it at full speed, as fast as the winds of Hurricain Françoise (the Miami weathermen come in for special scorn) that rake the Bahamas where half the story takes place. "Here on Lizard Cay the grip of deep summer was unbreakable; the conch shack's ceiling fan had only one blade. In the absence of casino income the puny island's infrastructure doddered; two-thirds of the power poles knocked down by the funnicaine still lay where they'd fallen. Even when the electricity worked, the trailer on the construction site was a toaster oven, the prehistoric wall unit blowing warm dog-fart air."
Carl will be here to sign this new book on Tuesday June 25th at 1pm (a little later than usual due to his flight schedule). Bad Monkey has all of the touches of mordant wit, bruising commentary, and finely-honed phrases. The only thing it lacks is a certain ex-governor but, hell, you can't have everything! If you've never read Hiaasen this is a great place to start. Like all of his books it is unconnected to any of the earlier ones and his savage and demented humor has not diminished since 2010's Star Island, his last book for grown-ups. [Here's an exerpt posted on-line by the Miami Herald. It's the beginning of the book – the arm's appearance.]
Besides, he's a nice guy. Come in and meet him and get yourself a book and one for your Dad as a late Father's Day present. He'll thank you!
— JB
Description
---
Andrew Yancy late of the Miami Police and soon-to-be-late of the Monroe County sheriff's office has a human arm in his freezer. There's a logical (Hiaasenian) explanation for that, but not for how and why it parted from its shadowy owner. Yancy thinks the boating-accident/shark-luncheon explanation is full of holes, and if he can prove murder, the sheriff might rescue him from his grisly Health Inspector gig (it's not called the roach patrol for nothing). But first this being Hiaasen country Yancy must negotiate an obstacle course of wildly unpredictable events with a crew of even more wildly unpredictable characters, including his just-ex lover, a hot-blooded fugitive from Kansas; the twitchy widow of the frozen arm; two avariciously optimistic real-estate speculators; the Bahamian voodoo witch known as the Dragon Queen, whose suitors are blinded unto death by her peculiar charms; Yancy's new true love, a kinky coroner; and the eponymous bad monkey, who with hilarious aplomb earns his place among Carl Hiaasen's greatest characters.
Here is Hiaasen doing what he does better than anyone else: spinning a tale at once fiercely pointed and wickedly funny in which the greedy, the corrupt, and the degraders of what's left of pristine Florida now, of the Bahamas as well get their comeuppance in mordantly ingenious, diabolically entertaining fashion.

About the Author
---
Carl Hiaasen was born and raised in Florida. He is the author of twelve previous novels, including the best-selling Lucky You, Nature Girl, Sick Puppy, Skinny Dip, and Star Island, and four best-selling children s books, Chomp, Flush, Hoot, and Scat. His most recent work of nonfiction is The Downhill Lie: A Hacker s Return to a Ruinous Sport. He also writes a weekly column for The Miami Herald."
Praise For…
---
Praise for Bad Monkey
 
"[A] comedic marvel . . . [Hiaasen] hasn't written a novel this funny since Skinny Dip. . . . Beautifully constructed."
—Janet Maslin, The New York Times
 
"[A] deliciously zany romp. Buckle up for the ride."
—People
 
"Bad Monkey boils over with corruption and comeuppance. And yes, there's a monkey."
—O, The Oprah Magazine
 
"[A] rollicking misadventure in the colorful annals of greed and corruption in South Florida. . . . Hiaasen has a peculiar genius for inventing grotesque creatures . . . that spring from the darkest impulses of the id. But he also writes great heroes."
—Marilyn Stasio, The New York Times
 
"This 'Triple-F'—fierce, funny, and Floridian . . . enfolds corruption, greed, mayhem, and very funny social satire in the way that only Hiaasen does it."
—Reader's Digest
 
"[Hiaasen is] one of America's premier humorists."
—Rege Behe, Pittsburgh Tribune-Review
 
"No one writes about Florida with a more wicked sense of humor than Hiaasen."
—Jocelyn McClurg, USA Today
 
"The gold standard for South Florida criminal farce."
—Kirkus Reviews
 
"Inspired . . . Another marvelously entertaining Hiaasen adventure."
—Publishers Weekly
 
"Hiaasen is laugh-out-loud funny and thoroughly entertaining."
—Thomas Gaughan, Booklist (starred)

Praise for the work of Carl Hiaasen
 
"Carl Hiaasen isn't just Florida's sharpest satirist—he's one of the few funny writers left in the whole country . . . I think of him as a national treasure."
—Malcolm Jones, Newsweek
 
"Does anyone remember what we did for fun before Hiaasen began turning out his satirical comedies?"
—Alan Cheuse, San Francisco Chronicle
 
"Hiaasen [is] a superb national satirist . . . A great American writer about the great American subjects of ambition, greed, vanity and disappointment."
—Mark Harris, Entertainment Weekly
 
"Hiaasen's wasteland is as retributive as Cormac McCarthy's, but funnier. . . .  [His] pacing is impeccable, and the scenes follow one another like Lay's potato chips."
—John Leland, The New York Times Book Review
 
"Hiaasen [is] king of the screwball comedies . . . A truly original comic novelist . . . The charismatic, animated characters deliver lines that will bring tears of laughter to even the most jaundiced readers . . . This is top-notch storytelling by a truly original comic novelist."
—Clayton Moore, Rocky Mountain News
 
"Carl Hiaasen is a lot like Evelyn Waugh. . . . Both simmer with rage; both are consumed with the same overwhelming vision . . . [both] write the funniest English of this century."
—Carolyn See, The Washington Post
 
"Hiaasen [is] in the company of Preston Sturges, Woody Allen, and S. J. Perelman."
—Janet Maslin, The New York Times
 
"A big-hearted and deeply funny book . . . All of Carl Hiaasen's obsessions are on full-tilt boogie."
—Adam Woog, The Seattle Times
 
"Hiaasen, like Elmore Leonard, shouldn't be missed. . . . Hiaasen throws his colorful characters into an increasingly frenetic mix, and the fun lies in watching how, or if, they'll manage to extricate themselves."
—David Lazarus, San Francisco Chronicle
 
"Whenever it seems as if he might be running out of oxen to gore, Hiaasen comes up with fresh victims for his killing wit. [He is] Florida's most entertainingly indignant social critic . . . Outlandish events soar on the exuberance of Hiaasen's manic style, a canny blend of lunatic farce and savage satire."
—Marilyn Stasio, The New York Times Book Review
 
"A whole lot 'Survivor,' a little bit 'The Tempest,' with a pinch of Laurel and Hardy . . . Hiaasen is always good for a number of laugh-aloud scenes and lines . . . His ear is pitch-perfect."
—Alan Michael Parker, Atlanta Journal-Constitution
 
"Hilarious . . . A lifelong resident of the Sunshine State, [Hiaasen's] novels have always addressed the state's ecological and social ills with scathing satire, ironic comeuppance and an ever-evolving sensibility."
—Dan Lopez, Time Out New York