Gone Girl (Hardcover)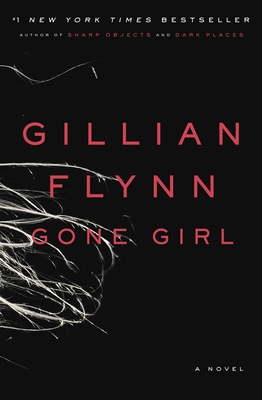 $25.00
Usually Ships in 1-5 Days
Staff Reviews
---
While I admit to not being objective about her books – her first two were also brilliant, audacious and astonishing – this one deserves those words in bold, italicized caps. The trick is that I cannot tell you much about it. Fran's right – it is pretty much a 'trust me' book.
Nick and Amy had both lost their jobs in NYC and moved back to Nick's hometown in Northwest Missouri to help care for his dying mother. They've been there a couple of years at the start of the story and their relationship has withered. On the morning of their 5th wedding anniversary, Amy vanishes. There are signs of a struggle in the house. As the cops investigate, they're frustrated by Nick's inability to explain much and how his answers don't add up. These chapters are told by Nick.
They alternate with chapters from Amy's diary, which tell you the history of the relationship, how happy they were at first but how things began to slide once they reached Missouri.
It becomes clear early that Nick isn't telling all he knows to you, the reader, or to the cops. You want to pull for Nick but you begin to have your doubts. He's just such a schlub: "Desi seemed the definition of a gentleman: a guy who could quote a great poet, order a rare scotch, and buy a woman the right piece of vintage jewelry. He seemed, in fact, a man who knew inherently what women wanted – across from him, I felt my suit wilt, my mannner go clumsey. I had a swelling urge to discuss football and fart."
At the same time, you want to side with Amy but it starts to feel as if she was no peach, either. In one part, she watches from the motel pool: "I can see a blond head bobbing across the parking lot, and then the girl with the split lip comes through the chain-link gate with one of the bath towels from the cabins, no bigger than a tea towel, and a pack of Merits and a book and SPR 120. Lung cancer but not skin. She settles herself and applies the lotion carefully, which is different from the other beat-up women who come here – they slather themselves in baby oil, leave greasy shadows on the lawn chairs."
And that is all I can tell you. There are turns you might see coming, but I sure as hell didn't. Here is where other adjectives are needed: stunning, mind-blowing and funny come into play.
"I got nothing more than a fussy nap toward dawn, woke up an hour later with a hangover. Not a disabling hangover, but decent. I was tender and dull. Fuggy. Maybe a little drunk. I stutter-walked to Go's Subaru, the movement feeling alien, like my legs were on backward."
If you haven't read Gillian, please do. These are engrossing books peopled with full-blooded characters who are both believable and familiar. Her three books are not connected, so you can start anywhere. Her first was Sharp Objects, the second was Dark Places. It is always hard to peg an author easily to give someone an idea of what their writing is like: off the top of my head, I'd say Gillian is a mix of Woodrell, Pelecanos and Lehane – edgy, honest and with the raucus dark humor of the cynic.
"He had beefed up over the years, as had his brother: they weren't just barrel-chested but barrel-everythinged. Standing side by side, they were about five hundred pounds of dude."
Book of the year, hands down.
Brilliant, audacious and astonishing.
— JB
If you like dark, twisty, wickedly intelligent and fast-paced books, have you tried Gillian Flynn? You need to. Seriously.
With her third book, Gone Girl, Flynn takes a good, hard look at how people percieve themselves, the people they love and the way society percieves them and us. It isn't pretty, but it is disturbingly real.
I don't want to get too much into the plot; JB covered it brilliantly at the first of the month (you can see his review on our GoodReads page) except to say that Nick Dunne's wife, Amy, is missing, and the story is told in alternating chapters, Nick's point of view and Amy's diary.
It's the writing, the observations Gillian Flynn makes about people that hits home with a vengeance.
"We stare at the wonders of the world, dull-eyed, underwhelmed. Mona Lisa, the Pyramids, the Empire State Building. Jungle animals on attack, ancient icebergs collapsing, volcanoes erupting. I can't recall a single amazing thing I have seen firsthand that I didn't immediately reference to a movie or TV show. [snip] I've literally seen it all, and the worst thing, the thing that makes me want to blow my brains out, is: The secondhand experience is always better. The image is crisper, the view is keener, the camera angle and the soundtrack manipulate my emotions in a way reality can't anymore. I don't know that we are actually human at this point, those of us who are like most of us, who grew up with TV and movies and now the Internet. If we are betrayed, we know the words to say; when a loved one dies, we know the words to say. If we want to play the stud or the smart-ass or the fool, we know the words to say. We are all working from the same dog-eared script."
There are twists and turns, and I found my sympathies changing almost on a page-by-page basis. These people, with all their flaws and strengths, moments of brilliance and complete jackassery, altruism and overwelming selfishness, these people have carved a place in my heart. JB may very well be right. If this isn't the book of the year, it's in the top two. Read it.
— F
Description
---
Marriage can be a real killer. One of the most critically acclaimed suspense writers of our time, New York Times bestseller Gillian Flynn takes that statement to its darkest place in this unputdownable masterpiece about a marriage gone terribly, terribly wrong. The Chicago Tribune proclaimed that her work "draws you in and keeps you reading with the force of a pure but nasty addiction." Gone Girl's toxic mix of sharp-edged wit and deliciously chilling prose creates a nerve-fraying thriller that confounds you at every turn. On a warm summer morning in North Carthage, Missouri, it is Nick and Amy Dunne's fifth wedding anniversary. Presents are being wrapped and reservations are being made when Nick's clever and beautiful wife disappears from their rented McMansion on the Mississippi River. Husband-of-the-Year Nick isn't doing himself any favors with cringe-worthy daydreams about the slope and shape of his wife's head, but passages from Amy's diary reveal the alpha-girl perfectionist could have put anyone dangerously on edge. Under mounting pressure from the police and the media--as well as Amy's fiercely doting parents--the town golden boy parades an endless series of lies, deceits, and inappropriate behavior. Nick is oddly evasive, and he's definitely bitter--but is he really a killer? As the cops close in, every couple in town is soon wondering how well they know the one that they love. With his twin sister, Margo, at his side, Nick stands by his innocence. Trouble is, if Nick didn't do it, where is that beautiful wife? And what was in that silvery gift box hidden in the back of her bedroom closet? With her razor-sharp writing and trademark psychological insight, Gillian Flynn delivers a fast-paced, devilishly dark, and ingeniously plotted thriller that confirms her status as one of the hottest writers around.
About the Author
---
GILLIAN FLYNN is the author of the runaway hit Gone Girl, an international sensation that has spent more than ninety-five weeks on the New York Times bestseller list. Her work has been published in forty languages. Gone Girl is soon to be a major motion picture from Twentieth Century Fox. Flynn's previous novels, Dark Places and Dagger Award winner Sharp Objects, were also New York Times bestsellers. A former writer and critic for Entertainment Weekly, she lives in Chicago with her husband and children.
Praise For…
---
"Ice-pick-sharp… Spectacularly sneaky… Impressively cagey… Gone Girl is Ms. Flynn's dazzling breakthrough. It is wily, mercurial, subtly layered and populated by characters so well imagined that they're hard to part with — even if, as in Amy's case, they are already departed. And if you have any doubts about whether Ms. Flynn measures up to Patricia Highsmith's level of discreet malice, go back and look at the small details. Whatever you raced past on a first reading will look completely different the second time around."
—Janet Maslin, New York Times

"An ingenious and viperish thriller… It's going to make Gillian Flynn a star… The first half of Gone Girl is a nimble, caustic riff on our Nancy Grace culture and the way in which ''The butler did it'' has morphed into ''The husband did it.'' The second half is the real stunner, though. Now I really am going to shut up before I spoil what instantly shifts into a great, breathless read. Even as Gone Girl grows truly twisted and wild, it says smart things about how tenuous power relations are between men and women, and how often couples are at the mercy of forces beyond their control. As if that weren't enough, Flynn has created a genuinely creepy villain you don't see coming. People love to talk about the banality of evil. You're about to meet a maniac you could fall in love with."
—Jeff Giles, Entertainment Weekly

"An irresistible summer thriller with a twisting plot worthy of Alfred Hitchcock. Burrowing deep into the murkiest corners of the human psyche, this delectable summer read will give you the creeps and keep you on edge until the last page."
—People (four stars)

"[A] thoroughbred thriller about the nature of identity and the terrible secrets that can survive and thrive in even the most intimate relationships. Gone Girl begins as a whodunit, but by the end it will have you wondering whether there's any such thing as a who at all."
—Lev Grossman, Time

"How did things get so bad? That's the reason to read this book. Gillian Flynn — whose award-winning Dark Places and Sharp Objects also shone a dark light on weird and creepy, not to mention uber dysfunctional characters — delves this time into what happens when two people marry and one spouse has no idea who their beloved really is."
—USA Today, Carol Memmott

"It's simply fantastic: terrifying, darkly funny and at times moving. The minute I finished it I wanted to start it all over again. Admirers of Gillian Flynn's previous books, Sharp Objects and Dark Places, will be ecstatic over Gone Girl, her most intricately twisted and deliciously sinister story, dangerous for any reader who prefers to savor a novel as opposed to consuming it whole in one sitting…."
—Associated Press, Michelle Weiner

"Gillian Flynn's third novel is both breakneck-paced thriller and masterful dissection of marital breakdown… Wickedly plotted and surprisingly thoughtful, this is a terrifically good read."
—Boston Globe

"That adage of no one knows what goes on behind closed doors moves the plot of Gone Girl, Gillian Flynn's suspenseful psychological thriller… Flynn's unpredictable plot of Gone Girl careens down an emotional highway where this couple dissects their marriage with sharp acumen… Flynn has shown her skills at gripping tales and enhanced character studies since her debut Sharp Objects, which garnered an Edgar nod, among other nominations. Her second novel Dark Places made numerous best of lists. Gone Girl reaffirms her talent." 
—South Florida Sun-Sentinel, Oline Cogdill

"A great crime novel, however, is an unstable thing, entertainment and literature suspended in some undetermined solution. Take Gillian Flynn's Gone Girl, the third novel by one of a trio of contemporary women writers (the others are Kate Atkinson and Tana French) who are kicking the genre into a higher gear… You couldn't say that this is a crime novel that's ultimately about a marriage, which would make it a literary novel in disguise. The crime and the marriage are inseparable. As Gone Girl works itself up into an aria of ingenious, pitch-black comedy (or comedic horror — it's a bit of both), its very outlandishness teases out a truth about all magnificent partnerships: Sometimes it's your enemy who brings out the best in you, and in such cases, you want to keep him close."
—Salon
 
"Ms. Flynn writes dark suspense novels that anatomize violence without splashing barrels of blood around the pages… But as in her other books, Ms. Flynn has much more up her sleeve than a simple missing-person case. As Nick and Amy's alternately tell their stories, marriage has never looked so menacing, narrators so unreliable." 
—Wall Street Journal

"A portrait of a marriage so hilariously terrifying, it will make you have a good hard think about who the person on the other side of the bed really is. This novel is so bogglingly twisty, we can only give you the initial premise: on their fifth anniversary, Nick Dunne's beloved wife Amy disappears, and all signs point to very foul play indeed. Nick has to clear his name before the police finger him for Amy's murder."
—Time

"Readers who prefer more virulent strains of unreality will appreciate the sneaky mind games of Gillian Flynn's Gone Girl, a thriller rooted in the portrait of a tricky and troubled marriage."
—New York Times

"[Flynn has] quite outdone herself with a tale of marital strife so deliciously devious that it moves the finish line on The War of the Roses… A novel studded with disclosures and guided by purposeful misdirection… Flynn delivers a wickedly clever cultural commentary as well as a complex and driven mystery… What fun this novel is."
—New York Daily News
 
"Flynn's brilliantly constructed and consistently absorbing third novel begins on the Dunnes' fifth wedding anniversary… The novel, which twists itself into new shapes, works as a page-turning thriller, but it's also a study of marriage at its most destructive."
—Columbus Dispatch
 
"Gillian Flynn's barbed and brilliant Gone Girl has two deceitful, disturbing, irresistible narrators and a plot that twists so many times you'll be dizzy. This "catastrophically romantic" story about Nick and Amy is a "fairy tale reverse transformation" that reminded me of Patricia Highsmith in its psychological suspense and Kate Atkinson in its insanely clever plotting."
—Minneapolis Star-Tribune
 
"For a creepy, suspenseful mystery, Ms. Pearl suggested Gone Girl by Gillian Flynn, a novel due out this week. "You will not be able to figure out the end at all. I could not sleep the night after I read it. It's really good," Ms. [Nancy] Pearl said. "It's about the way we deceive ourselves and deceive others.""
—Pittsburgh Post-Gazette

"Gillian Flynn's new novel, Gone Girl, is that rare thing: a book that thrills and delights while holding up a mirror to how we live… Through her two ultimately unreliable narrators, Flynn masterfully weaves the slow trickle of critical details with 90-degree plot turns… Timely, poignant and emotionally rich, Gone Girl will peel away your comfort levels even as you root for its protagonists—despite your best intuition."
—San Francisco Chronicle
 
"Flynn's third noir thriller recently launched to even more acclaim than the first two novels, polishing her reputation for pushing crime fiction to a new literary level and as a craftsman of deliciously twisting and twisted plots."
—Kansas City Star
 
"I picked up Gone Girl because the novel is set along the Mississippi River in Missouri and the plot sounded intriguing. I put it down two days later, bleary-eyed and oh-so-satisfied after reading a story that left me surprised, disgusted, and riveted by its twists and turns… A good story presents a reader with a problem that has to be resolved and a few surprises along the way. A great story gives a reader a problem and leads you along a path, then dumps you off a cliff and into a jungle of plot twists, character revelations and back stories that you could not have imagined. Gone Girl does just that."
—St. Louis Post-Dispatch

"To call Gillian Flynn's new novel almost review-proof isn't a put-down, it's a fact. That's because to give away the turn-of-the-screw in this chilling portrait of a marriage gone wrong would be a crime. I can say that Gone Girl is an ingenious whodunit for both the Facebook generation and old-school mystery buffs. Whoever you are, it will linger, like fingerprints on a gun… Flynn's characters bloom and grow, like beautiful, poisonous plants. She is a Gothic storyteller for the Internet age."
—Cleveland Plain Dealer

"The setup of Gone Girl lulls readers with what appears to be a done-too-often plot, but, oh, how misleading that is. This thriller is told in alternating voices, a risky form of narrative that works masterfully here because the characters are so distinct and convincing…. The first half of the story leads readers on a merry chase and gives the term "red herring" new meaning. The second half takes readers on a calculated descent into madness. The ending…is one of the most chilling we've seen in recent years."
—The Sacramento Bee, Allen Pierleoni

"If you do have room in your summer reading for new mysteries, pack Gillian Flynn's Gone Girl. It's my pick for one of the summer's best."
—Milwaukee Journal-Sentinel

"In this fast-paced thriller, Flynn tracks the disintegration of a marriage and asks: How does a couple go from uttering passionate vows to living separate lives?"
—All You

"Gillian Flynn's terrific psychological thriller, Gone Girl, wanders into an alternate criminality, to the darkest corners of mind and matrimony, using Occam's razor to slit its own throat… Aside from the plot's high entertainment value, Flynn has buttressed her book with humor and great writing."
—The Daily Beast

"Gone Girl is a dark, satisfying, psychological thriller… Gone Girl is at times brilliant, compelling, surprising, diabolical, and it's definitely dark and twisted… It ranks as one of the best books I've read in the past year…I'd highly recommend it if you're a fan of psychological thrillers or just plain great fiction."
—Examiner.com

"Pick up the sharp, mercilessly entertaining psychological thriller Gone Girl, written by Gillian Flynn as though with a razor, giggling all the while."
—Vanity Fair

"Gone Girl [is] a thriller with an insane twist and an insidiously realistic take on marriage."
—New York magazine
 
"A twisting, turning, zooming-up-the-charts thriller."
—Real Simple, announcing their book club pick
 
"An unnerving, gorgeously written marital thriller that features one of the most compelling narrators in recent memory… Anyway, go read Gone Girl. It's quite good."
—The Atlantic Wire
 
"Buy Gone Girl and don't settle down for a long winter's nap or any kind of nap. I read it in two days, nonstop, useless for anything but my own incredible pleasure."
—Liz Smith, New York Social Diary
 
"Gillian Flynn's killer thriller is unputdownable, and just when you think you know where she's going, she's gone."
—DailyCandy.com
 
"A satisfyingly scathing take on a marriage so broken even the truth is built on lies."
—Family Circle
 
"If, instead, you're a fan of gripping, well-crafted tales about complex relationships, try Gone Girl by Gillian Flynn."
—AARP.org
 
"After a chilling, bombshell twist, you won't know which clues to trust nor whom to believe."
—Woman's Day
 
Flynn's ability to reach further and further into the deep, dark recesses of the human psyche brings a much greater edge and feeling of suspense to this novel. Gone Girl is a fast-paced, always surprising page-turner of a book…Gone Girl is a superbly crafted novel by a talented and daring young writer and it will keep you guessing until the very last sentence."
—Cincinnati City Beat, John Kelly
 
"A highly original thriller that's also a razor-sharp depiction of a relationship gone off the rails."
—Parade
 
"Masterfully plotted."
—Vogue.com
 
"Dark yet funny with a devious twist, this is everything that made Flynn's Sharp Objects a bestseller—but better."
—Redbook
 
"The story unfolds in precise and riveting prose…even while you know you're being manipulated, searching for the missing pieces is half the thrill of this wickedly absorbing tale."
—Oprah.com

"Full of midnight-black wit and gorgeous writing…About halfway through the book, something happens…That's the moment you should check the clock and firmly put the book down if you have to rise early the next day. Because trust me, if you keep reading, you won't stop till you finish it."
—Dallas Morning News, Joy Tipping

"Gillian Flynn's third mystery is burned-coffee black and flavored with cyanide. (As far as I'm concerned, those are compliments of the highest order.)…Flynn is a master manipulator, deftly fielding multiple unreliable narrators, sardonic humor, and social satire in a story of a marriage gone wrong that makes black comedies like "The War of the Roses" and "Who's Afraid of Virginia Woolf" look like scenes from a honeymoon. Veteran mystery readers may see as far as the opening of the second act, but Flynn has more surprises in store on her way to the sucker-punch of an ending. It is, in a word, amazing."
—Christian Science Monitor, Yvonne Zipp

"A perfect wife's disappearance plunges her husband into a nightmare as it rips open ugly secrets about his marriage and, just maybe, his culpability in her death… One of those rare thrillers whose revelations actually intensify its suspense instead of dissipating it. The final pages are chilling."
—Kirkus (starred review)

"[W]hat looks like a straightforward case of a husband killing his wife to free himself from a bad marriage morphs into something entirely different in Flynn's hands. As evidenced by her previous work (Sharp Objects, 2006, and Dark Places, 2009), she possesses a disturbing worldview, one considerably amped up by her twisted sense of humor. Both a compelling thriller and a searing portrait of marriage, this could well be Flynn's breakout novel. It contains so many twists and turns that the outcome is impossible to predict."
—Booklist (starred review)

"Flynn cements her place among that elite group of mystery/thriller writers who unfailingly deliver the goods...Once again Flynn has written an intelligent, gripping tour de force, mixing a riveting plot and psychological intrigue with a compelling prose style that unobtrusively yet forcefully carries the reader from page to page." 
—Library Journal (starred review)

"Flynn masterfully lets this tale of a marriage gone toxically wrong gradually emerge through alternating accounts by Nick and Amy, both unreliable narrators in their own ways. The reader comes to discover their layers of deceit through a process similar to that at work in the imploding relationship. Compulsively readable, creepily unforgettable, this is a must read for any fan of bad girls and good writing."
—Publishers Weekly (starred review)

"Gone Girl is one of the best ­and most frightening ­portraits of psychopathy I've ever read. Nick and Amy manipulate each other ­with savage, merciless and often darkly witty dexterity. This is a wonderful and terrifying book about how the happy surface normality and the underlying darkness can become too closely interwoven to separate." 
—Tana French, New York Times bestselling author of Faithful Place and Into the Woods
 
"The plot has it all. I have no doubt that in a year's time I'm going to be saying that this is my favorite novel of 2012. Brilliant." 
—Kate Atkinson, New York Times bestselling author of Started Early, Took My Dog and Case Histories
 
"Gone Girl builds on the extraordinary achievements of Gillian Flynn's first two books and delivers the reader into the claustrophobic world of a failing marriage. We all know the story, right? Beautiful wife disappears; husband doesn't seem as distraught as he should be under the circumstances. But Flynn takes this sturdy trope of the 24-hour news cycle and turns it inside out, providing a devastating portrait of a marriage and a timely, cautionary tale about an age in which everyone's dreams seem to be imploding." 
—Laura Lippman, New York Times bestselling author of The Most Dangerous Thing and I'd Know You Anywhere
 
"Gillian Flynn's Gone Girl is like Scenes from a Marriage remade by Alfred Hitchcock, an elaborate trap that's always surprising and full of characters who are entirely recognizable. It's a love story wrapped in a mystery that asks the eternal question of all good relationships gone bad: How did we get from there to here?" 
—Adam Ross, New York Times bestselling author of Mr. Peanut

"Just this minute I finished a week of feeling betrayed, misled, manipulated, provoked, and misjudged, not to mention having all my expectations confounded.  Considering how compulsively I kept coming back for more, I am seriously thinking of going back to page one and doing it all again." 
—Arthur Phillips, author of The Tragedy of Arthur
 
"I cannot say this urgently enough: you have to read Gone Girl. It's as if Gillian Flynn has mixed us a martini using battery acid instead of vermouth and somehow managed to make it taste really, really good. Gone Girl is delicious and intoxicating and delightfully poisonous. It's smart (brilliant, actually). It's funny (in the darkest possible way). The writing is jarringly good, and the story is, well...amazing.  Read the book and you'll discover—among many other treasures—just how much freight (and fright) that last adjective can bear." 
—Scott Smith, New York Times bestselling author of The Ruins and A Simple Plan
 
"Gillian Flynn's Gone Girl reminds me of Patricia Highsmith at the top of her game. With Gone Girl, she's placed herself at the top of the short list of authors who have mastered the art of crafting a tense story with terrifyingly believable characters." 
—Karin Slaughter, New York Times bestselling author of Fallen

"Gone Girl manages to be so many stellar things all at once—suspenseful, inventive, chilling, funny, unsettling—as well as beautifully plotted and fiercely well-written. Gillian Flynn is a thrilling writer."
—Kate Christensen, author of The Great Man  

"Reminds suspense readers of the old Alfred Hitchcock stories...This is one puzzle you do not want to miss."
—Amy Lignor, Suspense Magazine

"Absorbing thriller…In masterly fashion, Flynn depicts the unraveling of a marriage – and of a recession-hit Midwest – by interweaving the wife's diary entries with the husband's first person account."
—New Yorker
 
"A psychological thriller reminiscent of Hitchcock."
—Aspen Daily News
 
"Devilishly clever he said/she said thriller."
—AJC.com, Atlanta Journal Constitution
 
"Flynn's sly and rippingly suspenseful novel, Gone Girl, is one of those novels it's hard not to try and shanghai other people into reading, as in immediately. Flynn (Sharp Objects, Dark Places) lays down a vivid and plainspoken narrative that can read like the most jet-fueled of airport thrillers but is still bejeweled with sparkling asides and dead-on commentary. Her writing is, as needed, funny, perceptive, headslappingly honest, or sometimes an amalgam of the three. That this all happens in a book whose plot seems at first ripped from a Dateline NBC true crime is all the more impressive."
—PopMatters.com

"A riveting novel, a Midwestern noir with completely unreliable narrators."
—Knoxville Metro Plus

"Part thriller, part macabre love story…The book is told deliciously…The twists and turns are never obvious."
—New York Post

"Dark yet funny with a devious twist, this is everything that made Flynn's Sharp Objects a bestseller—but better."
—Redbook

The summer thriller is filled with enough suspense and twists to keep any beach reader happy, but it is also a book about writing. The main characters are avid readers, and they write letters, articles, journals, kid's books and memoirs. The novel references other books, little Easter eggs nestled in the plot."
—MediaBistro

"A fiendishly clever tale of a marriage gone toxic, and revenge exacted to a disturbingly lethal degree."
—BookPage

"Flynn keeps us guessing with equal parts charm and menace. An addictive read."
—More magazine, Alice LaPlante

"After a chilling, bombshell twist, you won't know which clues to trust nor whom to believe. Told from two perspectives, Gone Girl forces you to ask yourself, what would you do and who dunnit?"
—Woman's Day

Flynn's ability to reach further and further into the deep, dark recesses of the human psyche brings a much greater edge and feeling of suspense to this novel. Gone Girl is a fast-paced, always surprising page-turner of a book. It's not only a murder mystery, but a commentary on the disappearance in the last decade of nearly everything we hold near and dear, from jobs to our parents' health and welfare to the landscape of our cities and towns…Beginning with Amy's sudden disappearance, to the local police department's slipshod investigation and the media's obsessive coverage, Gone Girl is a thrilling roller coaster of a ride with enough twists and turns to give the reader whiplash…Flynn deserves credit for creating not just an exciting murder mystery, but also forcing us to look at the lies we tell ourselves.  Gone Girl is a superbly crafted novel by a talented and daring young writer and it will keep you guessing until the very last sentence."
—Cincinnati City Beat

"Gone Girl is a superbly constructed, ingeniously paced and absolutely terrifying.  You begin by thinking that all marriages are a bit like this: they start with high hopes and get bogged down in nagging and money worries.  But then the psycho-drama creeps up on you with chilling power.  A five-star suspense mystery."
—A.N. Wilson, Reader's Digest (UK)

"Gone Girl is as skillfully creepy as her previous work… A chilling, stylish read about another unknowable woman."
—Elle (UK)

"The married duo in Gillian Flynn's superb third novel takes the idea of unreliable narrators to a whole new level. When Nick Dunne's lovely wife Amy is violently abducted on their fifth wedding anniversary, the police and the press immediately put Nick in the frame for her murder.  Amy's friends testify that she was afraid of her husband, and the missing woman's diary backs up their impressions.  Nick's computer is full of inexplicable searches, his mobile phone is plagued by mysterious calls and his own inner monologue offers a darker perspective on amazing Amy and the state of their turbulent marriage.  Flynn keeps the accelerator firmly to the floor, ratcheting up the tension with wildly unexpected plot twists, contradictory stories and the tantalizing feeling that nothing is as it seems.  Deviously good."
—Marie Claire (UK)