Spqr I: The Kings Gambit: A Mystery (Paperback)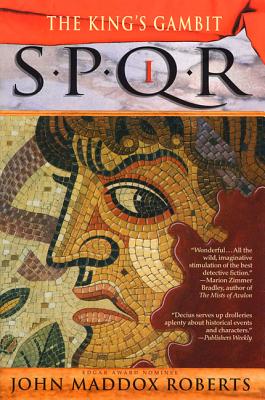 $20.99
Usually Ships in 1-5 Days
Staff Reviews
---
Blood and gore, sex and political intrigue that makes Washington D.C. look like kindergarten, all set during the collapse of one of the world's largest republics into a dictatorship, is served up with ironic and sardonic wit by author John Maddox Roberts in his 13-volume series SPQR.
Roberts, also known for his science fiction and fantasy books, creates arguably the world's first detective of rational deduction, Decius Cecilius Metellus, born into Rome's most powerful and oldest political machine. Readers follow the career arc of Decius from a lusty young man best known for his brawling and womanizing into descent as one more pawn of Julius Caesar. Yes, that Julius Caesar, whose life is snuffed out on the Iides of March, a.k.a. March 15.
Populated with power-hungry Roman elite who destroy their world in the lust for power and more power, author Roberts effortlessly delivers taut, fast-paced, complex plots realistically peopled with exotic Egyptians, cynical Greeks, esoteric Babylonians, with just enough barbarians from Gaul and Germany to keep life fascinating for detective Decius and lucky readers.
Grounded in the smells and sounds, sights and mores of Rome and its empire, this generous serving of swashbuckling action of city gangs and Roman legions, gladiators and senators, includes insight into the hedonism favored by the power elite, and the systemic destruction of a political structure unique to the world of its time.
The heaping dose of irony saves the series from a crushing noir outlook, making the plunge into the world of SPQR, The Senate and People of Rome, almost effortless. Do pick up the series with SPQR I: The King's Gambit (1990) and read through SQPR XIII: The Year of Confusion and feel free to cheer our flawed, oh so flawed hero, Decius, through one crisis after another.
— Special Guest
Description
---
Blackmail, corruption, treachery, murder--the glory that was Rome.
In this Edgar Award-nominated mystery, John Maddox Roberts takes readers back to a Rome filled with violence and evil. Vicious gangs ruled the streets of Crassus and Pompey, routinely preying on plebeian and patrician alike, so the garroting of a lowly ex-slaved and the disembowelment of a foreign merchant in the dangerous Subura district seemed of little consequence to the Roman hierarchy. But Decius Caecilius Metellus the Younger--highborn commander of the local vigiles--was determined to investigate. Despite official apathy, brazen bribes, and sinister threates, Decius uncovers a world of corruption at the highest levels of his government that threatens to destroy him and the government he serves.
About the Author
---
John Maddox Roberts has written numerous works of science fiction and fantasy, in addition to his successful historical SPQR mystery series. SPQR XIII: The Year of Confusion was published in 2010. He lives in New Mexico with his wife.
Praise For…
---
"This literate mystery introduces the newest in an ever-expanding genre of quirky dicks: Decius Caecilius Metellus the Younger, a high-born bad boy, but patriotic head of a civil detective force in ancient Rome."
--Publishers Weekly