Immunity (Hardcover)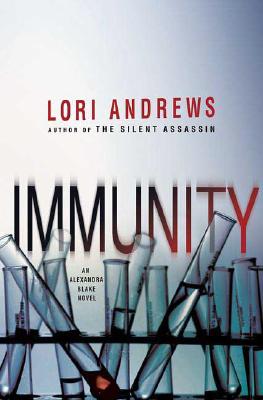 Email or call for price
Special Order - E-mail us directly - We may have a used book!
Staff Reviews
---
I've been reading her Alex Blake series definitely from the very beginning, and I knew it would have something to do with genetics because that's what Alex Blake does; she's a civilian working for the Armed Forces Institute of Pathology working on epidemics and genetic immunity.
DEA agent Castro Baxter and his partner, Ted Silliman, follow a suspect onto a Native American reservation in New Mexico, and just when the anticipated meeting that might lead them to the source behind a new date-rape drug called "J" occurs, Ted collapses to the ground, his whole body swelling grotesquely. Baxter breaks cover to rush his partner to the nearest hospital, but Ted dies long before they get there.
Alex, along with the AFIP team, begin an investigation that will eventually take them all around the country, chasing what may be a new disease that is killing off a growing number of people. But is it a disease, or is it a poison.
Between these two exceptional authors, I find myself now jumping at every sniffle, eyeing man-made materials suspiciously, and – quite seriously – wondering about the true possibilities of biological hazards as weapons in our lives, and the pictures these two fine authors have painted have left me exceptionally nervous.
Once you have read them, you'll understand why I don't want to leave my house!
— FRAN
Description
---
One bizarre death is just that---a death. Two? Could be a coincidence. But in Lori Andrews's latest thriller, geneticist Dr. Alexandra Blake discovers something much more dangerous than a killer---an epidemic.

Taking a break from decoding the genetic sequence of a tropical disease, Alex takes on an investigation into the gruesome and unexplained death of a DEA agent on a mob stakeout in New Mexico. Within hours, she uncovers similar deaths throughout the Southwest. Is it a naturally occurring epidemic or has a lethal bioweapon been released in the United States?

With the nation's attention focused on a provocative presidential race, Alex's attempts to warn Homeland Security fail. Only with the help of a rogue DEA agent and a cutting-edge supercomputer will she and the rest of her team at the Armed Forces Institute of Pathology stand a chance of putting an end to the devastation before public hysteria rages out of control.

From Alex's lab to the closed rooms of a killer's mind, Immunity maps the perfect sequence for an infectious, edge-of-your-seat thriller.
About the Author
---
LORI ANDREWS, a frequent guest on "Nightline," "60 Minutes," "CBS Morning News," and "Oprah," is a lawyer and expert on genetics, called in by groups ranging from the French Parliament to the Centers for Disease Control and Prevention. She's taught at Princeton and Chicago-Kent College of Law, written for a television legal drama, and published ten nonfiction books. The American Bar Association Journal describes her as "a lawyer with a literary bent who has the scientific chops to rival any CSI investigator."
Praise For…
---
Praise for Immunity

"Andrews's exciting third helix-twister to feature Dr. Alex Blake… spikes the chills with a talking DNA computer named Sam and insights into hot-button Native American issues."
--Publishers Weekly

"The scenario is chilling and the expertise is undeniable."
--Booklist

"Strong characters and fascinating scientific details"
--Kirkus Reviews

Praise for The Silent Assassin

"Andrews is a quickly rising luminary in the thriller/medical sleuth universe.... Blending elements of forensic-powered mystery, psychological suspense, and a Ludlum-esque espionage thriller, Andrews's newest is a page-turner with enough jaw-dropping plot twists to satisfy the most demanding mystery reader. It's highly recommended."
---Chicago Tribune

"Outstanding...the tight plot moves toward its explosive conclusion."
---Publishers Weekly (starred review)

"A page-tuner...Patricia Cornwell and Kathy Reichs, watch out!"
---Library Journal

"Andrews writes with breezy energy and fills Alex's world with appealing background characters and interesting details."
---Kirkus Reviews

Praise for Sequence
"Andrews clearly knows her subject matter.... The novel generates plenty of excitement."
---Booklist