Dying Bites (Mass Market Paperbound)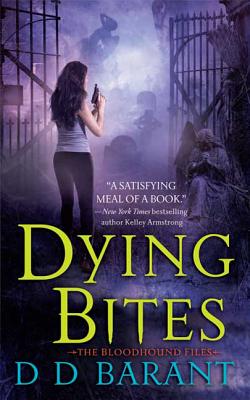 Email or call for price
Special Order - E-mail us directly - We may have a used book!
Staff Reviews
---
 It's no secret that I like urban fantasy, so I listened carefully while Amber has sold tons of the D D Barant series known as The Bloodhound Files – Dying Bites and Death Blows (St. Martins, $6.99 and $7.99 respectively) – and naturally I caved.  Of course I did.  And I snagged both of them.
        She's absolutely right.  They're great!
        The basic premise is that there is an alternate universe, parallelling ours, where vampires, lycanthropes and golems are the main species.  Okay, "pires" and "thropes" are.  They make the "lems", who tend to be enforcer types.  However, humans are an endangered species. 
        There's no such thing as mental illness in this world since pires and thropes heal everything, including broken minds.  But when a serial killer is discovered among them, the only thing the NSA can do is get a shaman to cast a serious spell and bring in an FBI profiler from our world.  Enter Jace Valchek: kick-ass, smart-mouthed, wickedly impertinent and frequently irritated. 
        Barant's writing is smart, fast and funny, sometimes gritty and a bit dark, and it's been keeping me on the edge of my seat for a few days now, and I'm on  the list for the third one when it comes out in January.  It's a testament to his skill, since the series is written in present tense, which I generally dislike, but I barely notice here.  His characters are complex and quirky and have a definite chemistry.  This is a fun and addicting series, and Amber is right – once you start reading them, you'll be hooked!
— FRAN
Description
---
DD Barant launches The Bloodhound Files with "Dying Bites" a "fresh and original take on urban fantasy" ("Romantic Times") with a heroine who's "remarkable, strong-willed and smart" ("Publishers Weekly").
Her job description is the "tracking and apprehension of mentally-fractured killers." What this really means in FBI profiler Jace Valchek's brave new world-one in which only one percent of the population is human is that a woman's work is never done. And real is getting stranger every day
Jace has been ripped from her reality by David Cassius, the vampire head of the NSA. He knows that she's the best there in the business, and David needs her help in solving a series of gruesome murders of vampires and werewolves. David's world one that also includes lycanthropes and golems is one with little knowledge of mental illness. An insane serial killer is a threat the NSA has no experience with. But Jace does. Stranded in a reality where Bela Lugosi is a bigger box office draw than Bruce Willis and every full moon is Mardi Gras, Jace must now hunt down a fellow human before he brings the entire planet to the brink of madness. Or she may never see her own world again
About the Author
---
DD Barant lives in Vancouver, BC, and loves monsters, chocolate, animals, reading, comics and lying naked on the beach, while hating bullies, narrow-minded people, Sea Urchin Sushi and gluten. Awful, terrible, gluten.
Praise For…
---
"Snappy writing, a page-turning story and fresh world-building make Dying Bites a satisfying meal of a book."—Kelley Armstrong, New York Times bestseller of Living with the Dead
"Dying Bites is wacky, unpredictable, fresh and amazing.  I would kill to write as well as DD Barant. Seriously."--Nancy Holder, author of Pretty Little Devils
"Barant's well-developed world offers intriguing enhancements to mythology and history. Jace is remarkable, strong-willed and smart, and she sets an unstoppable pace. Look for the Bloodhound Files to go far." -
Publisher's Weekly
 "Surviving in this unique alternate reality will take a heroine with plenty of guts, moxie and a sense of the absurd.  This fresh and original take on urban fantasy follows the first-person exploits of an FBI profiler literally yanked out of her world.  Huge kudos to Barant for spicing things up with a story that expertly integrates detective work, kick-butt action and a wacky sense of humor.  Make sure you get in early on the outstanding new Bloodhound Files series."--
Romantic Times