Skinner (Hardcover)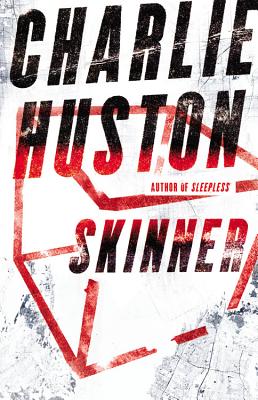 Email or call for price
Special Order - E-mail us directly - We may have a used book!
Staff Reviews
---
Charlie Huston is the kind of author who writes a great variety of stories but all are reliably and engrossingly fresh and fabulous. His latest book, Skinner is a riot of invention that kept me delightedly off-balance. That's no small feat for someone who has been devouring this stuff for a number of decades, but Charlie ALWAYS does it. He never does what has been done before.
Skinner is in the 'asset protection' business. Calling him a bodyguard is like calling Dillinger a thief. Skinner has long been the top of the pyramid because his rule was to visit such horror on anyone who attempts to harm his asset that no one would even consider it. But seven years ago, someone tried to mess with Skinner and the world in which he operates has been holding its breath, waiting for his retaliation.
This is a world that exists in a different dimension from the rest of us. They're former Black Ops people, former spooks or refugees from military or other governmental outfits. They're private security people, secret and clandestine. Their world is so far outside ours that Skinner's monstrous abilities make sense to them.
The storyline moves quickly, skipping around the world, looking for the trail of cyber-terrorists who attacked a US nuclear plant. It tangles with political demonstrations in Sweden, teams of rival operatives with their own agendas, to a crypt in Paris where the story started years earlier, and finally to the revelations of what it was all about. Skinner is a character unlike any I've experienced, as is his asset, Jae, who has been searching for the explanation of the world since her mother died of a bee sting decades before. Jae builds micro-robots for fun and is able to scan great amounts of information from print, the internet, TV, and see the links that are hidden to others. They're a credible pair of broken people, unlikely allies in the war to stop what has been initiated. Broken as they are, they're real and human and I was sure I could see their faces and hear their voices even though Charlie really never fully describes either of them. Any more explanation of the story would dampen the intrigue. Trust me here – it made my transcontinental flight home from Boston zip by unnoticed.
Espionoirthrillspense…whatever you want to call it. It's a top notch thrill ride, an E-ticket ride if you're old enough to remember those.
— JB
Description
---
Skinner founded his career in "asset protection" on fear. To touch anyone under his protection was to invite destruction. A savagely effective methodology, until Skinner's CIA handlers began to fear him as much as his enemies did and banished him to the hinterlands of the intelligence community.

Now, an ornate and evolving cyber-terrorist attack is about to end that long exile. His asset is Jae, a roboticist with a gift for seeing the underlying systems violently shaping a new era of global guerrilla warfare.

At the root of it all is a young boy, the innocent seed of a plot grown in the slums of Mumbai. Brought to flower, that plot will tip the balance of world power in a perilous new direction.

A combination of Le Carre spycraft with Stephenson techno-philosophy from the novelist hailed by the Washington Post as "the voice of twenty-first century crime fiction," SKINNER is Charlie Huston's masterpiece--a new kind of thriller for a new kind of world.
About the Author
---
Charlie Huston is the author of Sleepless, the bestsellers The Mystic Arts of Erasing All Signs of Death and The Shotgun Rule, the Henry Thompson trilogy, the Joe Pitt casebooks, and several titles for Marvel Comics. He lives with his family in Los Angeles.
Praise For…
---
"A thriller for the Edward Snowden Summer . . . Mr. Huston is renowned for making the fantastic believable."
-Wall Street Journal

"Skinner is of the moment. . . . While Skinner has its share of bone-crunching fight scenes, Huston channeled [his] anger into a book with a highly complex picture of how people live at opposite ends of the economic spectrum."
-Los Angeles Times

"Its fluency with both the world of spies and of high technology, like Olen Steinhauer by way of William Gibson, makes it a gripping read, [and] the humanity Skinner finds in himself is genuinely touching."
-USA Today

"Fun and inventive . . . An espionage thriller for the information age with echoes of John Le Carre and William Gibson."
-CNN.com

"Skinner is an up-to-the-second thriller, combining big ideas, gouts of blood and a fascinating mix of damaged characters."
-Cleveland Plain Dealer