Alpha (Mass Market Paperbound)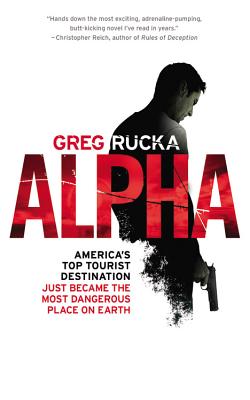 Email or call for price
Special Order - E-mail us directly - We may have a used book!
Staff Reviews
---
Greg Rucka is an evil, evil man. Just so you know.
I read Alpha and now I can't wait for the next one! I want it now!
Master Sergeant Jad Bell is sent undercover to head security and the popular theme park, Wilsonville. Rumors of a terrorist event have reached certain ears, and their solution is to place Bell and some of his team at the park to keep an eye on things.
Then his ex-wife and deaf daughter, along with her class, come to the park, and Jad is positive that they've chosen the wrong weekend. And he's right. Now, is he compromised?
Action is a Rucka watchword, and he delivers in spades! Alternating between Bell's point of view and the terrorist, "Gabriel Fuller", the pace is relentless, and things are set up so that there are some big and potentially devastating complications lurking in future books.
You really have to pay attention to this book; it's fast, it's intelligent and it's decidedly complex. There's a fair amount of military jargon but Greg makes sure you can understand even without a military background. I love the fact that he makes me think!
While there's a definite resolution to Alpha, not all the loose ends are tied up, and as I said, I cannot wait until the next one (which Greg said will be called Beta – you get the theme) comes out because someone has seriously ticked off Jad Bell, and that's not a good thing!
— Fran
Description
---
Graphic novel star Greg Rucka's new series featuring ex-Delta Force operative Jad Bell defending the most alarming terrorist target since 9/11: a summer theme park.
For the visitors to Wilsonville, the largest theme park in the world, the day began with a smile. By the end, they wonder-will they be able to escape with their lives?

Retired Delta Force operator, Master Sergeant Jonathan "Jad" Bell, is Wilsonville's lead undercover security officer. The threat begins with the announcement of a hidden dirty bomb, but quickly becomes something far, far worse.

Trained since the age of seventeen to save innocent victims from impossible hostage situations, Jad scrambles to assess the threat and protect the visitors. He will come face to face with a villain whose training matches his in every way-and presents a threat Jad may not be able to stop.
About the Author
---
Greg Rucka is the "New York Times" bestselling author of a dozen novels, including the Atticus Kodiak and Tara Chace series, and has won multiple Eisner awards for his graphic novels. He lives in Portland, Oregon, with his wife and children.
Praise For…
---
"Rucka gets his new series featuring Ex-Delta Force Master Sergeant Jad Bell off to a smashing start with this pitch-perfect thriller. This lean, mean thriller with just the right amount of character development and unexpected complications will appeal to all who enjoy this genre but particularly to readers who like a strong hero along the lines of Lee Child's Jack Reacher. Highly recommended."
-Library Journal (starred review)

"An interesting setting, a liable hero, an appropriately clever villain, and a gripping story. A real corker."
-Booklist

"Pulse-pounding....Rucka mixes suspense and an alarmingly realistic plot with ease."
-Publishers Weekly

"Greg Rucka is one of the best writers in the world. The fact that he is so good in so many different media is a testament to that fact. No one media can hold him. Any new project of his is a call for pop culture celebration."
-Brian Michael Bendis, writer of Ultimate Spider-Man, Ultimate X-Men and Ultimate Fantastic Four

"ALPHA is hands down, the most exciting, adrenaline-pumping, butt-kicking novel I've read in years. Rucka is the real deal. If this one doesn't make you stay up late rooting for the good guys, you don't have a heartbeat. Highly recommended!"
-Christopher Reich, New York Times bestselling author of Rules of Deception and Numbered Account

"One of our best writers."
-Lee Child

"Read Greg Rucka. It's that simple. Open one of his books and what you've got is a fistful of dynamite."
-The Cincinnati Enquirer

"Greg Rucka is a refreshingly bold talent."
-Dennis Lehane

"A true professional."
-Chicago Tribune