Bravo (Mass Market Paperbound)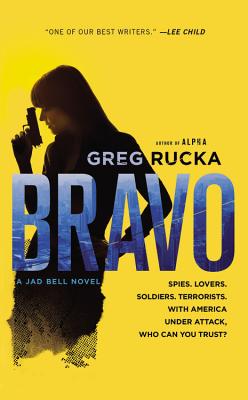 Email or call for price
Special Order - E-mail us directly - We may have a used book!
Staff Reviews
---
Bravo is one of Greg Rucka's best books to date. It is whip-smart, tense, and sets a world-record action pace. It is full of strong women and difficult decisions, questions of duty and love and is it possible to do your job and protect those close to you. And trust – trusting others, trusting yourself, trusting your ideals.
At the center of the story is Jonathan "Jad" Bell, Master Sergeant, team leader, operational agent and father. He's pulled in many directions at once and these distractions can be dangerous to all involved. He's chasing bad guys – really bad guys. But no one knows exactly who they are. That's the thrill of the hunt, the sense that you're getting close but how do you know?
The plot of Bravo continues from Alpha as the Americans work to find those responsible for the attack on the theme park and stop whatever they have planned next. It is almost a two-part story, or one split into consecutive books. So you might as well start with Alpha.
If I could sight one small flaw it is that, two books in, I really don't know much about Bell as a human. I understand Reacher and Swagger and Bosch and Patrick and Angie. I understand Marlowe and Archer and even Mallory. I don't understand Bell. He's a blank in his own stories and I hope that as the series goes on I get to know him.
Still and all, Bravo is a crackerjack story. I was so intent on reading last night going home that I missed my bus stop and had a longer walk home. That meant, too, more time to get home so that I could finish the damn book! (Can't read and walk at the same time – neither gets the attention they deserve…)
— JB
Greg Rucka's second book in the Jad Bell series, Bravo begins two days after the attack at the theme park that nearly cost him his ex-wife and his daughter – that's in Alpha, the first Bell book. He's still recovering and is on the hunt for the principal organizer of the attack, 'the Uzbek'. He and his team are tasked with bringing in the Uzbek but he's just the tip of the iceberg. Jad learns that another attack is going to be launched and he is off to find the mastermind of that attack know only as The Architect.
There are two beautiful women who feature into this hunt. One is in the U.S. to aid in dispatching this new attack, and the other he captures while chasing the Uzbek. Can he trust either one?
Bravo is a fast paced ride from beginning to end. If you haven't read Alpha, start with it before reading Bravo. This is a great book for lovers of a racing suspense story such as the likes of Lee Child, David Baldacci, and Vince Flynn. I loved it but then again, I've loved everything I have read of Greg Rucka's.
— Adele
About the Author
---
Greg Rucka is the "New York Times" bestselling author of almost two dozen novels, including the Atticus Kodiak and Tara Chace series, and has won multiple Eisner awards for his graphic novels. He lives in Portland, Oregon, with his wife and children.