Guilt by Association (Paperback)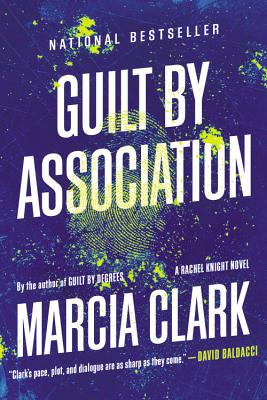 $15.99
Usually Ships in 1-5 Days
Staff Reviews
---
We've all heard of Marcia Clark, prosecuter in the O. J. Simpson trial (her book on that is no longer in print. Sorry!). Because she was a deputy District Attorney, it's reasonable to assume that she can tell a good story. Most trial lawyers can, I suspect. And I saw her on a panel at Bouchercon a couple of years ago, so I know she's funny and charismatic.
But can she write?
Why yes. Yes, she can, and well. I read both Guilt By Association and Guilt by Degrees in anticipation of her signing here on May 17th at noon, and I have to say, I really enjoyed them.
Rachel Knight is a D.A. in Los Angeles, and she's feisty and dogged and more than a bit of a smart ass. Just my kind of gal. But she's multi-layered, and she's not always nice, and I like that too. She's willing to do things she shouldn't to get at the truth, which is to be expected in a good protagonist, but she's also a little selfish and she doesn't see it, which makes her really human.
In Guilt by Association, Knight gets caught up in trying to find out why her colleague was murdered, even though she's told to stay off the case. Besides, she has her plate full investigating the assault of the daughter of a prominent family, which leads her into gang territory. In Guilt by Degrees, Knight takes over a case bungled by a fellow prosecutor, a case with ties to a slain police officer from years ago.
Guilt by Association has a few rough spots that you'd expect with a first novel, but by the time I was a couple of chapters in, they didn't bother me at all. If you're at all suspicious -- as I am -- you'll anticipate a few of the twists in Guilt by Degrees, but it doesn't matter because the story's so good.
All in all, I recommend both. They're strong, fast, well written and a ton of fun. They're easy to read, they flow well and I raced through both of them. Honestly, I'm really looking forward to what happens in the third one!
— FRAN
May 2011 Indie Next List
---
"Marcia Clark's first foray into crime fiction is a winner. Her first-person narrative focuses on L.A. Deputy District Attorney Rachel Knight's investigation into two seemingly unrelated cases, one involving a colleague's murder. This is an impressive debut that will leave you anticipating the next installment in what I hope will be a new series of legal thrillers."
— Glen Robbe, Books Inc. Mountain View, Mountain View, CA
Description
---
Los Angeles D.A. Rachel Knight is a tenacious, wise-cracking, and fiercely intelligent prosecutor in the city's most elite division. When her colleague, Jake, is found dead at a grisly crime scene, Rachel is shaken to the core. She must take over his toughest case: the assault of a young woman from a prominent family.

But she can't stop herself from digging deeper into Jake's death, a decision that exposes a world of power and violence and will have her risking her reputation--and her life--to find the truth.

With her tremendous expertise in the nuances of L.A. courts and crime, and with a vibrant ensemble cast of characters, Marcia Clark combines intimate detail, riotous humor, and visceral action in a debut thriller that marks the launch of a major new figure on the crime-writing scene.
About the Author
---
Marcia Clark began practicing law as a criminal defense attorney. She became a prosecutor in the L.A. District Attorney's Office in 1981, and spent ten years in the Special Trials Unit where she handled a number of high profile cases prior to the O.J. Simpson case, including the prosecution of stalker/murderer Robert Bardo, whose conviction for the murder of actress Rebecca Schaeffer resulted in legislation that offered victims better protection from stalkers as well as increased punishment for the offenders.

Since the Simpson trial, Ms. Clark has toured the U.S. and Canada giving lectures on a variety of women's issues including domestic violence and inspirational/motivational speeches, as well as lectures on the latest high profile cases, public service careers, and of course, the Trial of the Century.

In May of 1997, her book on the Simpson case, "Without a Doubt" was published and quickly rose to #1 on the New York Times, Wall St. Journal, Washington Post, LA Times, and Publisher's Weekly bestsellers lists.

From February 1998 to 2000 Marcia was under contract as a legal analyst and expert commentator for NBC, CNBC and MSNBC. She appeared weekly as the substitute host of Geraldo Rivera's "Rivera Live," and also hosted "Equal Time" for CNBC and "Judge and Jury" for MSNBC. Marcia has appeared on the "Oprah Winfrey Show," the "Larry King Show," the "Today" show, "The Early Show," and "Good Morning America," among others, and provides legal commentary on a wide variety of cable shows such as "Anderson Cooper 360" and "Issues with Jane Velez Mitchell."

Marcia Clark (with writing partner, Catherine LePard) has sold hour-long pilots to the FX network, Lifetime, and VH1 and developed a half hour comedy for NBC. She has also developed reality projects for CBS and was an executive producer of a one hour reality pilot for CBS.

Marcia has published three novels which feature Los Angeles Special Trials prosecutor Rachel Knight: "Guilt by Association," "Guilt by Degrees," and "Killer Ambition," which is due out in June 2013. TNT has optioned the books and a drama series is currently in development. Marcia is attached as an executive producer. She's currently at work on her fourth novel.
Praise For…
---
"You must read this book: it is wildly and complexly plotted, ebulliently witty and filled with riotous humor; it details the inner workings of the L.A. legal system with unprecedented accuracy and verve - and to top it off, it is a damn, damn, good thriller."
-James Ellroy

"Marcia Clark's debut novel showcases her experience and knowledge of the legal system. The pace, plot and dialogue are as sharp as they come in the genre. Her character of Rachel Knight bleeds real blood, sweat and tears on the page. Guilt by Association is a four-bagger for Clark and her many new fans will eagerly await her next step up to the plate."
-David Baldacci

"Clark...makes a triumphant fiction debut that catapults her to the same level as Linda Fairstein, her fellow assistant DA turned legal thriller novelist....Readers will want to see a lot more of Knight, who combines strength of character and compassion with all-too-human foibles."
-Publishers Weekly

"A remarkably accomplished debut novel.... Clark offers a real page-turner here, with smart, fast-moving prose; a skillfully constructed plot; and a protagonist well worth knowing...A top-notch legal thriller that will leave readers wanting more.
-Booklist

"There's a new voice in L.A. crime fiction...the plot races along, and Clark adds just enough smart lawyer talk to keep us edified. It's sure to satisfy Law & Order fans."
-Los Angeles Magazine