The Coldest Girl in Coldtown (Hardcover)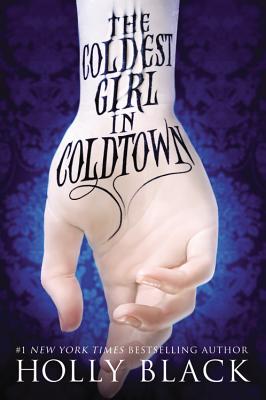 $19.00
Usually Ships in 1-5 Days
Staff Reviews
---
It all started with Casper Morales. A lover, a vampire who didn't kill his victims as he should have. He spread the virus, vampirism, until it threatened to engulf the whole world. That's when Coldtowns were created, the place where the infected went so they wouldn't spread the disease further. Where they wouldn't be tempted to bite another human becoming a full vampire, not just cold, and spread the disease further.
It all starts when someone forgets to close a window at the party. That's how they got in, that's why all Tana's friends are dead. Wading thru her friend's blood Tana finds two survivors, of sorts, Aidan her ex who has been infected by the disease, and a vampire in chains. This is where Tana's journey begins, where she is forced to make bad decisions in worse situations.
This is an oddly compelling book. Almost noir in style, it tells the story of many characters who all make desperate decisions who have to choose between bad and worse. The shifting perspectives allowed the book to move forward at a quick pace and allowed you understand why the characters did what they did.
This book is dense and complicated and occasionally horrifying, not the type of book I normally read. However I could not put it down, nor read anything else until I was done. It shows the decay beneath the slick gloss of reality shows, media and life. I would highly recommend this book to any one (however mainly females as I am not sure how a male reader would feel about it) over the age of 16, who is looking for a vampire story which in no way romanticizes them, but shows them as the apex and capricious predators they are.
— Amber
When both Amber and international bestselling author Yasmine Galenorn tell me I have to read a book, I take them seriously.
Holly Black's The Coldest Girl in Coldtown, while being marketed as a YA novel, is certainly complex enough for all readers of urban fantasy. The premise is that vampirism, once hidden, has through an unhappy accident spread throughout the world. Humans don't go out at night, and anyone who's infected is legally required to go to a Coldtown, a prison-city where vampires, vampire wanna-be's, and people who are Cold -- bitten by a vampire but not yet turned -- must go.
If you're Cold, it is possible to shake it off and be human again. You just have to go 88 days without drinking human blood. There's a very, very slight chance of being able to do it, but it is possible. It is illegal to do this on your own, however. You have to go to a Coldtown, and very rarely are people allowed to leave.
Tana is 17, and has gone to a popular themed teenage party, a Sundowner party, where teens lock themselves in from dusk to dawn with garlic and holy water at the windows, and party. However, this time, when Tana wakes up, everyone is dead. Everyone, that is, except her jerk of an ex-boyfriend, Aidan, and a vampire. In a twist, both are chained up, Aidan is infected with the Cold, and the vampire is unable to reach him. It takes no time for Tana to realize that both Aidan and the vampire are being set up by someone, and she resolves to save both.
That decision will change Tana forever. Caught in a series of increasingly bad options, she does what she can to save as many people as she can, including Gavriel, the vampire.
Amber called The Coldest Girl in Coldtown "noir-ish" and she's right. This is not a sparkling, easy read. Bad, bad things happen and they're sometimes difficult. Holly Black deftly shows us that it's easy to see only the glamour of the vampire, but the truth is that they're a completely different species and they're not pretty or romantic; that's their illusion, but not their truth.
I really liked Black's heroine, Tana. She knows she's caught in a series of bad decisions, she does what she can to make things right, and she never gives up, either on herself or others. She may very well be one of the best female protagonists to come along in a while, and I've got to say that if you like urban fantasy and strong female leads, this is an amazing and hard-hitting book. I wouldn't recommend it for anyone under 15, because some of the situations are really fairly disturbing, but after that caveat, I strongly recommend The Coldest Girl in Coldtown to everyone who likes a solid story with multi-layered people dealing with horrible situations the best way they know how.
Thank you, Amber and Yasmine! You're absolutely right!
— Fran
Description
---
Tana lives in a world where walled cities called Coldtowns exist. In them, quarantined monsters and humans mingle in a decadently bloody mix of predator and prey. The only problem is, once you pass through Coldtown's gates, you can never leave.
One morning, after a perfectly ordinary party, Tana wakes up surrounded by corpses. The only other survivors of this massacre are her exasperatingly endearing ex-boyfriend, infected and on the edge, and a mysterious boy burdened with a terrible secret. Shaken and determined, Tana enters a race against the clock to save the three of them the only way she knows how: by going straight to the wicked, opulent heart of Coldtown itself.
The Coldest Girl in Coldtown is a wholly original story of rage and revenge, of guilt and horror, and of love and loathing from bestselling and acclaimed author Holly Black.
About the Author
---
Holly Black is the bestselling author of contemporary fantasy books for kids and teens. Some of her titles include The Spiderwick Chronicles (with Tony DiTerlizzi), the Modern Faerie Tale series, the Curse Workers series, Doll Bones, and The Coldest Girl in Coldtown. She was a finalist for the Mythopoeic Award, a finalist for an Eisner Award, and the recipient of the Andre Norton Award. She currently lives in New England with her husband, Theo, in a house with a secret door. Her website is blackholly.com.
Praise For…
---
An Amazon Best Teen Book of 2013A TAYSHAS Top Ten Book of the YearA NPR Great Read of 2013A SLJ Best Book of the YearA YALSA Best Fiction for Young AdultsA YALSA Top Ten Amazing Audio BooksA Kirkus Best YA Books

"We've all read a million YA vampire stories at this point, but no one writes like Holly Black: Her worlds are funny and eerily vivid, and Coldtown-a rollicking and decadent ghetto-is one of my all-time favorite fantasy novel settings."—Author of The Fault in Our Stars John Green, Metro New York

* "You may be ready to put a stake in vampire lit, but read this first: It's dark and dangerous, bloody and brilliant."—Kirkus, starred review

*"Teens with a yen for dark, futuristic novels, and maybe even a few Anne Rice readers, will find this a refreshing take on vampire lit. As always, Black's writing is quick paced and thought-provoking. A must-have for any teen collection."—School Library Journal, starred review

* "With rapid-fire dialogue, lavish details, and a wildly imagined world, this will enthrall Black's fans from start to finish and leave them hoping for another bone-chilling vicarious tour of Coldtown."—Booklist, starred review

* "Replete with grisly violence, an intriguingly complex take on the mechanics of vampirism, and well-developed and memorable characters, this superior, dread-soaked tale will satisfy vampire addicts of all ages."—Publishers Weekly, starred review

"Black's compelling prose, descriptive yet direct, conjures a modern gothic world populated by cruel immortals, desperate humans offering themselves as food, and a few hardscrabble survivors. Tana is a winning heroine, by turns staking killer vampires and giving herself over to Gavriel's deep, smoldering kisses."—The Horn Book