Twilight Tenth Anniversary/Life and Death Dual Edition (Hardcover)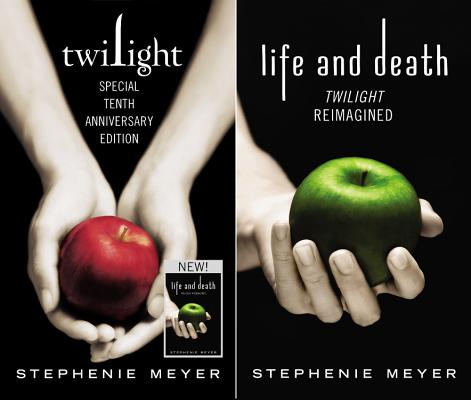 $21.99
Usually Ships in 1-5 Days
Staff Reviews
---
For the 10th anniversary of Twilight Meyer has re-published her original novel - then you flip the book over and you have the reimagined version called Life And Death, which is the original Twilight novel in which 98% of the character's genders are reversed.
Meaning? Bella becomes Beau and Edward becomes Edythe. Life And Death is the same book as Twilight only told from Beau's (male) point of view instead of Bella's (female) - just trying to be clear here. Why? In the introduction Meyer explains that she views Twilight as a book about the obsession/frenzy of first love - a story which she believes works for either sex - not just for the female point of view (BTW the gender swap is more pervasive than just Bella and Edward: it is Edward's family, Jacob & the Wolves, teachers, Bella's gaggle of school friends and the odd waiter - everyone except Bella's mom & dad have been swapped). But the big question here is does it really work?
Due to the rewrite Life And Death has a far more polished feel to it, this reimagining allowed Meyer to clean up all the clunky phrases, expand explanations and clear up any inconsistencies in the original text (since Twilight was the first book she ever wrote). The real differences lie in several key scenes which were altered due to the fact they wouldn't work correctly with a male lead. But Meyer uses a deft hand in keeping the significance of the scene intact while altering the details to suit (don't want to give too much away). Not bad, just different.
— Amber
ON SALE - 20% OFF!
The sale price will be given when we process your order!
Sale expires 1/30/16
Description
---
Celebrate the tenth anniversary of Twilight with this special double-feature book This new edition pairs the classic love story with Stephenie Meyer's bold and surprising reimagining of the complete novel with the characters' genders reversed. In Life and Death, readers will be thrilled to experience this iconic tale told through the eyes of a human teenage boy in love with a female vampire. Packaged as an oversize, jacketed hardcover "flip book," this edition features nearly 400 pages of new content as well as exquisite new cover art. Fans of Bella and Edward will not want to miss the opportunity to see these iconic characters portrayed in intriguing new roles. Twilight has enraptured millions of readers since its first publication in 2005 and has become a modern classic, redefining genres within young adult literature and inspiring a phenomenon that has had readers yearning for more. The novel was a #1 New York Times bestseller, a #1 USA Today bestseller, a Time magazine Best Young Adult Book of All-Time, an NPR Best Ever Teen Novel, and a New York Times Editor's Choice. The Twilight Saga, which also includes New Moon, Eclipse, Breaking Dawn, The Short Second Life of Bree Tanner: An Eclipse Novella, and The Twilight Saga: The Official Illustrated Guide, has sold nearly 155 million copies worldwide.
About the Author
---
Stephenie Meyer is the author of the #1 bestselling Twilight Saga and The Host. She graduated from Brigham Young University with a degree in English literature, and she lives with her husband and three sons in Arizona.