The Alpine Zen (Hardcover)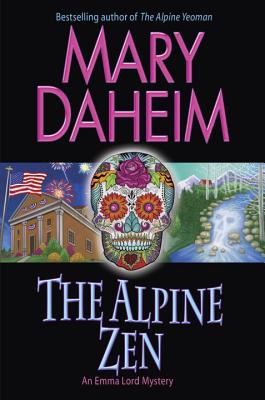 Email or call for price
Special Order - E-mail us directly - We may have a used book!
Description
---
The picturesque town of Alpine in the foothills of Washington state's Cascade Mountains home to Emma Lord and her weekly newspaper "The Alpine Advocate" has long charmed and enthralled mystery lovers. Now, with "The Alpine Zen, " Mary Daheim has at last reached the anticipated letter of "Z." Her legion of avid armchair sleuths will relish this deliciously gripping novel.
As an early summer heat wave beats down on Alpine, Emma and her staff are treading very lightly. For unfathomable reasons, the paper's House & Home editor, Vida Runkel, is in a major snit, refusing to speak to her colleagues, or even her boss. So when a peculiar young woman walks in claiming her parents have been murdered, and that she's in mortal danger, too, it fits right in with the rest of the craziness. Then, to the utter bafflement of her colleagues, Vida vanishes without a word to anyone. And just when Emma and her husband, Sheriff Milo Dodge, start to unsnarl these tangles, a male body, dead too long to identify, surfaces at the town dump making what seemed merely weird feel downright sinister. Has the hot weather driven everyone nuts, or are cold-blooded forces committing deadly misdeeds?
"The Alpine Zen" tingles with all the mystery and allure that only Mary Daheim's brand of small-town life can provide. Gossip, love affairs, feuding, and plenty of dirty secrets make for an intriguing adventure every "Alpine" fan will want to read all about.
Praise for "The Alpine Zen"
""
A complex plot and a cast of vivid characters will keep readers turning pages. "Publishers Weekly"
""
Lively and satisfying. "Library Journal"
Praise for Mary Daheim and her Emma Lord mysteries
Always entertaining. "The Seattle Times"
Mary Daheim writes with wit, wisdom, and a big heart. I love her books. Carolyn Hart
Daheim writes . . . with dry wit, a butter-smooth style, and obvious wicked enjoyment. "The Oregonian"
The characters are great, and the plots always attention-getting. King Features Syndicate
Even the most seasoned mystery fans are caught off-guard by Daheim s] clever plot twists. "BookLoons"
Witty one-liners and amusing characterizations. "Publishers Weekly.
About the Author
---
Mary Richardson Daheim started spinning stories before she could spell. Daheim has been a journalist, an editor, a public relations consultant, and a freelance writer, but fiction was always her medium of choice. In 1982, she launched a career that is now distinguished by more than sixty novels. In 2000, she won the Literary Achievement Award from the Pacific Northwest Writers Association. In October 2008, she was inducted into the University of Washington s Communication Alumni Hall of Fame. Daheim lives in her hometown of Seattle and is a direct descendant of former residents of the real Alpine, which existed as a logging town from 1910 to 1929, when it was abandoned after the mill was closed. The Alpine/Emma Lord series has created interest in the site, which was named a Washington State ghost town in July 2011. An organization called the Alpine Advocates has been formed to preserve what remains of the town as a historic site."