Thrice the Brinded Cat Hath Mew'd (Hardcover)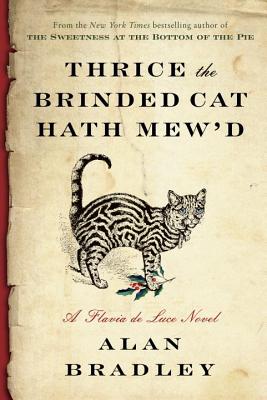 $26.00
Usually Ships in 1-5 Days
Staff Reviews
---
Flavia is back home!
As we begin Thrice the Brinded Cat Hath Mew'd (Out Sept. 20th), it's Christmas-time at Buckshaw Manor, and Flavia is back from her travels abroad, but she's returned to an oddly quiet home. Her father, the Colonel, is in hospital with pneumonia, and his precarious health along with sister Ophelia's break-up with her fiance has left the Manor strangely dark and subdued.
To escape the oppressive darkness - and her annoying cousin, Undine, who is constantly underfoot, Flavia goes to visit the vicar, and is asked to run an errand for the vicar's wife. Flavia, along with her trusty bicycle, Gladys, are more than up to the task. Sadly, the woodcarver whom Flavia is to speak with is unable to receive the message. You see, the poor man is dead, and since he's hanging upside down on the back of his bedroom door, Flavia's fine scientific instincts tell her there is much to be investigated here!
Flavia is at her finest, honing not only her chemistry knowledge but now she's employing more of her interpersonal skills, and let me tell you, that makes her a force to be reckoned with! Since her father is out of commission and her sisters don't much pay attention to her, Flavia is left to her own resources more than ever, and she's becoming quite the formidable sleuth.
Thrice the Brinded Cat Hath Mew'd is vintage Flavia, and I have to admit that I was tickled to see more of Dogger, whom I adore. Well, doesn't everyone? It's good to see him back in action a bit. And it was lovely to visit with all our old friends at Bishop's Lacy!
I'm interested to see where Alan Bradley goes with this series. It's no spoiler to say that this is a somewhat darker book than some of his others, but I'm actually pleased by that. As Flavia grows up, she learns more about how the world works, and that's going to change her, which keeps her alive and dynamic. Mind you, she's still indubitably our Flavia, at her core as solid as dear Gladys, but she's slowly growing out of the child we first met.
Full marks to Alan Bradley for his deft touch and unwavering ability to capture Flavia as she grows up. Just a little. I really cannot wait for the next one!
Description
---
NEW YORK TIMES BESTSELLER - Hailed as "a combination of Eloise and Sherlock Holmes" by The Boston Globe, Flavia de Luce returns in a much anticipated new Christmas mystery from award-winning and New York Times bestselling author Alan Bradley. In spite of being ejected from Miss Bodycote's Female Academy in Canada, twelve-year-old Flavia de Luce is excited to be sailing home to England. But instead of a joyous homecoming, she is greeted on the docks with unfortunate news: Her father has fallen ill, and a hospital visit will have to wait while he rests. But with Flavia's blasted sisters and insufferable cousin underfoot, Buckshaw now seems both too empty--and not empty enough. Only too eager to run an errand for the vicar's wife, Flavia hops on her trusty bicycle, Gladys, to deliver a message to a reclusive wood-carver. Finding the front door ajar, Flavia enters and stumbles upon the poor man's body hanging upside down on the back of his bedroom door. The only living creature in the house is a feline that shows little interest in the disturbing scene. Curiosity may not kill this cat, but Flavia is energized at the prospect of a new investigation. It's amazing what the discovery of a corpse can do for one's spirits. But what awaits Flavia will shake her to the very core. Praise for Thrice the Brinded Cat Hath Mew'd "Mystery fans seeking novels of wit, an immersive English countryside setting, and rich characterizations will be rewarded with this newest entry in the award-winning series."--Library Journal (starred review) "There is such a thing as willing suspension of disbelief brought on by sheer outlandish charm, and that's what Alan] Bradley and some delicious writing have tapped."--London Free Press "Flavia's first-person narration reveals her precocious intellect as well as her youthful vulnerability."--Shelf Awareness "Flavia is once again a fun, science-loving protagonist. . . . This series entry ends on a note that begs for the next story."--Library Reads "An eleven-year-old prodigy with an astonishing mind for chemistry and a particular interest in poisons."--The Strand Magazine (Five of the Best Historical Heroines) "Bradley's preteen heroine comes through in the end with a series of deductions so clever she wants to hug herself. So will you."--Kirkus Reviews

About the Author
---
Alan Bradley is the New York Times bestselling author of many short stories, children's stories, newspaper columns, and the memoir The Shoebox Bible. His first Flavia de Luce novel, The Sweetness at the Bottom of the Pie, received the Crime Writers' Association Debut Dagger Award, the Dilys Winn Award, the Arthur Ellis Award, the Agatha Award, the Macavity Award, and the Barry Award, and was nominated for the Anthony Award. His other Flavia de Luce novels are The Weed That Strings the Hangman's Bag, A Red Herring Without Mustard, I Am Half-Sick of Shadows, Speaking from Among the Bones, The Dead in Their Vaulted Arches, As Chimney Sweepers Come to Dust, and Thrice the Brinded Cat Hath Mew'd, as well as the ebook short story, "The Curious Case of the Copper Corpse."