The Son (Paperback)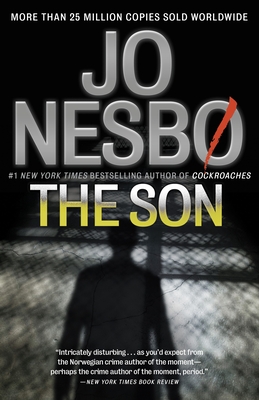 $15.95
Usually Ships in 1-5 Days
Staff Reviews
---
In The Son by Jo Nesbø, Sonny Loftus has been in jail for the last 12 years serving time for other peoples crimes. He has made the deal to sit in prison in exchange for all the heroin he needs to support his habit. He is well liked in prison and is known for his uncanny ability to calm and soothe the other prisoners. His problems started when his father committed suicide instead of being exposed as a dirty cop. When a fellow prisoner shares some hidden truths about his father's death, Sonny escapes and goes looking for justice.

I'm not sure how Nesbø does it but he has created an unlikely hero in this heroin addict looking for justice for his father. You can't help but root for Sonny and hope that he makes it through. This is fast paced and those of you who enjoy the Harry Hole books should love this as well.
— Adele
Description
---
The author of the best-selling Harry Hole series now gives us an electrifying tale of vengeance set amid Oslo's brutal hierarchy of corruption.

Sonny Lofthus has been in prison for almost half his life: serving time for crimes he didn't commit. In exchange, he gets an uninterrupted supply of heroin--and a stream of fellow prisoners seeking out his Buddha-like absolution. Years earlier Sonny's father, a corrupt cop, took his own life rather than face exposure. Now Sonny is the center of a vortex of corruption: prison staff, police, lawyers, a desperate priest--all of them focused on keeping him stoned and jailed. When Sonny discovers a shocking truth about his father's suicide, he makes a brilliant escape and begins hunting down the people responsible for his and his father's demise. But he's also being hunted, and by enemies too many to count. Two questions remain: who will get to him first, and what will he do when he's cornered?
About the Author
---
JO NESBO is a musician, songwriter, economist, and author. His first crime novel featuring Harry Hole was published in Norway in 1997 and was an instant hit, winning the Glass Key Award for best Nordic crime novel. He is the author of ten Harry Hole novels, Headhunters, The Son, and several children's books. His books have been translated in forty-seven languages. In 2008, he established the Harry Hole Foundation, a charity to reduce illiteracy among children in the third world. He lives in Oslo. www.jonesbo.com