Never Go Back (Hardcover)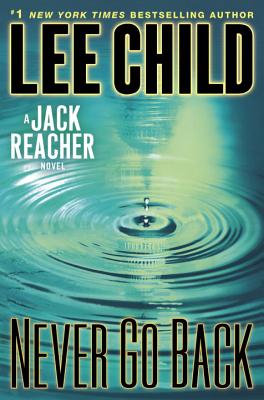 Email or call for price
Special Order - E-mail us directly - We may have a used book!
Staff Reviews
---
There were no advanced reading copies of the new Lee Child, Never Go Back so none of us had had a chance to review it until a couple of reader copies finally arrived on Tuesday. We knew the basics of the plot – more how it begins. For the last couple of books, Reacher has been trying to get to Virginia to meet the woman he talked to on the phone in 61 Hours. If you recall, her position was the one he had occupied when he left the Army – head of the elite 110st MPs – and she'd helped him out during that blizzard in the Dakotas. He liked her voice and he's been moving in her direction ever since. (He details his travels and it's quite amusing.)
So now Jack's back in his old building but she's not there, he's been reactivated as a major in the Army and is being threated with two legal actions to events that supposedly happened 16 years ago. Everything about the charges are fishy, as are the reasons for Major Susan Turner to no longer be in charge of the 110th, but Reacher's up to his pecs in lawyers, thugs, and accusations. He seems pretty comfortable throwing around his rank and authority, as well as his elbows – as usual.
Where's the story going? I have my suspicions and guesses and I'm pretty confident that Lee will confound and hoodwink me, and I'm fine with that. That's the fun of reading along with Reacher.
— JB
As I'm sure you know by now, Reacher has made it back to Virginia. And three hours after getting out of the car that dropped him off, he's back in service. He hadn't planned on it, obviously, but he's recalled to active duty and he can't say no (remember, ya gotta read the fine print!). Nor does he want to, because something's up, and he knows he'll do better with his rank to back up his investigation. It turns out the lady he'd come all this way to visit, Major Susan Turner, has run into a problem herself, and you know Jack, always there to help a lady in trouble.
Although he's got troubles of his own, come to that, namely a couple of warrants, one for his arrest and one for his immediate response.
Lee Child has made Jack Reacher iconic, and in Never Go Back, Reacher's at his best. Fast, smart, intricate and sometimes funny, this is the Jack Reacher we fell in love with all those years ago. 
"I don't want to hurt your feelings."

"You can't," Reacher said. "I'm a military cop. And a man. I have no feelings."

"That's what I mean."

"I was kidding."

"No, you weren't. Not entirely."

She paused a long moment.

Then she said, "You're like something feral."
Those of us who know Reacher know that she's not entirely right. But she's not entirely wrong either, and that's what makes Reacher so compelling. And in his latest encounters, he is everything we've ever wanted from Jack Reacher.
— Fran
Description
---
#1 NEW YORK TIMES BESTSELLER - SOON TO BE A MAJOR MOTION PICTURE - NAMED ONE OF THE BEST BOOKS OF THE YEAR BY KIRKUS REVIEWS Never go back--but Jack Reacher does, and the past finally catches up with him. . . . Never Go Back is a novel of action-charged suspense starring "one of the best thriller characters at work today" (Newsweek).

Former military cop Jack Reacher makes it all the way from snowbound South Dakota to his destination in northeastern Virginia, near Washington, D.C.: the headquarters of his old unit, the 110th MP. The old stone building is the closest thing to a home he ever had. Reacher is there to meet--in person--the new commanding officer, Major Susan Turner, so far just a warm, intriguing voice on the phone. But it isn't Turner behind the CO's desk. And Reacher is hit with two pieces of shocking news, one with serious criminal consequences, and one too personal to even think about. When threatened, you can run or fight. Reacher fights, aiming to find Turner and clear his name, barely a step ahead of the army, and the FBI, and the D.C. Metro police, and four unidentified thugs. Combining an intricate puzzle of a plot and an exciting chase for truth and justice, Lee Child puts Reacher through his paces--and makes him question who he is, what he's done, and the very future of his untethered life on the open road. Praise for Never Go Back

"A breathless cross-country spree . . . some of the best, wiliest writing Lee] Child has ever done . . . Child's bodacious action hero, Jack Reacher, has already tramped through 17 novels and three e-book singles. But his latest, Never Go Back, may be the best desert island reading in the series. It's exceptionally well plotted. And full of wild surprises. And wise about Reacher's peculiar nature. And positively Bunyanesque in its admiring contributions to Reacher lore."--Janet Maslin, The New York Times

"Welcome to the relentless world of Jack Reacher and his impressive tendency to be in the wrong place at the right time. . . . Child has created an iconic character that other thriller writers try to emulate but don't come close to matching. He has a talent for taking material that in the hands of other authors would be stale and making it seem fresh. . . . Tight and compelling . . . Never Go Back is one of Child's best novels."--Associated Press

"An adrenaline-charged, action-packed thriller . . . impossible to put down."--Lansing State Journal

"The dialogue has never been sharper. . . . The pages turn themselves."--San Antonio Express-News "For the pure pleasure of uncomplicated, nonstop action, no one touches Reacher."--Kirkus Reviews (starred review)

"Brilliant . . . Child never, ever slips. He keeps the action cranking better than anyone, but, best of all, he keeps us guessing about Reacher."--Booklist (starred review)

"One of the best in the series."--Publishers Weekly (starred review)
About the Author
---
Lee Child is the author of twenty New York Times bestselling Jack Reacher thrillers, eleven of which have reached the #1 position. All have been optioned for major motion pictures; the first, Jack Reacher, was based on One Shot. Foreign rights in the Reacher series have sold in almost a hundred territories. A native of England and a former television director, Lee Child lives in New York City.
Praise For…
---
"A breathless cross-country spree . . . some of the best, wiliest writing [Lee] Child has ever done . . . Child's bodacious action hero, Jack Reacher, has already tramped through 17 novels and three e-book singles. But his latest, Never Go Back, may be the best desert island reading in the series. It's exceptionally well plotted. And full of wild surprises. And wise about Reacher's peculiar nature. And positively Bunyanesque in its admiring contributions to Reacher lore."—Janet Maslin, The New York Times
 
"Welcome to the relentless world of Jack Reacher and his impressive tendency to be in the wrong place at the right time. . . . Child has created an iconic character that other thriller writers try to emulate but don't come close to matching. He has a talent for taking material that in the hands of other authors would be stale and making it seem fresh. . . . Tight and compelling . . . Never Go Back is one of Child's best novels."—Associated Press
 
"An adrenaline-charged, action-packed thriller . . . impossible to put down."—Lansing State Journal
 
"The dialogue has never been sharper. . . . The pages turn themselves."—San Antonio Express-News

"For the pure pleasure of uncomplicated, nonstop action, no one touches Reacher."—Kirkus Reviews (starred review)
 
"Brilliant . . . Child never, ever slips. He keeps the action cranking better than anyone, but, best of all, he keeps us guessing about Reacher."—Booklist (starred review)
 
"One of the best in the series."—Publishers Weekly (starred review)