Steelheart (Hardcover)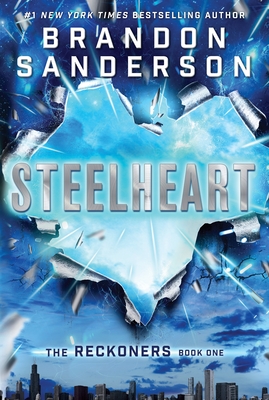 $18.99
Usually Ships in 1-5 Days
Staff Reviews
---
David was eight (ish) when Calamity came, a burst in the sky which gave extraordinary powers to ordinary people. These were the powers we had only ever dreamed of in comic books, where super heroes and villains vied for power. And more often than not, the heroes won the day.
Only the heroes never came.
Instead, the government signed the Capitulation Act, basically saying no epic would ever be prosecuted for any crime they committed. And slowly over the next ten years the world was carved into small fiefdoms ruled by the smartest (or cleverest) epic, for as long as they could defend their territory. One of the strongest epics in the world is Steelheart; an epic who rules Newcago through fear and intimidation (to be fair, there is no benevolent epic ruler). Steelheart is an epic whose skin is impervious, has the strength of ten men, turn things to steel and wield energy…in other word is invincible.
The government gave up and no one ever fights back. Except the Reckoners.
The Reckoners are a shadowy group which hunts down epics and assassinates them. Because all epics have a flaw, an Achilles heel so to speak. The problem, they are often simple, very esoteric and difficult to unravel.
It has been ten years since the fateful day in the bank, when David's father was murdered by Steelheart. For ten years David has been studying, planning, assessing the best way to assassinate Steelheart and his minions.
David knows something that all the others who have faced him have not…he has seen Steelheart bleed, and plans to make him do so again.
This is an absolutely FANTASTIC book. I cannot say enough good things about it. It is a smart action-filled story which never drags or moralizes the situations the characters find themselves in.
This is the first book in what will probably become a trilogy, and it starts off with a bang. I enjoyed following the mystery, what made Steelheart bleed? What is his weakness and how can it be exploited to maximum effect? Who exactly are the Reckoners and can they be trusted?
It is a well-thought-out and plotted book; the author does a great job in resolving the mysteries in the first book while hinting and what may/will come in subsequent books.
I cannot give exact details, as I don't want to spoil the book for anyone, but trust me when I say this is a great book. I would recommend it for any male reader 13+ (or open minded girl as there are several strong females, but it is told exclusively from David's pov) looking for a different kind of hero/super power book. You cannot go wrong.
— Amber
Description
---
The #1 New York Times bestseller that James Dashner called "fantastic," with "relentless" suspense and an "explosive" climax from Brandon Sanderson, the #1 New York Times bestselling author of Words of Radiance, coauthor of Robert Jordan's The Wheel of Time series, and creator of the internationally bestselling Mistborn trilogy. And don't miss the rest of the Reckoners series: Firefight and Calamity
Ten years ago, Calamity came. It was a burst in the sky that gave ordinary people extraordinary powers. The awed public started calling them Epics.
Epics are no friends of man. With incredible gifts came the desire to rule. And to rule man, you must crush his will.
Now, in what was once Chicago, an astonishingly powerful Epic named Steelheart has installed himself as emperor. Steelheart possesses the strength of ten men and can control the elements. It is said that no bullet can harm him, no sword can split his skin, and no fire can burn him. He is invincible. Nobody fights back . . . nobody but the Reckoners.
A shadowy group of ordinary humans, the Reckoners spend their lives studying Epics, finding their weaknesses, and then assassinating them. And David wants in.
When Steelheart came to Chicago, he killed David's father. For years, like the Reckoners, David has been studying, and planning, and he has something they need. Not an object, but an experience.
He has seen Steelheart bleed.
And he wants revenge.

Praise for the Reckoners Series: #1 New York Times Bestselling Series "The suspense is relentless and the climax explosive." --James Dashner, #1 New York Times bestselling author of the Maze Runner series "Another win for Sanderson . . . he's simply a brilliant writer. Period." --Patrick Rothfuss, author of the New York Times and USA Today bestseller The Name of the Wind "Action-packed." --EW.com "Compelling. . . . Sanderson uses plot twists that he teases enough for readers to pick up on to distract from the more dramatic reveals he has in store." --The A.V. Club
About the Author
---
Brandon Sanderson is the author of the #1 New York Times bestselling Reckoners series: Steelheart, Firefight, and Calamity, as well as the internationally bestselling books in the Stormlight Archive and the Mistborn trilogy. He was also chosen to complete Robert Jordan's The Wheel of Time series. His books have been published in more than twenty-five languages and have sold millions of copies worldwide. He lives and writes in Utah. To learn more about Brandon and his books, visit him at brandonsanderson.com and follow @BrandSanderson on Twitter.
Praise For…
---
[STAR] "Snappy dialogue, bizarre plot twists, high intensity action, and a touch of mystery and romance; it's a formula that sucks readers into the prologue, slings them through one tension-filled encounter after the other, and then...leaves them panting for the sequel."—Booklist, Starred
 
"The near-constant action, Sanderson's whiz-bang imaginings, and a fully realized sense of danger… make this an absolute page-turner."—Publisher's Weekly
 
"Perfect for genre fans who love exciting adventure stories with surprising plot twists."—School Library Journal
 
"A straight-up Marvel Comics–style action drama featuring a small band of human assassins taking on costumed, superpowered supervillains with melodramatic monikers."—Kirkus Reviews
 
"Fantastic! The suspense is relentless and the climax explosive, with a resolution that I'll be thinking about for a long time." —James Dashner, New York Times bestselling author of the Maze Runner series and The Eye of Minds
 
"Unfortunately for my ego, Steelheart is another win for Sanderson, proving that he's not a brilliant writer of epic fantasy, he's simply a brilliant writer. Period." —Patrick Rothfuss, author of the New York Times and USA Today bestseller The Name of the Wind