Off the Grid (Hardcover)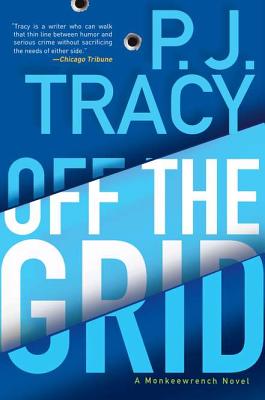 Email or call for price
Out of Print - E-mail us directly - We may have a used book!
Staff Reviews
---
P.J. Tracy's Monkeewrench gang is back, and I couldn't be more thrilled! They are going Off The Grid (no idea about signed copies, but we'll keep you posted).
Grace has gotten away from her demons and Minnesota's weather by sailing off the Florida Keys with ex-FBI agent, John Smith. The rest of the gang are working on a program for the police.
Then Magozzi and Gino catch a case: a young Ojibwe girl's body is found in a field. She and four other girls were kidnapped on their way to school, and everyone is up in arms about it. Things take a series of bad turns. Grace and John are attacked on their boat, so they're headed back to Minneapolis, where Magozzi and Gino find themselves working with the FBI to thwart what looks like a terrorist plot.
And then it gets complicated!
The magic is still here. Off the Grid brought the whole gang back together, and while I enjoy Magozzi and Gino, I'm a fan of the Monkeewrench gang at heart, so I was pleased that they were woven in and out of the terrorist action. And while I might have been happier with a more action-packed final confrontation (which says something about me, now doesn't it?), it was satisfying, with the potential for some intriguing complications down the road, if they decide to take it that way.
If you haven't met the Monkeewrench gang, I heartily encourage you to jump in with the first in the series, Monkeewrench (Penguin, $7.99). If you're already a fan, you'll join me in being happy that they're back!
— Fran
Description
---
On a sailboat ten miles off the Florida coast, Grace MacBride, partner in Monkeewrench Software, thwarts an assassination attempt on retired FBI agent John Smith. A few hours later, in Minneapolis, a fifteen-year-old girl is discovered in a vacant lot, her throat slashed. Later that day, two young men are found in their home a few blocks away, killed execution-style. The next morning, the dead bodies of three more men turn up, savagely murdered in the same neighborhood.
As Minneapolis homicide detectives Leo Magozzi and Gino Rolseth struggle to link the three crimes, they learn that there have been similar murders in other cities around the United States. Piece by piece, evidence accumulates, pointing to a suspect that shocks them to the core, uncovering a motive that puts the entire Midwest on high alert and Monkeewrench in the direct line of fire. Before it's all over, Grace and her partners, Annie, Roadrunner, and Harley Davidson, find themselves in the middle of a shocking collision of violence on a remote northern Minnesota reservation, fighting for their lives.
About the Author
---
P.J. Tracy is the pseudonym of the mother-daugher writing team of Patricia Lambrecht and Traci Lambrecht. They each live in rural Minnesota, just outside of Minneapolis ."
Praise For…
---
If you haven't been introduced to the Monkeewrench gang you are missing out …  Tracy skillfully incorporates a diverse array of elements …while keeping the thrill level high and the writing sharp and frequently funny…. A top-notch title for series followers.—Library Journal
"Exciting…The two main story lines converge in a gripping finale in the Minnesota woods."— Publishers Weekly