Shadows (Hardcover)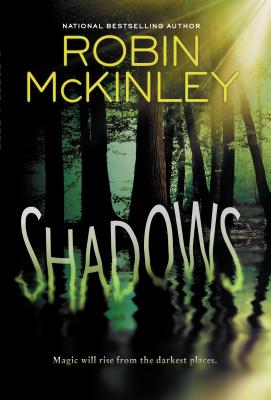 Email or call for price
Special Order - E-mail us directly - We may have a used book!
Staff Reviews
---
Maggie's world's been tilted unexpectedly; her mother has remarried (after a suitable amount of time after her father's death) the marriage itself isn't the issue, the step-dad in question is. Val carries an inordinate number of shadows around with him, ones which cannot be explained away by weird lighting and sometimes look like multi-legged alien creatures.
This is a huge issue, because the shadows may mean he is a magic user, which is forbidden in Newworld. But the even bigger issue is why Maggie can see the shadows in the first place? No one else can. In Maggie's grandmother's generation, the gene which was responsible for making magic users was sliced out of all who carried it. Science, not magic, is now used to control and restrain the cobies, or the gaps in reality, which threaten their world. When Maggie meets the gorgeous Casmir, another immigrant from the Oldworld, who has heard of Val and has a guess about his shadows…..well things get out of hand quickly.
I am a fan of Robin McKinley's writing and have been for years. I never have to worry about her letting me down with a story, and this book is no exception. I loved every minute of reading it. I even learned how to use the shop's KOBO eReader in order to read the digital advanced reader copy of the book, which is saying something!
I enjoyed how Robin slowly doles out information in the story, letting you slowly learn about the world and become invested in the characters she has created. Here she does a great job of weaving, of all things, origami, grief, animals (as pets, no talking roles for them here), magic, the supernatural and high school all into one story without any one theme/plot device distracting you from the story, all the while keeping the Newworld recognizably similar to our own, to further help connect with her audience.
 Another aspect I enjoyed is Maggie; she is funny, clever and strong. While things may be rough in her life and she has a wicked step-father, she never whines about it. She avoids him, thinks to herself, "Val will not ruin this…." all the while fretting how she is hurting her mother. Maggie never becomes a whiny kid who mopes around rather than trying to figure out the best solution, in a bad situation, making the book a joy to read, but Robin walks a fine line here, since Maggie never sounds so upbeat that she becomes dopy, which is the other side of this coin. I cannot say enough good things about this book!
I would recommend it for female readers (or open minded males, since there are several strong guys in the story) 12+. If you have not read any of Robin McKinley's other books I would highly suggest you try Sunshine, The Blue Sword and Hero And The Crown immediately! I hope Robin will write a sequel to this book! While there is a great resolution to the story and you don't feel like you've been gypped, there are so many question left open, I REALLY hope there is a sequel……Please?
— Amber
Description
---
A compelling and inventive novel set in a world where science and magic are at odds, by Robin McKinley, the Newbery-winning author of "The Hero and the Crown" and "The Blue Sword," as well as the classic titles "Beauty," "Chalice," "Spindle's End, " "Pegasus" and "Sunshine"
Maggie knows something's off about Val, her mom's new husband. Val is from Oldworld, where they still use magic, and he won t have any tech in his office-shed behind the house. But more importantly what are the huge, horrible, jagged, jumpy shadows following him around? Magic is illegal in Newworld, which is all about science. The magic-carrying gene was disabled two generations ago, back when Maggie's great-grandmother was a notable magician. But that was a long time ago.
Then Maggie meets Casimir, the most beautiful boy she has ever seen. He's from Oldworld too and he's heard of Maggie's stepfather, and has a guess about Val's shadows. Maggie doesn t want to know . . . until earth-shattering events force her to depend on Val and his shadows. And perhaps on her own heritage.
In this dangerously unstable world, neither science nor magic has the necessary answers, but a truce between them is impossible. And although the two are supposed to be incompatible, Maggie's discovering the world will need both to survive.
About the Author
---
Robin McKinley (www.robinmckinley.com and robinmckinleysblog.com) has won various awards and citations for her writing, including the Newbery Medal for "The Hero and the Crown" and a Newbery Honor for "The Blue Sword," both about the magical country of Damar. Her other books include "Chalice"; "Dragonhaven"; two novel-length retellings of the fairy tale Beauty and the Beast, "Beauty" and "Rose Daughter"; "Deerskin," which was inspired by the Perrault fairy tale Donkeyskin; a retelling of the Robin Hood legend, "The Outlaws of Sherwood"; "Spindle s End," a retelling of Sleeping Beauty; and two volumes of Tales of Elemental Spirits, "Fire" and "Water" (with Peter Dickinson). Her "Imaginary Lands" won the World Fantasy Award for best anthology and her novel "Sunshine" won the Mythopoeic Fantasy Award for Adult Literature.

Robin lives in England with her husband, the English writer Peter Dickinson, two hellhounds, a hellterror, an 1897 Steinway upright, and too many rosebushes."
Praise For…
---
"McKinley's characters and dialogue make this novel a joy: Maggie is a brash yet vulnerable protagonist, and her family, Val, and two possible boyfriends (both of whom may be magical) are well developed. . . . The culture of Newworld is a fascinating amalgam of the everyday and the strange. All in all, a delightful read."
-Publishers Weekly

"Maggie's wry and witty conversational tone is an excellent vehicle for relating her fantastic yet logical adventures."
-Booklist

"A winning combination of fast action, romance, likable characters and inventive language makes this YA novel hard to put down."
-Shelf Awareness

"This fantasy focuses on the relationships among characters. . . . Exciting action, lovable characters, and witty dialogue."
-School Library Journal

"Intricate world building is matched with rich characterization; a bit moody, a bit flighty, and all teenager, Maggie makes a relatable protagonist, and her wisecracks and astute observations help readers gain ground in this eerily familiar but nonetheless complex world of old magic, new science, and breaks in reality."
-The Bulletin of the Center for Children's Books

"May just be one of her most brilliant books to date. Everything in the story meshes perfectly. The characters are compelling, well-defined people who become real."
-Examiner.com