Prussian Blue (Hardcover)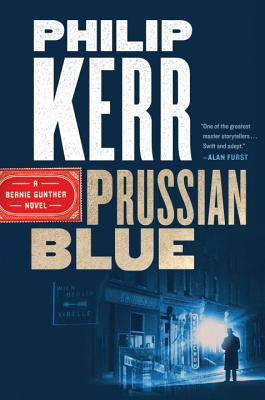 $27.00
Usually Ships in 1-5 Days
Staff Reviews
---
Following on the heels of The Other Side of Silence, someone from Bernie Gunther's past comes back to haunt him in person. It's 1956 and the East German secret police want Bernie to travel to London to kill a female British agent he danced with in the last book. While Bernie has hard feelings for the woman, he's not an assassin. He flees the Stasi group and takes off for Germany.
Philip Kerr's new Gunther thriller, Prussian Blue as with most of the recent novels in this hardboiled and historical series, splits its time between Bernie's present and his past. One of the Stasi agents is a former colleague he worked with on a dangerous case in April of 1939, just months before the war started. Someone has been killed by a sniper at a new retreat that's been built for Hitler. It's just a couple of weeks before The Leader's birthday and, well, the high fiends in control want the murder solved – now. Known for his doggedness and talent as a detective, Gunther is sent down to Bavaria to find the killer. What he finds is rampant corruption, betrayal, treachery, and suspicion. How to do you find one killer amongst a small mountain town populated with them?
The book flips back and forth between his efforts in 1939 and his desperation to leave France without being caught by the police or the Stasi who have put out the word that he's a killer. What's a fellow to do? Crack wise and keep moving.
It's hard to pin a target on your back when you're in motion.
Prussian Blue is the 12th in this superb, Chandlerian series. I would recommend that you read the first three first (March Violets/1936, The Pale Criminal/1938, and A German Requiem/1947). After them, you can skip around as that's what Kerr does, moving Bernie backwards and forwards in time, inserting him into historical events and amongst historical figures. The stories are told with great wit and great heartbreak as we know where it is all going. As per Chandler's dictum, Bernie's the best man in his own world and a good enough man for any other.
— JB
Description
---
From New York Times-bestselling author Philip Kerr, the much-anticipated return of Bernie Gunther, our compromised former Berlin bull and unwilling SS officer. With his cover blown, he is waiting for the next move in the cat-and-mouse game that, even a decade after Germany's defeat, continues to shadow his life.

The French Riviera, 1956: The invitation to dinner was not unexpected, though neither was it welcome. Erich Mielke, deputy head of the East German Stasi, has turned up in Nice, and he's not on holiday. An old and dangerous adversary, Mielke is calling in a debt. He intends that Bernie go to London and, with the vial of Thallium he now pushes across the table, poison a female agent they both have had dealings with. But chance intervenes in the form of Friedrich Korsch, an old Kripo comrade now working for Stasi and probably there to make sure Bernie gets the job done. Bernie bolts for the German border. Traveling by night, holed up during the day, Bernie has plenty of down time to recall the last time Korsch and he worked together. It was the summer of 1939: At Hitler's mountaintop retreat in Obersalzberg, the body of a low-level bureaucrat has been found murdered. Bernie and Korsch are selected to run the case. They have one week to solve the murder--Hitler is due back then to celebrate his fiftieth birthday. Lucky Bernie: it's his reward for being Kripo's best homicide detective. He knows what a box he's in: millions have been spent to secure Obersalzberg. It would be a disaster if Hitler were to discover a shocking murder had been committed on the terrace of his own home. But the mountaintop is home to an elite Nazi community. It would be an even bigger disaster for Bernie if one of them was the murderer. 1939 and 1956: two different eras, seventeen years apart. And yet, not really apart, as the stunning climax will show when the two converge explosively.
About the Author
---
Philip Kerr is the author of the widely acclaimed Bernie Gunther novels, including The Other Side of Silence, The Lady From Zagreb, A Man Without Breath, Prague Fatale, and Field Gray, all New York Times bestsellers. Field Gray and The Lady From Zagreb were both finalists for Edgar Award for Best Novel. Kerr has also been a finalist for the Shamus Award and the winner of the British Crime Writers' Association Ellis Peters Historical Award. Under the name P. B. Kerr, he is the author of the much-loved young adult series Children of the Lamp. He lives in London.