Exit Strategy (Hardcover)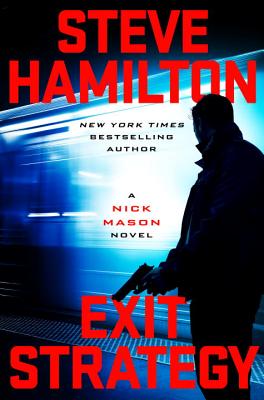 Staff Reviews
---
I really like Steve Hamilton's The Second Life of Nick Mason. Nice premise (thief is released from prison after 5 years by the power of Chicago's crime boss with the catch that he has to do whatever is asked of him by the man), interesting characters, smooth plot. Mason's an interesting guy; he's not by nature a violent criminal but he's being forced into being an assassin in exchange for being out of prison. It isn't in his nature but he has no choice. He has to figure a way out of his bargain with the devil.
My question was how he could turn this into a series as promised. I needn't have worried.
Exit Strategy opens with a powerful and stunning job given to Nick – infiltrate a downtown highrise and kill a witness being protected by US Marshals. Unlike many crime novels, Hamilton is continually showing the toll this takes on his people. No one is safe, no one is guaranteed to survive any given chapter. This makes the entire book wobble on the edge of suspense, a real treat for us readers.
And while Nick plots to escape his prison, and to carry out his orders, we're along for the ride, experiencing the horror of Nick's life and hoping against reason that he can and will escape his new prison. How can Hamilton keep up the suspense? By showing us the boxes every character is in and expanding the number of boxes. It's a masterful story, with surprises and shocks.
When the first book, The Second Life of Nick Mason is out, start with it. This is a dynamite series that must be read in order.
— JB
Description
---
In the stunning follow-up to the New York Times bestseller The Second Life of Nick Mason, the remarkable hero fights to take back control from the crime lord who owns his life, as he races to complete a daring and dangerous new mission...

Nick Mason has been given a true mission impossible: Infiltrate WITSEC, the top-secret federal witness-protection program that has never been compromised, locate the three men who put his boss Darius Cole behind bars for life, and kill them. But first he has to find them--they're ghost prisoners locked down around the clock in classified "deep black" locations by an battalion of heavily armed U.S. marshals charged with protecting them--and the clock is ticking. Cole is appealing his conviction, and these witnesses are either his ticket to freedom or the final nail in his coffin. If they testify, Darius Cole will never step foot in the outside world again. If they are killed, he will walk out a free man. As he risks everything to complete his mission, Mason finds himself being hunted by the very man he replaced, the ruthless assassin who once served, then betrayed, Darius Cole. Rather than waiting to be Mason's next victim, he has escaped witness protection to hunt down and kill Mason himself. In an action-packed journey that leads from a high-security military installation in the Appalachian Mountains to a secret underground bunker hidden far below the streets of New York City, Nick Mason will have to become, more than ever before, the lethal weapon that Darius Cole created.
About the Author
---
Steve Hamilton is the New York Times-bestselling author of twelve novels, most recently The Second Life of Nick Mason and Die a Stranger. His debut, A Cold Day in Paradise, won both an Edgar and a Shamus Award for Best First Novel. His standalone novel The Lock Artist was a New York Times Notable Crime Book and won an Alex Award and the Edgar Award for Best Novel. He attended the University of Michigan, where he won the prestigious Hopwood Award for writing, and now lives in Cottekill, New York, with his wife and their two children.