Billionaire Blend (Hardcover)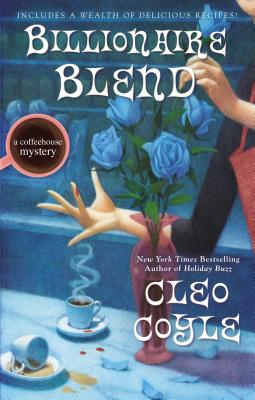 $26.95
Usually Ships in 1-5 Days
Staff Reviews
---
Things are not going very well for Clare these days….The Village Blend need some repairs - the wiring is starting to go, the espresso machine needs replacing, the floor needs fixing….well the list goes on. Basic, but costly maintenance on the historic site. Plus, there is some insane customer (nicknamed "Quiz Master") who appears to want to poach Clare's highly trained staff. Even worse? Mike Quinn (her boyfriend) seems to be distancing himself from New York, his job at the NYPD and Clare.
Never ask whether things could get worse, because invariably they will. A car bomb destroys the Blend, she has to fend off two amorous billionaires, solve a murder, create the world's most expensive coffee, save her daughter's love life and her own!
One thing Clare's life never is? Dull.
If you look at my reviews over the years, you know I am a fan of the Coffeehouse Mysteries. I enjoy reading each new installment that comes my way, and Billionaire Blend is no exception.
What I love most about this series is the characters, it is an ensemble cast. Each person possesses their own strengths and weaknesses which contribute to the overall whole. While each book is told by Clare Cosi (who is fantastic btw), you meet all kinds of new people in each book. Plus each book adds layers to each relationship and history to the main players in each book. So while there is the main mystery that Clare is on top of in each story, these peripheral relationships add an over-arching human mystery (as in what does the future hold for them) to the story. This is what I look forward to reading in every installment, just to find out how they are doing.
In Billionaire Blend I enjoyed watching Clare solve the mystery of who wanted to cook a billionaire. Maybe it's a bit too serendipitous in how the Blend's financial problems were solved, but hey it' a cozy - you want there to be a happy ending. And it isn't the most farfetched solution I have read this year. But the overall mystery was a lot of fun.
I would recommend this book to any cozy reader looking for a fun and fast paced read!
— Amber
Description
---
"Landmark coffeehouse manager Clare Cosi has served her share of New York's rich and famous, but even she is surprised by her explosive introduction to a mysterious Internet billionaire..."
When a car bomb nearly kills tech whiz Eric Thorner, Clare comes to his aid and receives a priceless thank you. Not only does the billionaire buy her a barista's dream espresso machine, he hires her for an extraordinary project: creating the world's most expensive coffee blend.
The police quickly arrest Eric's alleged attacker, yet death continues to surround the unlucky mogul, leading Clare to question whether a fatal fall and another lethal mishap are premeditated murders or merely freak accidents. Clare's boyfriend, NYPD detective Mike Quinn, has a theory of his own--one Clare refuses to believe.
Meanwhile, Eric jets Clare around the world on a head-spinning search for the very best coffee, and Clare gets to know his world--a mesmerizing circle of money with rivalries that could easily have turned deadly. But is this charming young CEO truly marked for termination? Or is he the one making a killing?
Includes a "wealth "of delicious recipes.
About the Author
---
CLEO COYLE is a pseudonym for Alice Alfonsi, writing in collaboration with her husband, Marc Cerasini. Both are" New York Times" bestselling authors of The Coffeehouse Mysteries, now celebrating over ten years in print. Alice and Marc are also bestselling media tie-in writers who have penned properties for Lucasfilm, NBC, Fox, Disney, Imagine, and MGM. They live and work in New York City, where they write independently and together, including the nationally bestselling Haunted Bookshop Mysteries.
Praise For…
---
"A highly satisfying mystery."—Publishers Weekly

"This is one of her best."—Kirkus Reviews (Starred Review)


Praise for the Coffeehouse Mysteries

"Highly recommended for all mystery collections."—Library Journal (starred review)

"Sprightly…and engaging."—Publisher's Weekly

"Coyle's coffeehouse series captures the New York experience, from high society parties to gritty backstreet deals…[A] foodie's delight…and a satisfyingly rich mystery."—Kirkus Reviews

"Some of the most vibrant characters I've ever read."—Mystery Scene Magazine

"What a pleasure to read a book by this author."—Portland Book Review

"A delicious mystery!"—Woman's World

"Clare Cosi is one of my favorite amateur sleuths…An excellent series…If you are not reading the Coffeehouse Mysteries yet, you are seriously missing out."—Cozy Mystery Book Reviews