Fair Game (Mass Market Paperbound)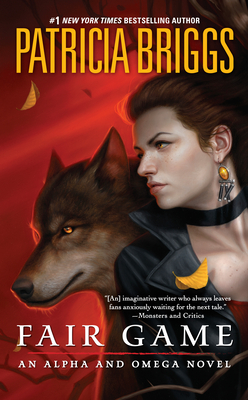 $7.99
Usually Ships in 1-5 Days
Staff Reviews
---
It takes a daring author to throw a huge monkey wrench into a proven series, but we're here to tell you that Patricia Briggs has done it.
Patricia Briggs is best known for her urban fantasy "Mercy Thompson" series set in the Tri-Cities here in Washington State, but she has a secondary, parallel series, the "Alpha and Omega" series, that complements and expands on Mercy's world. Briggs' latest novel, Fair Game, takes this New York Times bestselling author's world firmly in hand and then turns it on its head.
As an Omega werewolf, Anna Cornick is sent by her father-in-law, the Marrock (Alpha of ALL werewolves in North America) to Boston to help the FBI find a serial killer, one who's been killing not only werewolves but the fae. Charles goes along, of course, but he is haunted by his past actions, and is holding Anna at arm's length, which is disturbing and detrimental to both of them. But what happens in Boston changes everything, not just for Charles and Anna.
Patricia Briggs has made the New York Times bestseller list for good reason. She can really write. Her "Mercy Thompson" series grabbed both of us with Moon Called (this is the 1st in the series, start here, and read the Mercy books before you start on the "Alpha and Omegas") and we've torn through her work like maniacs, all six of the "Mercy" series and the three "Alpha and Omega", plus the novella that began it all. Fran's even read all of her non-urban fantasy writing. Ms. Briggs has a flair that keeps you reading. "Leslie learned two valuable things about the fae that day. There were powerful and charming -- and they ate children and puppies." She doesn't always play nice, which is part of why we like her writing so much.
But in Fair Game, Patricia Briggs has taken a huge step and what she has set in motion will rip through the world she's set up. If you've only read the Mercy Thompson series, you must pick up the Alpha and Omega series. If you haven't read Patricia Briggs at all? Oh man, are you missing out and in for a treat! We can't say enough good things about her and her writing, and we're seriously excited that we are, in fact, the second stop on her signing tour. Reserve not only Fair Game but any of hers you might have missed, and then plan on being here March 7th so you can see Amber and Fran squee like the fans they are!
— FRAN
Description
---
#1 New York Times bestselling author Patricia Briggs' third Alpha and Omega novel brings werewolves out of the darkness and into a society where fear and prejudice could turn the hunters into the prey...
It is said that opposites attract. And in the case of werewolves Anna Latham and Charles Cornick, they mate. The son--and enforcer--of the leader of the North American werewolves, Charles is a dominant Alpha. While Anna, an Omega, has the rare ability to calm others of her kind.
When the FBI requests the pack's help on a local serial-killer case, Charles and Anna are sent to Boston to join the investigation. It soon becomes clear that someone is targeting the preternatural. And now Anna and Charles have put themselves right in the killer's sights...
About the Author
---
Patricia Briggs is the #1 New York Times bestselling author of the Mercy Thompson urban fantasy series and the Alpha and Omega novels.
Praise For…
---
"Patricia Briggs is amazing…Her Alpha and Omega novels are fantastic…Go read Fair Game!"—Fresh Fiction

"In a word, brilliant."—Night Owl Reviews

"The story line, characters, world…everything is so unbelievably well developed…I loved every page of it."—Bitten Books

"A fantastic thriller."—Genre Go Round Reviews