Cloche and Dagger (Mass Market Paperbound)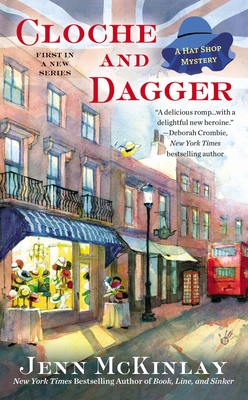 $7.99
Usually Ships in 1-5 Days
Staff Reviews
---
Ever had a week you wish you could go back and do over? Scarlett Parker sure has! After an embarrassing video of her melting down at an Anniversary party her boyfriend was throwing for his wife (there was a huge cake which Scarlett liberally dispersed over his lying cheating person) went viral. Scarlett got sacked from her job and news reporters are camping out on her doorstep because of said video. Well, Scarlett is looking for an escape.
When her cousin Viv calls and suggests she come to London to lay low for a while, Scarlett leaps at the opportunity. Guilt plays a small role in the decision, as Scarlett has not taken a more active role in the running of Mim's Whims, a millinery business their grandmother left to them both.
Laying low in London isn't in the cards for Scarlett. Her cousin Viv vanishes right before Scarlett arrives in London, leaving only Harry, a childhood friend and business manager, to help sort things out and no word as to where Viv went or when she will be back. Viv's disappearance becomes more sinister when the body of a woman she loathed is found wearing nothing but one of Viv's hats. Scarlett must now figure out how to help her cousin and their shop before it's too late!
I was a little skeptical when I read this was a hat shop mystery, but I like Jenn McKinlay's writing so I gave it a chance. Boy am I glad I did! I loved it, couldn't put it down, in fact.
This mystery is set in a hat shop, but the focus of the book is on the mystery, not the hats. McKinlay does a great job of deftly weaving the shop and hats into the story, while never overwhelming the story or distracting you from the mystery she is telling.
The characters are well rounded and fun to read. Each have their strengths, weaknesses and back stories which are alluded to, but not wholly revealed., adding an extra layer to the mystery and making me impatient for the next book!
There were a number of times this book made me laugh, and had strangers on the bus looking at me funny. The viral video cake incident is an interesting (and funny) plot device which the author uses to great effect in the story. Ignore the punny title, it is just what publishers do to let you know it is a cozy (and a slight disservice I think, as it makes a good book look slightly ridiculous).
I would recommend this book to anyone who likes reading cozy mysteries and is looking for a new series to start! I believe any fan of Nancy Atherton or Cleo Coyle would enjoy this series.
— Amber
Description
---
An all-new series from New York Times bestselling author Jenn McKinlay Not only is Scarlett Parker's love life in the loo--as her British cousin Vivian Tremont would say--it's also gone viral with an embarrassing video. So when Viv suggests Scarlett leave Florida to lay low in London, she hops on the next plane across the pond. Viv is the proprietor of Mims's Whims, a ladies' hat shop on Portobello Road bequeathed to both cousins by their beloved grandmother, and she wants Scarlett to finally join her in the millinery business. But a few surprises await Scarlett in London. First, she is met at the airport not by Viv, but by her handsome business manager, Harrison Wentworth. Second, Viv--who has some whims of her own--seems to be missing. No one is too concerned about the unpredictable Viv until one of her posh clients is found dead wearing the cloche hat Viv made for her--and nothing else. Is Scarlett's cousin in trouble? Or is she in hiding?
About the Author
---
A true Anglophile, Jenn McKinlay loves all things British. In her idea of a perfect world, every day would include high tea or wearing a fabulous hat, or both. This adoration of all things U.K. inspired her to write the Hat Shop Mysteries, which are set in London, one of her most favorite cities in the world. She now gets to visit London regularly--for research purposes, of course.
Praise For…
---
Praise for Cloche and Dagger :

"A delicious romp through my favorite part of London with a delightful new heroine." —Deborah Crombie, New York Times bestselling author

 "Brimming with McKinlay's trademark wit and snappy one-liners, Anglophiles will love this thoroughly entertaining new murder mystery series. A hat trick of love, laughter, and suspense, and another feather in [Jenn McKinlay's] cap." —Hannah Dennison, bestselling author of the Vicky Hill Mysteries

"Fancy hats and British aristocrats make this my sort of delicious cozy read." —Rhys Bowen, author of the Royal Spyness Mysteries