Malice at the Palace (Mass Market Paperbound)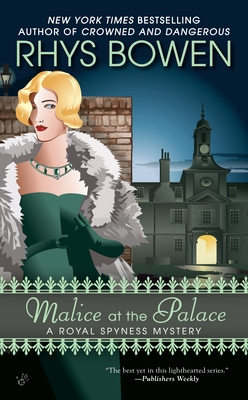 $7.99
Usually Ships in 1-5 Days
Staff Reviews
---
Once again the Queen approaches Georgie with a small but necessary assignment. Georgie's role this time? Companion to Princess Marina of Greece who will soon be marrying her youngest son. Even better than that? Georgie is staying with the Princess at Kensington Palace (which is fortuitous as Fig is being her usual self - unpleasant) until the wedding day arrives! All she has to do is show her around London, acquaint her with the social obligations of the royal family and …well keep her from hearing about her future husband's rather lascivious activities. Which if you are trying to show a Princess a bit of the London night life is rather difficult to do!
It becomes even more difficult when Georgie finds one of the Prince's lovers dead a few paces away from the Kensington Palace's door….the really weird part is Georgie swears she was lead there by an odd ghostly light! While the Queen's task becomes unexpectedly difficult - it is Belinda's disappearance which disturbs Georgie the most!
Once again Bowen gives us a fun and entertaining mystery detailing Georgie and her exploits, I mean assignments from the palace. This particular one was even more interesting as the history surrounding these events is a bit incredible. Since Prince George really was a bit (and bit is an understatement) notorious - well for a prince that is: Drugs, lovers (male and female and of dubious reputations - even for non-royals) and is rumored to have sired a child out of wedlock. Knowing this background information Bowen makes these historical figures come alive by showing both their virtues and vices, making them feel more real than any textbook can. However you only pull out what you put in and if you never look up any of the historical context for her books you won't ever feel like you are missing something or that she is simply reciting a history lecture with a mystery smooshed in! They are great.
I do have to say this one does have a bit of ghostly-ness to it - as Kensington Palace is reputed to be haunted. However the ghosts do not solve the mystery, so never fear Bowen plays mostly by the rules!
As previously stated I love this entire series and would recommend it to anyone who enjoys Carola Dunn (it is a hair darker than hers) or Jacqueline Winspear (it is a bit lighter than Maisie Dobbs - but not as light as the cover would suggest). These books are set between WWI & WWII after the Great Depression hit so there is a certain amount of anxiety and bleakness to this period as it ramps into the rise of Hitler, which in my opinion makes it an even more fascinating read!
— Amber
Description
---
Thirty-fifth in line for the British throne, Lady Georgiana Rannoch becomes embroiled in royal wrongdoing in the ninth mystery from the New York Times bestselling author of Crowned and Dangerous.
Caught between her high birth and empty purse, Georgie is relieved to receive a new assignment from the Queen. The King's youngest son, George, is to wed Princess Marina of Greece, and the Queen wants Georgie to be her companion: showing her the best of London and dispelling any rumors about George's libertine history.
The prince is known for his many affairs with women as well as men including the great songwriter Noel Coward. But things truly get complicated when one of his supposed mistresses is murdered.
The Queen wants the whole matter hushed. But as the case unfolds and Georgie's beau Darcy, as always, turns up in the most unlikely of places their investigation brings them precariously close to the prince himself.
About the Author
---
Rhys Bowen, a New York Times bestselling author, has been nominated for every major award in mystery writing, including the Edgar(r), and has won many, including both the Agatha and Anthony awards. She is the author of the Royal Spyness Mysteries, set in 1930s London, the Molly Murphy Mysteries, set in turn-of-the-century New York, and the Constable Evans Mysteries, set in Wales. She was born in England and now divides her time between Northern California and Arizona.