A Royal Threesome (Paperback)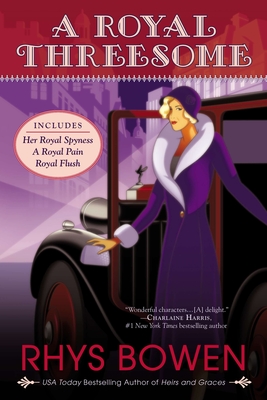 $17.00
Usually Ships in 1-5 Days
Staff Reviews
---
Georgie is thirty-fifth in line to the English throne, but unlike her rich cousins, she is a penniless royal. One who was taught how to be a wife to a ruling prince, but not much else – and that is exactly what everyone thinks she ought to be doing – finding herself a husband, preferably one which will help cement ties between England and some European nation. When Georgie gets wind that the Queen is trying to place her in a discreet set-up (think a house party where she cannot escape the attention of said man the Queen is trying to match her with) Georgie bolts to her family's London house.
The only thing is because of her financial situation she cannot afford to hire any help – so no cook, maid or butler to help her out with domestic chores…..that she's really never had to tackle on her own before. But as she learns to fend for herslf she has a brain wave – open a domestic agency – where she as the sole worker and proprietor cleans houses for the wealthy when they are coming back to London. Which works out splendidly - well most of the time anyways.
But her financial situation isn't the only problem in her life; her deceased father seems to have gambled away the family estate in a game of cards to a rather repugnant Frenchman. When he turns up dead in her bathtub, Georgie is forced into action to help clear the family name, since the police are quite keen on the idea that her family did the deed. And if that wasn't bad enough, the Queen herself commissions Georgie into a job, spy on her cousin – The Prince of Wales – and see how really infatuated he is with a certain married American woman. Could life get more complicated?
I cannot say how much I am enjoying this series! Bowen does a great job of balancing the bleakness of the period (it is set between WWI & WWII after the Great Depression hit in the US) without making her tale overly bleak, while at the same time inserting actual historical fact into the mix without ever making the book into a "teachable moment" – seriously it took me until the fourth book until I dimly recalled that there was a recent (relatively) English King who renounced the thrown to marry an American divorcee – and what do you know it is the same Prince I am reading about in this series. All the while Bowen is creating a heroine you can really pull for and want to see succeed in her new life. One which she chose, not one which her family wants to lay before her.
While these books have a cozy looking cover – and they are, in the sense that the violence is off stage and there isn't much in the way of swearing – they are in the best tradition – they are like the golden age whodunnits (only with a progressing story line through the series) in the best English tradition. Not like many of the themed cozies which rely entire too much on a theme to get from A to Z in their story.
These books have been on my - I must read them at some point because they look too interesting not to – list for simply ages and I am really glad I bumped them up to the front of the line! I haven't enjoyed reading a series like this in a very long time, not since Miss Phryne Fisher (only Her Royal Spyness is much less scandalous). I would recommend this series to anyone who is looking for a light-ish historical read. I cannot recommend them highly enough! (and if you invest in the omnibus which you should, you save about $7 than buying the books individually – what a deal!)
— Amber
Description
---
Now in one volume--the first three "charming and lighthearted" (Kirkus Reviews) Royal Spyness Mysteries from New York Times bestselling author Rhys Bowen, featuring the elegant, titled, and stony-broke sleuth Lady Georgiana Rannoch. HER ROYAL SPYNESS

Georgie is forced to earn her keep as a housekeeper in London when the Queen summons her to spy on the playboy prince. But when a Frenchman winds up dead in Georgie's bathtub, it's her job to clear her very long family name. A ROYAL PAIN

While entertaining a Bavarian princess at the Queen's behest, Georgie finds herself investigating the rather more worrisome matter of the dead body in the bookshop, as well as her royal guest's unwitting involvement in the communist party. ROYAL FLUSH

After being saved from scandal by her on-again-but-mostly-off-again beau, Darcy O'Mara, Georgie is shipped home, where Queen Mary wants her to keep Wallis Simpson from seducing the Prince of Wales, and Scotland Yard wants her to stop one of the members of the shooting party at Balmoral from turning their sights from the quails to His Royal Highness.
About the Author
---
Rhys Bowen, a New York Times bestselling author, has been nominated for every major award in mystery writing, including the Edgar(R), and has won many, including both the Agatha and Anthony awards. She is the author of the Royal Spyness Mysteries, set in 1930s London, the Molly Murphy Mysteries, set in turn-of-the-century New York, and the Constable Evans Mysteries, set in Wales. She was born in England and now divides her time between Northern California and Arizona.
Praise For…
---
"As usual, Georgie's high spirits and the author's frothy prose are utterly captivating."—The Denver Post

"Delightfully naïve, charming and quite smart, Georgie is a breath of fresh air."—Library Journal

"A delectable mystery with vibrant characters and a bit of romance, Bowen's latest is a rollicking good read."—Booklist