Flight from Death (Mass Market Paperbound)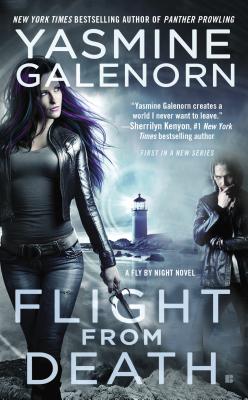 $7.99
Usually Ships in 1-5 Days
Staff Reviews
---
If you've enjoyed Yasmine Galenorn's "Otherworld" series, has she got a treat in store for you!
Flight From Death is a spin-off series set in the Otherworld universe, but with no pesky demon hordes or seals to recover. Shimmer is a blue dragon who has been exiled from the Dragon Reaches for theft. She got off lightly, actually. As a dragon with no clan - basically an orphan - she has no standing, and her punishment should have been much worse. But she lucked out and is now sentenced to live in our world for five years, working for Alex Radcliffe, vampire owner of Fly By Night Magical Investigations Agency. Shimmer's only been here for a few months, but she's getting the hang of life on Earth, sort of.
Then the Agency gets a case, a haunting at the High Tide Bed and Breakfast in Port Townsend, WA. This is the first big case Shimmer's ever worked on, and it's a doozy. Add to the ghostly terror, the owner of the B&B has a past with Alex, and that might make everything even more tense. But it still seems like a good idea to take it and get away from the explosions that are going on within the Agency itself, so Shimmer, Alex, and werewolf assistant, Ralph, head out to the picturesque port town with a dark secret.
If you haven't read any of Yasmine Galenorn's work, this is a good place to begin. The characters are fun and quirky and complex, and the ghosts they're up against aren't always as evil as they seem. If you're already a fan of the Otherworld series, then there are some references to people you already know, and it's fun knowing things that Alex and Shimmer don't about what's going on elsewhere in the City.
Flight From Death introduces Shimmer and Alex, and they're wonderful, but the true jewels are her secondary characters. I don't want to say too much; I want you to get to know them for yourself. I'm positive, though, that you're going to be as charmed by Patrick, Tonya, Stacy and Bette as I am. And the mysterious Chai? Trust him or not? It's far too soon to say, and I can't wait to see what adventures this crew gets up to next!
— Fran
Description
---
From New York Times bestselling author Yasmine Galenorn comes an all-new series set in the realm of her Otherworld novels. I'm Shimmer, a blue dragon shifter. Thanks to a mistake, I was exiled from the Dragon Reaches and sentenced to work for Alex Radcliffe, a vampire who owns the Fly by Night Magical Investigations Agency. Now, not only do I have to adapt to Earthside culture, but every time I turn around, somebody's trying to kill us. And worse, Alex is as gorgeous as he is exasperating. But you know what they say: All's fair in love and bounty hunting... When an old friend of Alex contacts him about a haunting at the High Tide Bed & Breakfast in Port Townsend, Washington, we think we're on a simple ghost hunt. But our investigation quickly transforms into a deadly fight as we uncover an eighty-year-old murder, a cursed house, and a dark force trapping the spirits within. To stop impending disaster we must break the curse and lay the angry spirits to rest.
About the Author
---
Yasmine Galenorn is the New York Times bestselling author of the Otherworld series (Priestess Dreaming, Crimson Veil, Autumn Whispers) and the Indigo Court series (Night Veil, Night Seeker, Night Vision).