The Hunger Games (Paperback)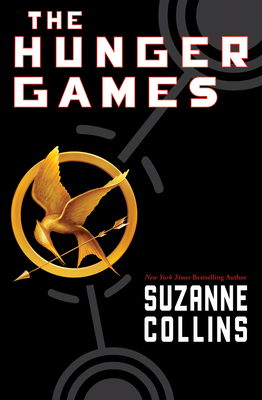 $10.99
Usually Ships in 1-5 Days
Staff Reviews
---
I tend to avoid the big bestsellers, the blockbusters, because they don't need my push. (Granted, when some of my faves become big bestsellers and blockbusters, I'm still going to read them!) But once in a while, I give in to the hype and see if what's being said is really true. So I read Suzanne Collins' "Hunger Games" trilogy. And I loved it. I'm not going to say anything about the plot because I'm sure everyone on the planet knows the premise. But there's a reason that this series is so incredibly popular. It's well-written and it's thought-provoking and it's simply good! It does, in fact, have the expected plot points and cliches you might be anticipating. It's an underdog-teenager-tries-to-save-the-world-against-all-odds story, so you know where it's headed before you pick up the first book. And because our heroine, Katniss, is a teenager and has an entire world's worth of teenage angst, anger and willful pig-headed stubborness. But here's what makes it special. Collins doesn't soften things up. This is not a pretty world and very, very bad things happen to good people. This is not a sparkly or resolutely cheerful series. The trilogy is permeated with people doing the best they can with what they've got. Some of the good guys aren't as good as we'd like, and some of the bad guys have a touch of honor that surprises. And Collins makes some realistic and painfully hard choices. Not all the good guys win, not all the bad guys are brought to justice. People whom we've invested in are damaged and killed. There's a lot that is not easy to read because it is harsh and brutal. And that's what makes this such an amazing series. I read The Hunger Games on Friday, Catching Fire on Saturday and Mockingjay on Sunday. These are fast-paced, well-written and engrossing books. I did find Mockingjay to be the weakest, but by that time I was so invested that I didn't mind. These are marketed as YA (Young Adult) books, but honestly, I think anyone who enjoys futuristic dystopian literature will like them.
— FRAN
October 2008 Indie Next List
---
"This compelling, page-turning futuristic novel takes readers into a world that pits teenagers against each other in a fight to the death for the glory and well-being of their district. But when Katniss discovers the young man from her district is in love with her, she is faced with either having to kill him to survive or sacrificing herself to save him."
— David Richardson, The Blue Marble, Fort Thomas, KY
Description
---
Now in paperback, the book no one can stop talking about . . .

In the ruins of a place once known as North America lies the nation of Panem, a shining Capitol surrounded by twelve outlying districts. The Capitol is harsh and cruel and keeps the districts in line by forcing them all to send one boy and one girl between the ages of twelve and eighteen to participate in the annual Hunger Games, a fight to the death on live TV. Sixteen-year-old Katniss Everdeen, who lives alone with her mother and younger sister, regards it as a death sentence when she is forced to represent her district in the Games. But Katniss has been close to dead (cont'd)
About the Author
---
Suzanne Collins' debut novel, Gregor the Overlander, the first book in The Underland Chronicles, received wide praise both in the United States and abroad. The series has been a New York Times bestseller and received numerous accolades. Also a writer for children's television, Suzanne lives with her family in Connecticut.