Frost Burned (Hardcover)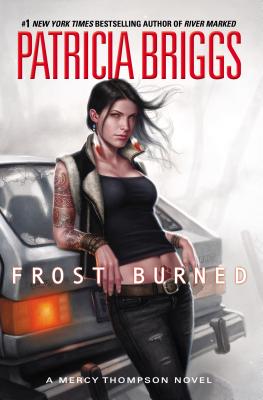 Email or call for price
Out of Print - E-mail us directly - We may have a used book!
Staff Reviews
---
It's no secret that Amber and I are fans of Patricia Briggs, so we were excited to get her latest Mercy Thompson book, Frost Burned.
However, Amber hasn't read it yet -- and what's keeping you? Hmmm? -- so I'm not going into too many details here.
Mercy and her step-daughter, Jesse, are out on Black Friday, shopping for all they're worth, when they find themselves tangled up in a car wreck. They're banged up a bit, but the Rabbit is toast, so they call Adam for a ride. Except that Adam isn't picking up. No one in the pack is answering their phones. And Mercy has a serious sense that something is deeply wrong.
They discover that the pack -- the entire pack -- has been trapped, and those folks who have captured the others are after them now. Mercy has to turn to the vampires for help, and that presents its own set of serious dangers.
When people come in asking about good urban fantasy, we steer them towards Patricia Briggs. She writes clearly, seemingly effortlessly, and her characters are people you sincerely care about. She's smart, too, which is great. There are threads in Frost Burned that she started several books ago, and they've been woven in beautifully. And I'm incredibly proud of her for making a tough decision, doing something that may be wildly unpopular but was exactly what needed to happen in the story.
If you're a fan of the Mercy Thompson series, you'll absolutely have to read this one. But one of the things we continually point out to Mercy fans is that you have to read the "Alpha and Omega" parallel series as well. What happened in Fair Game (signed copies available) changes the whole world, and some of the events in Frost Burned won't make any sense until you've read it.
— Fran
Description
---
Mercy Thompson returns in the seventh novel in the #1 "New York Times" bestselling series.
Mercy Thompson's life has undergone a seismic change. Becoming the mate of Adam Hauptman the charismatic Alpha of the local werewolf pack has made her a stepmother to his daughter Jesse, a relationship that brings moments of blissful normalcy to Mercy's life. But on the edges of humanity, what passes for a minor mishap on an ordinary day can turn into so much more
After an accident in bumper-to-bumper traffic, Mercy and Jesse can t reach Adam or anyone else in the pack for that matter. They ve all been abducted.
Through their mating bond, all Mercy knows is that Adam is angry and in pain. With the werewolves fighting a political battle to gain acceptance from the public, Mercy fears Adam's disappearance may be related and that he and the pack are in serious danger. Outclassed and on her own, Mercy may be forced to seek assistance from any ally she can get, no matter how unlikely.
About the Author
---
Patricia Briggs lives inWashington state with her husband, children, and a small herd of horses."
Praise For…
---
PRAISE FOR THE MERCY THOMPSON NOVELS "I love these books."—Charlaine Harris, #1 New York Times bestselling author "The best new urban fantasy series I've read in years."—Kelley Armstrong, New York Times bestselling author  "Outstanding."—Charles de Lint, Fantasy & Science Fiction  "An excellent read with plenty of twists and turns…It left me wanting more."—Kim Harrison, New York Times bestselling author "Expect to be spellbound."—Lynn Viehl, New York Times bestselling author