A Grown-Up Kind of Pretty (Paperback)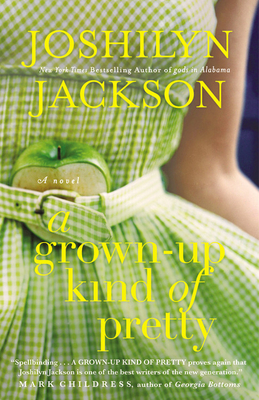 $14.99
Usually Ships in 1-5 Days
Staff Reviews
---
Fran: Once again, Joshilyn Jackson has hit it out of the park!
A Grown-Up Kind of Pretty is told from three different viewpoints, Ginny (also known as "Big") is Liza's mother and Mosey's grandmother. Trouble comes to the Slocumb women every 15 years, and this year Mosey turns 15, so Big is worried sick about her, since Big got pregnant with Liza at 15, and Liza with Mosey at the same age. But Big figures all the trouble the Slocumbs are going to have happens when Liza has a stroke.
Then a casket of bones is found under the old willow, and now trouble really is visiting the Slocumb women.
Joshilyn Jackson consistently creates real people, filled with flaws and strengths and humor and darkness and hope and deep despair. Her people are ordinary folks with troubles and successes that have an element everyone can relate to, and I always, always look forward to her books. Joshilyn lets us into the minds of each of the Slocumb women – and the parts of the story told from Liza's desperate and confused point of view are both heartbreaking and inspirational – and her distinctly different voices for Big, Liza and Mosey add a depth and richness to A Grown-Up Kind of Pretty that left me cheering for them all.
— FRAN
February 2012 Indie Next List
---
"The Slocumb women have the curse of having to deal with bad men and early motherhood. Mother Liza and and grandmother Jenny are doing everything in their power to make sure that 15-year-old Mosey doesn't find herself in the same predicament. Jenny unearths human bones while digging in the backyard, and with Liza too ill to explain them, Mosey decides to take it upon herself to find the answers to her family's secrets and end the curse once and for all. This is a fast-paced and enthralling read that pulls you in and won't let you go until the very end."
— Morgan Kiedrowski, Next Chapter Bookshop, Mequon, WI
Description
---
A GROWN-UP KIND OF PRETTY is a powerful saga of three generations of women, plagued by hardships and torn by a devastating secret, yet inextricably joined by the bonds of family. Fifteen-year-old Mosey Slocumb-spirited, sassy, and on the cusp of womanhood-is shaken when a small grave is unearthed in the backyard, and determined to figure out why it's there. Liza, her stroke-ravaged mother, is haunted by choices she made as a teenager. But it is Jenny, Mosey's strong and big-hearted grandmother, whose maternal love braids together the strands of the women's shared past--and who will stop at nothing to defend their future.
About the Author
---
Joshilyn Jackson, a native of the Deep South, has worked as an actor and an award-winning teacher, and is now a writer and a mother of two. She is the author of gods in Alabama; Between, Georgia; The Girl Who Stopped Swimming; and Backseat Saints. Jackson lives with her husband and children outside of Atlanta. Visit her website at www.joshilynjackson.com.
Praise For…
---
Praise for A Grown-Up Kind of Pretty:

"A mesmerizing tale of a family coping with the revelation of a secret that will change their lives... Jackson's most absorbing book yet, a lush, rich read with three very different but equally compelling characters at its core."
-Kristine Huntley, Booklist (Starred Review)

"Highly immersive... a compelling page turner."
-PW

"A valentine to the bonds of family!"
-Family Circle

"[There are] hundreds of moving parts in the machinery of Jackson's intricate mystery, all deliciously unraveled one tantalizing clue at a time."
-Gina Webb, The Atlanta Journal-Constitution

"[A] warm family story that teeters between emotional highs and lows, laughter and tears. Book groups will eat this up."
-Library Journal

"Jackson's signature style-the feisty, bighearted voice of Gods in Alabama and Backseat Saints-propels this funny, dark whodunit, where strong women who've made bad choices band together to come out on top."
-Melissa Ruggieri, The Atlanta Journal-Constitution

"A deeply felt, engaging story."
-The Atlantic

"Snappy dialogue with a Southern twang, spiritual uplift and undeniably likable characters."
-Kirkus Reviews

"Three generations of Slocumbs grapple with deep-buried family secrets in this entertaining Southern whodunit."
-All You Magazine

"Compelling....Jackson introduces some truly appalling villains as well as a handful of affable supporting characters... The Slocumb women are easy to root for."
-Hannah Sampson, Miami Herald-Tribune

"A quirky mystery that serves up a delicious blend of likeable characters, plot twists and life as seen through the eyes of three remarkable women in a Southern family, namely Mosey, Ginny, and Liza. The dialogue is authentic and the writing insightful and unexpectedly witty."
-Larry Cox, Tucson Citizen

"Gripping."
-Chris Waddington, The Times Picayune

"An unforgettable story of generational dysfunction and sloppily buried secrets."
-Theresa Weaver, Atlanta Magazine

"Reading A Grown-Up Kind of Pretty feels a lot like falling in love: giddy and enthralling and a little bit dangerous. It's a heart-thumping mystery, an edge-of-your-seat drama, and a fiercely sweet comedy all at once, with a fistful of crazy-brave characters who reach from up the wild pages and grip your heart. I loved this book about what it means to be a family for its big heart, its pitch-perfect dialogue and the clever plot twists I've come to expect from Jackson. Book clubs take note: Here's your next pick!"
-Sara Gruen, NYT bestselling author of Water for Elephants and Ape House

"A Grown-Up Kind of Pretty proves again that Joshilyn Jackson is one the best writers of the new generation. This spellbinding novel unfolds through the voices of three women in one family: a grandmother, a mother, a young daughter. Jackson renders each of these women with vivid tenderness, ferocity, and great humor, so that the family itself becomes the fourth vital character in the story. You will find yourself rooting for them all, to the very last page."
-Mark Childress, author of Georgia Bottoms and Crazy in Alabama

"A clever, hilarious, wild adventure of a mystery that immediately pulls you in. You'll be desperate to know the story of the bones beneath the willow tree-and will love every delicious layer of Joshilyn Jackson's latest."
-Jennifer McMahon, author of Don't Breathe a Word and Promise Not To Tell

"Madness! Mayhem! Laughter! Tears! Emotional rollercoasters, old lies and an unmarked grave propel the Slocumb women into action. Joshilyn Jackson's signature style explodes in A GROWN-UP KIND OF PRETTY. Buckle up and enjoy!"
-Adriana Trigiani, bestselling author of Very Valentine