Unexpected Mrs. Pollifax (Large Print / Mass Market Paperbound)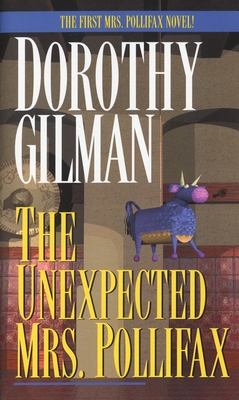 Staff Reviews
---
I want to grow up and be Mrs. Pollifax - a wonderful lady of an indeterminate age – and a spy! I could do without becoming a widow and the overwhelming feeling of purposelessness which almost drove her to step off the side of her apartment building's roof; that doesn't sound like very much fun either. But I suppose these key events are what helped propel Mrs. Pollifax into the world of espionage! On the upside, I don't have any children to chase around after me wondering what I am up to, my family has always thought me a bit absurd with slightly off kilter tastes and I do happen to have a streak of common sense (I don't always follow it, but it does warn me when I am about to do something spectacularly silly). So I don't suppose I am all that far from wandering over to Langley, Virginia, and volunteering to become a spy!
Which is precisely what Mrs. Emily Pollifax does! Then a slight clerical mix-up propels her into her dream job and a few short days later Mrs. Pollifax finds herself in Mexico City waiting for a package….and things go very wrong when her contact goes missing and she's abducted! She has a very exciting introduction to this shadowy world!
Who knew I could be nostalgic for the Cold War? This is precisely what I found happening while I was reading about Mrs. Pollifax's adventures! When I was a kid I had a vague notion of the Cold War - international politics really didn't hold my attention when I was nine. The nuclear bomb drills made a bigger impact on me - mostly because I thought they were dumb and a waste of time. I mean how can hiding under my desk save me from nuclear fallout? Really guys? The teachers never did answer that one, they just told me just to suck it up and participate in the mandatory drill. In any case, reading about Mrs. Pollifax aligned with what I did remember (plus with info from history classes I took later) about the political climate and the nature of spying I have read about over the years. It made me feel nostalgic for the "good old days" (shuddering at the thought of myself typing that phrase) when espionage was at a much lower tech level that it apparently is today.
While the premise of the book seems like it might be a bit far fetched - a lady of indeterminate age wandering into the CIA and becoming a spy, the book has such a matter of fact-ness to it that makes it feel believable. And as we know truth is often much stranger than fiction and everyone needs to start somewhere (and really who would suspect her of being a spy? That is why it is so perfect!). Don't be fooled by Mrs. Pollifax's absurd hats - she has a spine made of steel and an agile mind which she needs to use to their fullest so she can make it home in one piece from her "job".
This book was first published in 1966 and the narrative still holds up today. If you have not read this series, I highly recommend that you start with The Unexpected Mrs. Pollifax (there are fourteen in the series and they should be read in order)! I mean right now! Go to the internet or phone and order a copy from us! Seriously! *stern face*
— Amber
Description
---
"Mrs. Pollifax is an enchantress."
THE NEW YORK TIMES BOOK REVIEW
Mrs. Virgil (Emily) Pollifax of New Brunswick, New Jersey, was a widow with grown children. She was tired of attending her Garden Club meetings. She wanted to do something good for her country. So, naturally, she became a CIA agent. This time, the assignment sounds as tasty as a taco. A quick trip to Mexico City is on her agenda. Unfortunately, something goes wrong, and our dear Mrs. Pollifax finds herself embroilied in quite a hot Cold War--and her country's enemies find themsleves entangled with one unbelievably feisty lady.
About the Author
---
Dorothy Gilman (1923-2012) was the author of 14 Mrs. Pollifax novels, including The Unexpected Mrs. Pollifax, the series debut; Mrs. Pollifax Pursued; Mrs. Pollifax and the Lion Killer; Mrs. Pollifax, Innocent Tourist; and Mrs. Pollifax Unveiled. She was also the author of many other novels, among them Thale's Folly.