Catch Me (Mass Market Paperbound)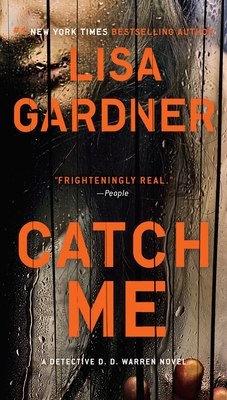 $9.99
Usually Ships in 1-5 Days
Staff Reviews
---
Fast-paced. Twisty. Compelling. Disturbing. Excellent.
Warren returns after her leave, and she wonders if her edge has been blunted. However, the first crime scene back on the job proves to her that she's still sharp. A man is found dead in his kitchen, double-tap to the forehead with a .22. The apartment's a slovenly mess, but the kitchen is starkly clean.
When she leaves the scene, Warren notices a suspicious person leaving her car. She catches the woman, who tells D.D. that she, Charlene Rosalind Carter Grant, will be murdered in four days, on January 21st, and she was checking out Warren, to see if she would be able to solve the crime.
Despite initially blowing Charlene – "call me Charlie" – off, Warren discovers that Charlie has a valid reason to believe she'll be murdered, but until it happens, there isn't much Warren can do. And there's still the problem of the man in the clean kitchen; it turns out he's a pedophile, and that another man was killed under similar circumstances a few weeks earlier, and he too was a pedophile. So D.D. Warren has to be on her top game, because something's obviously up.
In Catch Me, Lisa Gardner switches voice between D.D. and Charlie, and she does so expertly and deftly, so the story never slows down and the people grow and change, and I know I found myself staying up late at night to find out what happened. And when it all came together, I saw that Gardner had fed me the clues so I had that "A-ha!" moment that comes in the best books!
— FRAN
Description
---
Detective D. D. Warren has four days to stop a killer in this "shocking...'must read'"* from #1 New York Times bestselling author Lisa Gardner--one of Library Journal's Best Thrillers of the Year. Charlene Grant believes she is going to die. For the past few years, her childhood friends have been murdered one by one. Same day. Same time. Now she's the last of her friends alive, and she's counting down the final four days of her life until January 21st. Charlene doesn't plan on going down without a fight. She has taken up boxing, shooting, and running. She also wants Boston's top homicide detective, D. D. Warren, to handle the investigation. But as D. D. delves deeper into the case, she starts to question the woman's story. Instinct tells her that Charlene may not be in any danger at all. If that's true, the woman must have a secret--one so terrifying that it alone could be the greatest threat of all. *Associated Press.
About the Author
---
Lisa Gardner is the #1 New York Times bestselling author of twenty novels, including Look For Me, Right Behind You, Find Her, Crash & Burn, Fear Nothing, Touch & Go, Catch Me, and The Neighbor, which won the International Thriller of the Year Award. She lives with her family in New England.
Praise For…
---
"Frighteningly real."—People "The best thriller Lisa Gardner has written to date...It will hook you from the start."—The Huffington Post
"Plan to stay awake for a few nights...[It's] terrifying."—Bookreporter.com "[A] scare-your-socks-off thriller."—Library Journal "Shocking...A 'must read' for any suspense aficionado."—The Associated Press