Written in Red (Mass Market Paperbound)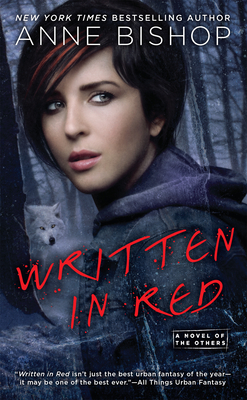 $7.99
Usually Ships in 1-5 Days
Staff Reviews
---
There is something you must understand about Meg Corbyn's world: humans live at the pleasure of The Others. Elementals, werewolves, vampires, all the things we fear in our world are very real in hers and they do not trust us. We are their prey, clever prey, but prey nonetheless. Courtyards were established in larger cities, where The Others could keep an eye on their clever food, where Others who could stand (mostly) interactions with humans could live. In these courtyards human laws do not apply, they have their own laws.
Human Liaison is essentially a mail room position, an important one as even the Others need to get their mail. A human is needed to fill it, since delivery people (or people in general) get nervous around the Others and will stop delivering by contract if a human is not there for a certain amount of time. The job has been vacant for too long and Simon Wolfgard is loathed to hire Asia Crane, the only applicant for the job, as he trusts her even less than he does most humans. It is a stroke of luck when Meg Corbyn asks for the job, but Simon isn't sure he trusts her motives either.
I'd seen this title when it came out in hardback but with my reading for the shop, it got shuffled back in my brain and I temporarily forgot about it. When I saw it again as a mass-market release (yes even us book sellers will wait for the paperback sometimes) I picked it up…..that was back in March. Again, the reading I was doing for my Christie blog makes it difficult to get other books read, so it sat on my bookshelf waiting patiently for me to pick it up.
Man I should not have waited…
Written In Red completely captivated my attention - laundry was ignored, chores weren't done and meals forgotten until I finished the book. Bishop's style of writing is one I have enjoyed before and highly recommend - Daughter of Blood, Heir to the Shadows & Queen of Darkness - but previously she wrote pure fantasy which is great but not within the shop's purview. Written In Red changed that, adding an urban fantasy element to her repertoire and obviously a mystery element to them, allowing me to finally recommend her book for the shop! And boy, do I recommend this title.
Bishop does a wonderful job of introducing a new set of characters, world and conspiracies which never falters and is always interesting. She creates a palpable sense of tension which had me reading past my bedtime because I could not put the book down. I highly recommend this book to female urban fantasy readers (or open minded males - but let it be known that the book is very female focused, not the Twilight stupid romance effect, but just female centric) looking for an engrossing read!
Seriously the more I like the book the more disjointed the review, because I want to bore you all with all the minutia from the book but have to restrain myself from doing so--as I want you to read the book so I can talk about it with you! So pick it up, read it and let's talk!
— Amber
It takes me a while sometimes, but I do learn. When Amber strongly recommends I read something, she knows I'm going to like it. Ernest Cline's Ready Player One? Favorite for that year. Jasper Fforde's The Last Dragonslayer? Read it in one sitting. Holly Black's The Coldest Girl in Coldtown? Absolutely brilliant.
So when she started vibrating about Anne Bishop's Written in Red, I didn't even fight it. I waited until I had a plane trip ahead of me and snagged it. And again, she was absolutely right.
The land is nominally the United States, an alternate universe perhaps. And in this land, humans are simply clever meat to the were-creatures, vampires and Others that control the land. But it's by being clever that humans have survived and have established cities, trading goods and innovative creations for a chance to live. But make no mistake, humans are still food, and in the Courtyard, where the Others and humans interact, if a rule is broken by a human, the penalty is swift, permanent and without recourse. In the cities, human law prevails (mostly, and at the whim of the Others), but in the Courtyard and away from human cities? Humans are prey.
Meg Corbyn stumbles into the Lakeside Courtyard one winter evening, fighting her way through a blizzard looking for shelter. Werewolf and leader of the Courtyard, Simon Wolfgard is reluctant to take her in, but he's intrigued. She doesn't smell like prey; in fact, she seems to decidedly be "not-prey" even though she's human, and he's puzzled. Besides, the Courtyard needs a human liaison, so he hires her, figuring to sniff out her secrets in time.
But Meg's no ordinary human, and the people she's running from are powerful. You see, Meg's a "cassandra sangue", a blood prophet. When her skin is cut, she can prophesy the future, and Meg's one of the best. She's managed to escape from her Controller and the compound where the blood prophets are kept "for their own good", and they want her back. And they're willing to challenge the Others for her, no matter what the cost.
This is the first in a series, and it's fantastic. Anne Bishop manages to capture how truly different the Others are, how completely alien their thought processes can be while still making them sympathetic and relatable, which is no small feat. The vampires, the shapeshifters (not just wolves but all kinds of creatures), the Elementals, all the other types of Creatures - and I suspect there are many yet to meet - are fascinating in their own rights. The relationships Bishop has created between the Others and humans is intricate, a political dance on a knife's edge, and is complex and fascinating.
I can't wait to read more in this series, and once again, Amber has suckered me into a new author whom I love!
— Fran
Description
---
Enter the world of the Others in the first novel in New York Times bestselling author Anne Bishop's thrilling fantasy series: a place where unearthly entities--vampires and shape-shifters among them--rule the Earth and prey on the human race. As a cassandra sangue, or blood prophet, Meg Corbyn can see the future when her skin is cut--a gift that feels more like a curse. Meg's Controller keeps her enslaved so he can have full access to her visions. But when she escapes, the only safe place Meg can hide is at the Lakeside Courtyard--a business district operated by the Others. Shape-shifter Simon Wolfgard is reluctant to hire the stranger who inquires about the Human Liaison job. First, he senses she's keeping a secret, and second, she doesn't smell like human prey. Yet a stronger instinct propels him to give Meg the job. And when he learns the truth about Meg and that she's wanted by the government, he'll have to decide if she's worth the fight between humans and the Others that will surely follow.
About the Author
---
New York Times bestselling author Anne Bishop is a winner of the William L. Crawford Memorial Fantasy Award, presented by the International Association for the Fantastic in the Arts, for The Black Jewels Trilogy. She is also the author of the Ephemera series, the Tir Alainn trilogy, and the Novels of the Others--including Etched in Bone, Marked in Flesh, Vision in Silver, Murder of Crows, and Written in Red. She lives in upstate New York.
Praise For…
---
Praise for Written in Red:

"A stunningly original yarn, deeply imagined, beautifully articulated and set forth in clean, limpid, sensual prose."—Kirkus Reviews

"An amazing novel."—Fresh Fiction

"Written in Red isn't just the best urban fantasy of the year, it may be one of the best ever."—All Things Urban Fantasy

"A gripping novel from start until finish...In the end, Ms. Bishop leaves readers wanting more."—Night Owl Reviews (Top Pick)

"Fast-paced action, well defined characters and an imaginative storyline make for a fine paranormal read."—Monsters and Critics