Seawitch (Hardcover)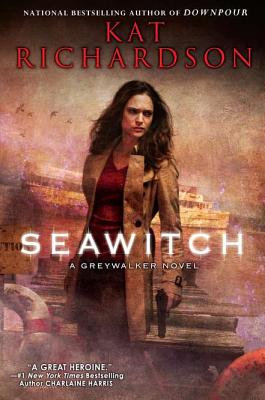 Email or call for price
Out of Print - E-mail us directly - We may have a used book!
Staff Reviews
---
One of the things I like best about Kat Richardson's "Greywalker" series is the fact that she makes me think. And sometimes grab a dictionary.
In Seawitch, Harper Blaine is required to work with Detective Rey Solis to investigate the reappearance of a boat, the Seawitch, that's been missing for 27 years, all hands presumably dead. Harper's investigating for the insurance company that paid out all those years ago, and Solis is investigating because there's an awful lot of blood, especially in one of the cabins. One of the things I loved about this book is that it hailed back to earlier in the series, when Harper had a puzzle to solve and there weren't a lot of over-arching themes and plots.
Seawitch is a gem, brilliantly written and completely non-stop, and it gives us some serious character development, especially since Harper and Solis have to be more open with each other, because, as you know, investigations with Harper never go easily or without involvement in the Grey. We get to learn more about Solis, and their working relationship will never be the same after these events!
The other thing that I especially liked about Seawitch is that Kat employed her knowledge of life on boats and boating (since she lives on one full-time, you see). Oh, and then there are the creatures of lore and legend, some from Ireland. There's just a whole lot to like about this book! I'll say this again: if you haven't read this series (and if you like urban fantasy and wicked intelligent writing, this is the series for you!), you really must start with Greywalker because the series builds on it. Oh, and the word I had to look up? Actinic. According to Mirriam-Webster: "of, relating to, resulting from, or exhibiting chemical changes produced by radiant energy especially in the visible and ultraviolet parts of the spectrum."
— Fran
Description
---
"Harper Blaine was your average small-time PI until she died for two minutes. Now Harper is a Greywalker, treading the thin line between the living world and the paranormal realm. And she's discovering that her new abilities are landing her all sorts of strange cases."
A quarter century ago, the Seawitch cruised away from her dock and disappeared with everyone on board. Now, the boat has mysteriously returned to her old berth in Seattle and the insurance company has hired Harper to find out what happened.
But Harper is not the only one investigating. Seattle Police Detective Rey Solis is a good cop, albeit one who isn t comfortable with the creepy cases that always seem to end up in Harper's lap. As they explore the abandoned vessel, Harper and Solis discover a cabin containing symbols drawn in human blood, revealing the ghost ship's grave history.
As Solis focuses on the possible murder of a passenger's wife, Harper's investigation leads her to a powerful being who may be responsible for the disappearance of the Seawitch's passengers and crew. And while their searches lead Harper and Solis in different directions, they will need to put aside their differences to solve a deadly mystery twenty-five years in the making
About the Author
---
Kat Richardson lives on a boat in Seattle with her husband and a small pit bull--who is not the world's largest ferret, no matter how much she pretends.. Kat rides a motorcycle, shoots target pistol, and has been known to swing dance, sing, and spend insufficient time at the gym.
Praise For…
---
"A great heroine."

-#1 New York Times Bestselling Author Charlaine Harris