Rosarito Beach: A Kay Hamilton Novel (Mass Market Paperbound)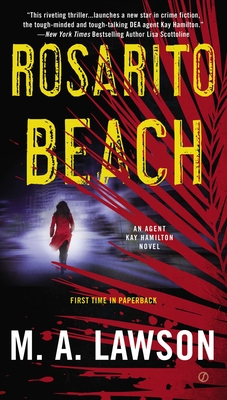 $9.99
Usually Ships in 1-5 Days
Staff Reviews
---
If you're looking for an example of a man who knows how to write realistic women, strong, flawed, dynamic, human, then your go-to guy is Mike Lawson. Anyone who's read his "DeMarco" series knows he's got what it takes to create women that other women can relate to, so when he decided to create a whole new series with a female protagonist, I know I was excited. If anyone can make it work, it's Mike.
And Kay Hamilton, his DEA agent protagonist in Rosarito Beach fits the bill and then some. She's hard-hitting, no holds barred, and tough as nails, but there's no doubt she's female through and through.

Hamilton's been assigned to San Diego after her memorable stint in Miami, and she's got her eyes focused on bringing down a Mexican cartel. Caesar Olivera runs the cartel in Mexico, but his younger half-brother, Tito, is an American citizen and is handling Caesar's interests in the States. Kay's found a way to bring Tito down, but she knows that if she does, Caesar will bring all his incredible and powerful influence to free his kid brother. She can't wait.

"Kay kept moving forward. When she was three feet from him, she raised her gun and pointed it at his head. Tito just stood there, not knowing what to do, then Kay took one more stride and placed the muzzle of her gun against the center of his forehead.
'Drop the gun, you moron.'"

But plans have a nasty habit of going sideways in big busts, and when a mysterious stranger appears on Kay's doorstep, things become more complicated than anyone could have planned for. Kay will have to decide what's important to her, and what she's willing to sacrifice, because this is one time where she can't win it all.

Rosarito Beach is slick, smooth, professional, and I can see why it's been optioned for television. I found myself casting it in my head. It's fast-paced and twisty, filled with memorable people and demanding situations. DeMarco and his crew will always be first in my heart (and darn it, Hollywood, you need to option those as well!), but Kay Hamilton is going to be someone we'll all be following for years to come, I suspect!
— Fran
January 2014 Indie Next List
---
"Once readers delve into this first book of a new series by the author of the popular Joe DeMarco novels, they will immediately be drawn into the world of Kay Hamilton, rugged DEA agent and obstinate, independent loner. Up against a tough drug lord in Mexico, Hamilton is able to hold her own until her own daughter is taken hostage. Then it demands all of Hamilton's ingenuity and guts to find her daughter and set her free. Just how far will a mother go to save her child? I want the next Kay Hamilton soon, Mr. Lawson!"
— Linda Bond, Auntie's Bookstore, Spokane, WA
Description
---
The first installment in M.A. Lawson's thrilling Kay Hamilton series "This riveting thriller... launches a new star in crime fiction, the tough-minded and tough-talking DEA Agent Kay Hamilton."--New York Times bestselling author Lisa Scottoline Bold, brash, and beautiful, DEA agent Kay Hamilton doesn't always like to play by the rules, even though she's charged with upholding them. Having recently been transferred to San Diego after a case in Miami brought her more notoriety than medals, Kay once again finds herself embroiled in an international bust. Tito Olivera, younger brother of drug czar Caesar Olivera, is within her grasp. If she takes down Tito, Kay is positive that Caesar will follow--and when Caesar falls, so does the largest and most vicious cartel in Mexico. But when a mysterious stranger shows up on her doorstep, the Olivera case suddenly becomes far more personal--and far more dangerous. Now, Kay must decide how much she's willing to sacrifice to get her man.
About the Author
---
M.A. Lawson is the pen name for award-winning novelist Mike Lawson, a former senior civilian executive for the U.S. Navy, and creator of the nine novels in the Joe DeMarco series, including House Odds, House Divided, and The Second Perimeter, as well as the Kay Hamilton novels Rosarito Beach, Viking Bay, and K Street.
Praise For…
---
"Grabs you by the throat….the writing's lyrical, the plot is breathtaking, and the characters, the good ones and bad, are utterly compelling."—New York Times bestselling author Jeffery Deaver

"I love tough guys, even when they're gals, and Glock-toting, fast-thinking, wise-cracking DEA agent Kay Hamilton is one of the toughest going. "—Stephen Hunter, author of the best-selling The Third Bullet, I, Sniper and others.

"Lawson has written a great start to a promising new series, with a gripping story line and a gutsy, likable heroine. Readers who enjoy fast-paced thrillers and detective novels with a female protagonist who's fully developed, vulnerable, and intriguing will gobble this one up and ask for more."—Library Journal, Starred review

"With this new character and proposed series, Lawson shows his breadth of talent.  I will read anything he writes – his prose is so smooth, his plotting so engaging and his pacing near perfect."—George Easter, Deadly Pleasures Magazine 

"[A] novel that goes beyond edgy to explosive and introduces a character whose future exploits promise further excitement."—Richmond Times-Dispatch
 
"Mike "M.A." Lawson hits his stride in a big way with Rosarito Beach, featuring the impressive debut of DEA agent Kay Hamilton. This is T. Jefferson Parker's brilliant Charlie Hood series on steroids with just enough Elmore Leonard (Riding the Rap) thrown in for good measure. Flat-out great."—Jon Land, Providence Journal
 
"A highly promising debut."—Adam Woog, Seattle Times 
 
"It's no surprise if this new series hooks you…. Kay impresses both by her recognition of the reality of her job and her courage in trying anyway.... [Lawson's] trademark caustic humor and dialogue zing on almost every page."—Michele Ross, Cleveland Plain Dealer