Autumn Thorns (Mass Market Paperbound)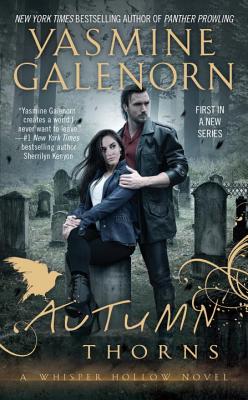 $7.99
Usually Ships in 1-5 Days
Staff Reviews
---
Advice for Visitors to Whisper Hollow:
1. If you hear someone call your name from the forest, don't answer.
2. Never interrupt Ellia when she's playing to the dead.
3. If you see the Girl in the Window, set your affairs in order.
4. Try not to end up in the hospital.
5. If the Crow Man summons you, follow him.
6. Remember: Sometimes the foul are actually fair.
7. And most important: Don't drive down by the lake at night.
Yasmine Galenorn has built plenty of worlds before the one in her new "Whisper Hollow" series, but this may very well be her best yet. In Autumn Thorns, we meet Kerris Fellwater, newly returned to her hometown of Whisper Hollow following the death of her grandparents. Kerris is called to follow in her grandmother's footsteps as the spirit shaman of the town, the one who helps - or forces - spirits to the other side of the Veil.
But Kerris is untrained, and Whisper Hollow has kept its secrets hidden for hundreds of years. And now there are those that would take over the power building in this small town on the Olympic peninsula. In fact, they started long ago, and a novice spirit shaman can't possibly be strong enough to stop them. Or can she?
It was obvious to me from the first page that Yasmine Galenorn loves these people and this town, that she is fully invested in Kerris and Bryan and Peggin and Ellia and all the other residents of this troubled but beautiful town. Whisper Hollow is a complex and multi-layered place, and I think that all the books she has written before have prepared her to dive into this series. We, the readers, learn about Whisper Hollow along with Kerris, since so much has changed while she's been gone, and it's exhilarating and wonderfully disturbing.
If you're already a fan, you're going to love the "Whisper Hollow" series, and if you've never read Yasmine Galenorn's work before, Autumn Thorns is a brilliant way to begin. I almost wish she didn't have two other series going, because I want to know what happens next! I can already tell this is a series that begs to be re-read, once for the story and again for the nuances. I actually wish for a "director's cut", if you will. In traditional Yasmine Galenorn style, this is fast action, diving right into the problems to be faced, and in a way, I wish it was a slower build, if only because I so enjoyed spending time with all the characters. Yeah, it's that good.
— Fran
Description
---
In an all-new series, New York Times bestselling author Yasmine Galenorn invites readers to Whisper Hollow, where spirits walk among the living and the lake never gives up her dead...
Fifteen years ago, I ran away from Whisper Hollow, Washington, a small town on Crescent Lake in the Olympic Peninsula. But truth is, if you were born here, you can never really leave. I'm Kerris Fellwater, and when I returned, I inherited my grandmother's house--and her gift. As a spirit shaman, it's my responsibility to drive the dead back to their graves, because around Whisper Hollow, people--and secrets--don't always stay buried.
When I was little, I was told my mother ran off. But now it looks like she was murdered. With the help of my mysterious neighbor Bryan, we begin to unravel the mystery of her disappearance, and in doing so, unearth a dark force seeking to bury Whisper Hollow. Now I must work with the dead, rather than against them, because our enemy will do whatever she can to destroy the town, and she means to start with me.
About the Author
---
Yasmine Galenorn is the New York Times bestselling author of Flight from Death, the Otherworld series, and the Indigo Court series.