Dry Bones (Hardcover)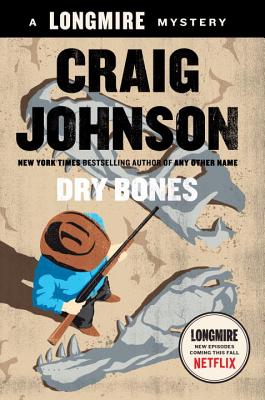 Staff Reviews
---
The only good thing about air travel any more is that you do get plenty of time to read. Otherwise…
Craig Johnson's Dry Bones was a joy, just like all of his other books. This one seems to be a bridge book. He's taking us and the characters somewhere else, somewhere darker, I think, in a book to come. It all has to do with a certain knife-wielding hotshot from a couple of books ago – and I'll leave it there.
Dry Bones puts Walt and crew into the legal thicket of invaluable archeological finds and who has rights to them versus who lays claims to them. The book opens with an oddly comic scene at a fishinghole with Omar throwing rocks at turtles. It fairly quickly turns serious and the story continues to ricochet between the two – as only Craig can pull off – for the remainder of the book. All of the usual suspects are here – Henry, Lonnie, Dog, Cady, Vic, Lucien - as well as some too long missing – Double Tough, Chief Long, Omar as mentioned. There's a mix of new folks who are peppered in with the regulars as the population of Absaroka County gets continually filled in.
There's ear-splitting thunder storms, truck-denting hail, flash floods, childhood memories of an abandoned mine, and self-doubting questions of spirits in the storms.
Boy Howdy. Makes me want to start re-reading them all again, for the fourth time.
— JB
If you've already read Craig Johnson, I have good news and bad news for you,
The good news is that his latest book, Dry Bones is just as good as you think it's going to be, and I agree with JB: Craig is setting things up for something intense.
The bad news is that it's an incredibly fast read, and that means we have to wait a whole 'nother year for the next one and I want to read it NOW! Darn it!
The skeleton of a T. Rex is found on a local landowner's property, and it's the find of the century. That leads to jurisdictional disputes, between the government, the local museum and the landowner. And when said landowner is found dead, well, things get really sticky. Then too, conflicts arise between traditional and non-traditional Cherokee beliefs and rituals come into play, and Walt has to walk a fine line between respecting people and getting what he needs. Fortunately, there's a government official on hand who is the perfect vent for Walt's erudite ire.
As always, the weather is a factor, but at least it's not snowing!
So, for those of us who are huge Longmire fans, let me assure you that you're in for a treat. Take a day off, settle in with a good beverage and a big Do Not Disturb sign and enjoy. You're going to zip through Dry Bones in a heartbeat. Well, it certainly seemed that quick to me, anyway!
And if you haven't read the Longmire series, for whatever reason, I strongly encourage you to do so. Start with The Cold Dish and brace yourself for some fabulous, intelligent and powerful writing. I found myself calling, "Man, can Craig Johnson ever write!" repeatedly to JB. Yes, I was reading at work. But it was this book, so I knew he understood!
— Fran
Description
---
The eleventh installment of Craig Johnson's New York Times bestselling Longmire series--the basis for the hit drama series LONGMIRE now on Netflix

Craig Johnson's new novel, The Western Star, will be available from Viking in Fall 2017.

When Jen, the largest, most complete Tyrannosaurus rex skeleton ever found surfaces in Sherriff Walt Longmire's jurisdiction, it appears to be a windfall for the High Plains Dinosaur Museum--until Danny Lone Elk, the Cheyenne rancher on whose property the remains were discovered, turns up dead, floating face down in a turtle pond. With millions of dollars at stake, a number of groups step forward to claim her, including Danny's family, the tribe, and the federal government. As Wyoming's Acting Deputy Attorney and a cadre of FBI officers descend on the town, Walt is determined to find out who would benefit from Danny's death, enlisting old friends Lucian Connolly and Omar Rhoades, along with Dog and best friend Henry Standing Bear, to trawl the vast Lone Elk ranch looking for answers to a sixty-five million year old cold case that's heating up fast.
About the Author
---
Craig Johnson lives in Ucross, Wyoming, population 25.