The Western Star (Hardcover)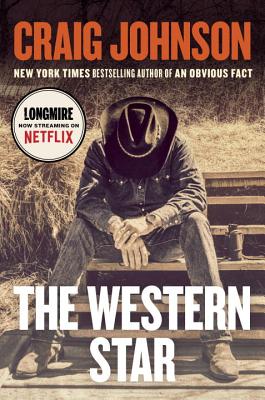 $28.00
Usually Ships in 1-5 Days
Staff Reviews
---
The Western Star is the 13th in Craig Johnson's Longmire series. It's an interesting mix of styles, being a true whodunnit on a train trip across Wyoming as well as a novel of morality and vengeance.
Half of the book is set in 1972, a month after Walt has returned to Absaroka County from Vietnam and then Alaska, and just a couple of weeks after becoming Lucien's deputy. Walt's not at all sure it is what he wants to do and that's complicated by Martha having returned her wedding ring to him. He's young, still haunted by Viet Nam, lovesick, and not ready to settle down in any way. Then someone is murdered on the train filled with all of the sheriffs of the state and he's the only one without the past to be a suspect.
The other half of the book is sent now as Walt travels to a pardon hearing as he has every four years. He views it as his duty to speak against the possibility of a killer getting released and you begin to see that this killer is the killer from the train trip. It's a story that really does travel on two tracks.
There's not much humor this time out. Things are too serious. We're never in Durant so there's no Ruby or the lunches at the Busy Bee, there's no Sancho, but you do get to meet Martha and you can see how she made a great mate for Walt – and you can see how this quadreneal travel to hearing is something that Walt cannot and will not miss, for very good professional as well as personal reasons.
And then there is the return of Bidarte, whose shadow has darkened these last few books. The series is about to take a fast turn into a version of the Earp's Vendetta Ride.
If I have one quibble with the book is it that the killer's unmasking isn't very credible, or that the ability of the killer to stay hidden isn't very credible. Still, a terrific read and a good slice of Walt's life we've not known before.
The Western Star rolls into town the first week of September.
— JB
I read Craig Johnson's upcoming Longmire mystery in under 24 hours (pesky work!) and it is a humdinger. The Western Star runs in two timelines that converge, in a way, at the end, and the action in both times is relentless and unforgiving, which is why I figured I didn't need to sleep anyway.
In the current timeline, Walt is travelling to a parole hearing, one that happens every four years and one he hasn't missed since the person in question was convicted. This time, however, it's possible that parole will be granted, and Walt just can't let that happen.
In the other timeline, we get to meet Walt when he had been out of the service for about a month, and had been Lucien Connelly's deputy for two of those weeks. Walt and Lucien are on a train filled with other sheriffs; it's 1972, and the Western Star was making its last junket with these formidible men. But something goes wrong and Walt is the only one who is stuck in the middle, investigating.
"I stopped, set my shoulders, and looked up at him. 'Do you like mysteries, Lucian?'
"He struck a match on the surface of the Pullman, lit the old briarwood pipe, and looked down at me, the flame highlighting his face with an infernal glow. 'No, I do not.'
"'Neither do I.' I looked up and down the tracks.
I respectfully disagree with my esteemed colleague, JB, on two points. First, I think there's plenty of humor in The Western Star, but it's easy to overlook in the rush of the book. Second, I don't think the solution isn't credible. I rather think it was written more for screen than a novel. That being said, I had a blast with it.
I am going to have to re-read The Western Star when it comes out in September. The ARC I read had some formatting issues so that I swear I got whiplash going from one time period to the other, but editing will fix that. And of course, as always, it'll be a serious hardship to re-read the Longmire series! *insert grin here*
And I love where Craig Johnson is taking Walt. We're about to see a side of him we haven't ever seen before. I can't wait!
— Fran
Description
---
The thirteenth novel in Craig Johnson's beloved New York Times bestselling Longmire series, the basis for the hit Netflix series Longmire Sheriff Walt Longmire is enjoying a celebratory beer after a weapons certification at the Wyoming Law Enforcement Academy when a younger sheriff confronts him with a photograph of twenty-five armed men standing in front of a Challenger steam locomotive. It takes him back to when, fresh from the battlefields of Vietnam, then-deputy Walt accompanied his mentor Lucian to the annual Wyoming Sheriff's Association junket held on the excursion train known as the Western Star, which ran the length of Wyoming from Cheyenne to Evanston and back. Armed with his trusty Colt .45 and a paperback of Agatha Christie's Murder on the Orient Express, the young Walt was ill-prepared for the machinations of twenty-four veteran sheriffs, let alone the cavalcade of curious characters that accompanied them. The photograph--along with an upcoming parole hearing for one of the most dangerous men Walt has encountered in a lifetime of law enforcement--hurtles the sheriff into a head-on collision of past and present, placing him and everyone he cares about squarely on the tracks of runaway revenge.
About the Author
---
Craig Johnson is the New York Times bestselling author of the Longmire mysteries, the basis for the hit Netflix original series Longmire. He is the recipient of the Western Writers of America Spur Award for fiction, and his novella Spirit of Steamboat was the first One Book Wyoming selection. He lives in Ucross, Wyoming, population twenty-five.