The Last Dragonslayer (Paperback)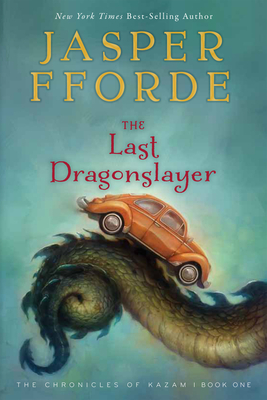 $7.99
Usually Ships in 1-5 Days
Staff Reviews
---
I was on vacation a couple weeks ago (I know, JB let me run away, it was so cool!), and I wanted something…nice…to read. Something interesting and compelling but not as dark as I normally read. Enter Jasper Fforde's The Last Dragonslayer, about fifteen-year-old foundling Jennifer Strange who has been assigned by Mother Zenobia, head of the Sisterhood officially known as the Blessed Ladies of the Lobster to assist at the wizard house, Kazam. However, since the director of Kazam, Mr. Zambini, is mysteriously absent, Jennifer is pretty much in charge, and she's discovered that managing wizards whose magic is failing is rather like herding cats. Then a vision is had across the Ununited Kingdoms – the last dragon is about to die at the hands of the last dragonslayer. That means that all his land, which is quite valuable, will be up for grabs and people start converging on the last dragon's refuge, which is disturbingly close to Kazam. And Jennifer discovers that, even though she has no magic and has her hands full with wayward wizards, training a new foundling, and dealing with the Transient Moose as well as the Quarkbeast, she is involved in the kerfuffle around the death of the last dragon.
This is the first in a new series by Fforde, and it was exactly the right thing for my vacation read. It is light and fast and charming, yes, but it has a hidden depth that I've come to expect with all of Fforde's work, and his characters are just as wonderful and memorable and compelling as any I've read, and I can't wait for the sequel! (Song Of The Quarkbeast, Due out in September 2013)
— Fran
It is no secret that I am a fan of Jasper Fforde's writing; you should see the happy dance I do when an advanced reader copy of a new book is unwrapped in the store!
However many of his first in series books have a single fatal flaw… the first third of the books are slow, seriously slow---but, after you get thru this first third, they zip by and you can't wait for the next book to come out! (The rest of the books after the first in series do not suffer from this flaw.) It's proven to be a significant hurdle for less patient readers (I do what I can to reassure them to stick with it).
The Last Dragonslayer does NOT possess this flaw. The book reads like a song; from beginning to end it is graceful and flowing.
Jennifer Strange lives in a world where metal, machines and magic live side by side. She runs the Kazam, an employment agency for wizards, since her boss disappeared a few months back…. add to this the fact that magic has been slowly fading from the world, making her magicians harder and harder to hire out, Jennifer has enough problems on her plate.
Then the visions start.
Around the world wizards with the ability to foresee the future are inundated with a single vision, the death of the last dragon is at hand. With this vision Jennifer's world tilts, all the signs point to Big Magic and Jennifer is in the thick of it!
While this book is billed as a Young Adult, it is suitable for any age. It would read a bit on the cozy side for an adult, and there isn't any teen age angst in sight!
This book is all about choice. Choosing to do the right, best or necessary thing, because Jennifer understands the value of this freedom. As a foundling, she works as an indentured servant at Kazam, and will work there until her eighteenth birthday (unless she chooses to stay). So when presented with a choice it is important to her to actively make a decision, instead of just doing her duty or letting it flit away. This theme is repeated through out the book, in great ways, never with a heavy hand.
I seriously cannot say enough great things about this book! If you are a fan of any of Jasper's series, or need one to cut your teeth on, I would recommend this book for you!
— Amber
July 2012 Indie Next List
---
"As acting head of Kazam, an employment agency for magicians, orphan Jennifer Strange's life is already full of magical mayhem. When a prophecy proclaiming the death of the last dragon pops up, Jennifer may get a little more destiny than she bargained for. A chuckle-worthy page-turner for readers of all ages, Fforde's first young adult offering succeeds brilliantly with brains, heart, and a little bit of magic!"
— Jennifer Gough, Ebenezer Books, Johnson, VT
Description
---
In the good old days, magic was indispensable. But now magic is fading: Drain cleaner is cheaper than a spell, and magic carpets are used for pizza delivery. Fifteen-year-old Jennifer Strange runs Kazam, an employment agency for magicians--but it's hard to stay in business when magic is drying up. And then the visions start, predicting the death of the world's last dragon at the hands of an unnamed Dragonslayer. If the visions are true, everything will change for Kazam--and for Jennifer.
About the Author
---
Jasper Fforde is the internationally best-selling author of the Chronicles of Kazam, the Thursday Next mysteries, and the Nursery Crime books. He lives in Wales. Visit his website at www.jasperfforde.com.
Praise For…
---
"Fforde's forady into children's books will delight readers who like their fantasy with a dash of silliness."--Publishers Weekly, starred review  
"Fantasy readers with a taste for the silly should appreciate the subverted tropes."--
Kirkus
   "Thoroughly entertaining . . . readers will easily sit back and enjoy the fun."--
Booklist
"Fforde's fantasy is smart, funny, and abundantly imaginative in its critique of commercial culture."--Horn Book