The Song of the Quarkbeast: The Chronicles of Kazam, Book 2 (Hardcover)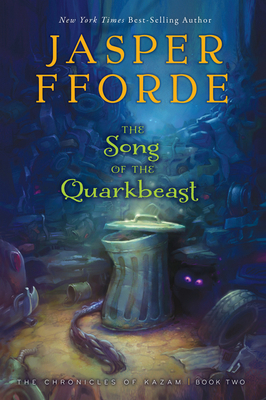 $16.99
Usually Ships in 1-5 Days
Staff Reviews
---
Life has changed very little after the Big Magic episode in the Dragonlands, in the adventures recounted to us in The Last Dragonslayer. Jennifer Strange is still the acting manager of Kazam Mystical Arts Management, the largest employment for wizards. She is still struggling with making ends meet, finding work for all the wizards, and with the loss of her much loved quarkbeast. 
However things have changed in the realm of magic. After a brief depletion of wizardrical power, the levels have started to rise….slowly. This is good news, people are slowly starting to turn to magic again. This slow up-tick in magic has not gone unnoticed however. King Snodd has taken a keen interest, and is not above using his title to influence how magic is used….so he can turn a profit. 
Appointing Kazam's rival, Blix (the owner of iMagic, the second largest management agency) as Official Court Sorcerer, King Snodd (and some well chosen minions) are out to try and control all of magic. The only thing standing in their way is Jennifer, who will do her level best to follow The Great Zambini's vision, of magic belonging to all.
This was a great follow up to The Last Dragonslayer, I thoroughly enjoyed reading it. I love the fact Jennifer Strange relies on herself to figure out solutions to the problems presented to her. While she may ask for assistance or input on her plans, she never passively accepts what the world dishes out to her. Even if on occasion the remedy is even crazier than the problem is!
I also enjoyed the fact that the villain in the next book is introduced in this one, creating excitement for the next installment in this series. And while this may be included in The Song of the Quarkbeast, it doesn't distract from the story. In fact it adds another layer of interest to it.
I cannot say enough good things about this book. It is an exciting and fun romp thru the Ununited Kingdoms, filled with magic, mad capped hijinx and unexpected courage and good sense. If you have never read this series, you do need to start with the first book. If you have never read Jasper Fforde's writing, this would be a great series to start with!
— Amber
Description
---
Magic has been in a sad state in the Ununited Kingdom for years, but now it's finally on the rise, and boneheaded King Snodd IV knows it. If he succeeds at his plot, the very future of magic will be at risk Sensible sixteen-year-old Jennifer Strange, acting manager of Kazam Mystical Arts Management and itsunpredictable crew of sorcerers, has little chance against the king and his cronies but there's no way Kazam will let go of the noble powers of magic without a fight. A suspenseful, satirical story of Quarkbeasts, trolls, and wizidrical crackle
About the Author
---
Jasper Fforde is the internationally best-selling author of the Chronicles of Kazam, the Thursday Next mysteries, and the Nursery Crime books. He lives in Wales. Visit his website at www.jasperfforde.com.